project management is the process of managing all aspects of a project, including teams, tasks, and tools to meet project requirements.
Projects should begin with a project plan. Projects are then executed using processes - actions that bring about results. Project management helps you to create and complete your project plan, successfully bringing your project from conception to completion.
Large projects are broken down into more manageable phases, each with a defined deliverable. At the end of each stage, project managers should complete a review to assess the performance of the project team. This review helps determine whether the project should move to the next phase or undergo a revision. All the phases of a project make up the complete project life cycle.
Who are the Stakeholders of a Project?
Every project involves stakeholders - individuals and organizations whose interests are affected by the project. Project managers are responsible for managing the interests of the stakeholders of the project.
A project manager, alongside team members and key stakeholders, create a project plan, which includes identifying objectives, as well as clarifying project scope and budget. Project team members then execute these items in a collaborative, often iterative process that allows for changes and constant improvements.
Project management software is a critical tool that helps teams manage projects and keep teams on track.
Project management software helps teams plan, organize, and manage resources with the common goal of completing a project. A robust project management tool offers estimation and planning, scheduling, cost control, and budget management, resource allocation, collaboration, communication, and reporting features.
project management tools typically offer several features created to help teams plan, organize, collaborate and complete projects. Key features include:
Planning - Project management tools allow you to plan and delegate work all in one place with tasks, dependencies, automated workflows, and calendars for scheduling.
Collaboration - Project management tools are also used to assign new tasks, add comments, and organize dashboards.
Documentation - Project management tools allow you to keep all of your documents related to a project or task in one place, providing teams with all the knowledge needed to complete a project.
Evaluation - Project management tools allow you to track and assess productivity and growth through resource management and reporting features.
What are the Advantages of a Project Management Tool?
Project management tools help you manage and deliver projects on time and on budget. They also help reduce wasted time, such as time spent manually updating spreadsheets, having status meetings or looking for project files.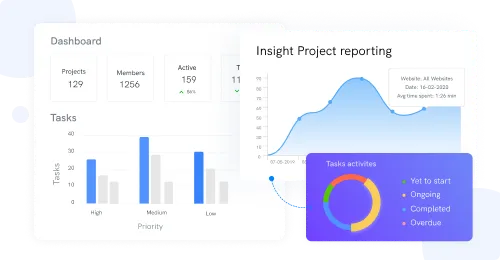 A project management tool typically offers the ability to share files, communicate with your team in real time and keep everyone on the same page while working toward a common goal.
Who Uses Project Management Software?
While some industries rely on project management tools more than others, including service providers, consultants, and marketing agencies, project management software is useful for companies in almost every industry. Nearly any company serving clients - both B2B and B2C - would benefit from a tool to manage their projects.