As a professional discipline, Project Management is enjoying an unprecedented increase in popularity and interest. Because of it, new Project Management techniques and practices are becoming available and many businesses are adopting some of them in order to improve the effectiveness and efficiency of their operations. This sudden increase in business appetite for Project Management and a constant increase in the number of available project management tool and methodologies brings with it increased complexity but also the danger of hurriedly coming up with something that looks like Project Management but in reality, can do more harm than good.
In order for companies to be successful in project management, their processes and project execution style need to have a benchmarking process that can assess their level of project management maturity and take into account all current and future users of project management. Only this way will they be able to find and formulate new ways to improve the quality of their Project Management efforts.
Yet, investing and implementing project management tools and practices can be difficult to justify same as it is difficult to rationalize the actual benefits of project management Processes. Although there is a lot of research on the topic, most project management research studies contain a long list of benefits, albeit in qualitative and anecdotal kind of a way. Research such as this is very general and largely unsubstantiated meaning that it does not do a good job in answering fundamental and challenging questions about project management requirements, quantitative benefits and tools that projects managers can use.
The main goal of this article is to determine the organizational and financial benefits to companies that result from the implementation of project management tools, processes, and best practices in their everyday business processes. We hope that such information will help you better understand and respond to management queries and help everyone in your organization make better business decisions.
Benefits of Project Management
These days, most businesses experience difficulties with their Project Management efforts. We have all been in situations where we had to work more and take on more responsibility without being prepared for it, either through training or some form of education. This happens because most businesses consider their project management to be simply that – managing projects – and not what it really is.
Project management needs to be understood as a complementary discipline with a lot of tricks and best practices one can use to ensure the success of the project. And no, project management does not belong just to dedicated project managers. Today, project management belongs to everyone and to show you this, we are listing the most important benefits that you, your team, and your business can get from better managing your projects.
Improved Team Effectiveness
Every day, businesses around the world face staggering project failure rates which leads to millions of dollars all wasted on failed projects. These same businesses often agonize over the fact that their projects failed and desperately search for reasons why they failed. Projects fail when people working on them don´t know what project goals are and what their specific responsibilities in reaching those goals are. Without having clear goals, it´s easy to lose all motivation and can even lead the team to work towards the wrong project objective.
Having a Project Management Tool such as Projectsly and incorporating some of the project management best practices, you define your project goals at the very start. This way, everyone involved on the project is aligned on these goals. What´s more, everyone can optimize their work to reach those goals more effectively and with its powerful analytics and data visualization features, Projectsly tool makes it easy for everyone to measure their work and pinpoint any issues before they are able to negatively impact the project progress.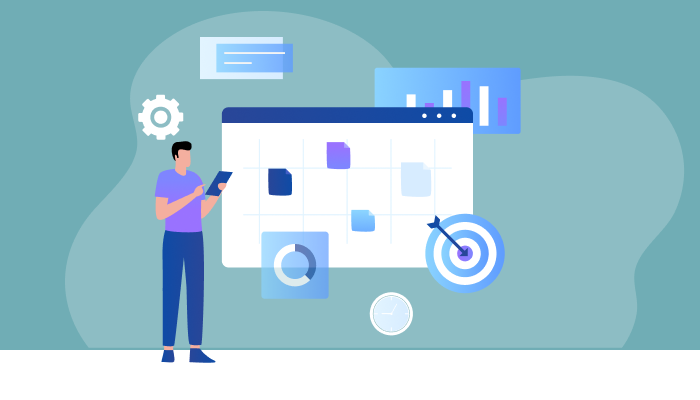 Yes, project management tools are commercial products that will require you to invest a certain amount of money. But, the piece of mind you will have by knowing that you have really thought through every possible problem and that every team member knows the direction in which they need to go, is worth the money. Even more so considering that the effective team will not ensure that you don´t lose more money on failed projects but earn money from successfully completing your business objectives.
Well-defined Communication Plan
Although we call it project "management", but managing a specific project is only one part of the picture. Even before starting to work on a project, every person involved should be aligned on a communication plan. In reality, most businesses do not even touch base around this since they already have plenty of different communication channels and tools such as spreadsheets, word processors etc.
If you look at your colleagues, they all have their email accounts and email management tools. Manage all your projects in Gmail by installing the Projectsly Gmail extension, without having to work in multiple tabs.They have plenty of different tools for instant messaging and they often have a tool which they use for managing their projects or at least one or more project phases.
Having agreed on a communication plan means that all people involved on a specific project know which tools should be used, when they are used and for what. For instance, your team may use email for external communication, Slack for instant messaging, and several tools for Project Management such as Microsoft Excel and Visio. Although these tools are good at doing their specific tasks, switching between them, especially if you don't have a communication plan in place, switching between them can range between being confusion to plain overwhelming.
Projectsly is a Software-as-a-Service solution for project management. Without the need for lengthy and expensive configuration, Projectsly has a wide range of tools and features that will not only ensure your every team member is on the same page but empower them with all the tools they need to make accurate business decisions quickly and effectively.
Clearly Defined Roles Eliminate Confusion
Once the project and its goals have been defined, the actual management part of project management can start. However, without a clearly defined Project Manager, it is easy for any team member to skip a specific task, forget about specific details or just be completely lost without knowing who to ask for help.
Although companies that have a somewhat defined project management process will have one or more Project Managers, those that do not have them often imply that the management part of the project has to be the responsibility of the person who initiated the project in the first place. Although this is not the best way forward, some companies, especially smaller ones, simply lack the resources to employ Project Managers.
Fortunately, there is a way how to improve the effectiveness of your projects and increase its chances for success. With a correct approach to communication and collaboration, you can go a long way. But having a project management tool that will enable everyone to see what their role is, what their responsibilities are, and who to ask questions, you will be able to completely eliminate confusion and pave the road towards completing the project and achieving your business goals.
Improved Organization and Project Planning
Did it ever happen to you that you had to leap into completing something without being able to do some thinking or planning beforehand? Then you know how messy things can get and how quickly everything can go haywire?
When you don't plan before doing something, you put everything at risk. From skipping some of the essential steps, going back because you did something wrong, or just losing time on the same question over and over again, reaching your objective will be harder. And even completing your objective can leave you with a bitter taste in your mouth. Ready to streamline project planning process and enhance team productivity with Projectsly? Sign Up 14-day Trial
On the other side, writing a detailed project plan that maps everything that needs to be done, breakdown of responsibilities, well-defined deliverables and strict due dates can be time consuming. Believe it or not, that is one of the main reasons why companies decide to wing it instead of plan for it.
Having a project management tool such as Projectsly, you are given the ability to outline a clear plan for all your projects including their tasks, task owners, deadlines and all other details you determine is important. With everything in place and with a set of rich and visually intelligent dashboards, you are able to keep track of every part of your projects, identify bottlenecks and issues, and make changes in real-time that will mitigate risks, ensure resources are spent effectively, and increase your chances for success.
Managing Projects with Projectsly
Project management can do wonders for you and your team by helping you plan, manage, and execute your work. With a correct project management software, you can organize all, including the finest, details of all your projects and have all of them in the same place.
Instead of messy shuffling between spreadsheets, email, and other tools you use to keep track of everything, a Project Management Tool such as Projectsly will help you and your team to:
Coordinate and execute cross-functional work
Share status updates with everyone at any moment
Significantly improve and keep your team collaboration and communication
Centralize all your project plans, details budgets, files and updates in one place.
"Keeping the peak level of determination, commitment, and productivity for extended periods of time is tough for individuals and teams. Missed deadlines, poor interpersonal relationships in the extended owner-contractor teams, bureaucratic processes, and a multitude of other negative external factors can demotivate the team, leading to burnout, loss of momentum, and poor output," says Mike Ellis, a Senior Partner at Mckinsey. And the easiest way of how to do this is by adoption a Project Management Tool that allows you to do exactly that and more.
Plan projects, collaborate with your teams and generate robust reports to keep all of your tasks and projects running on schedule and on budget. Streamline your project planning. Plan every aspect of a project from start to finish to accelerate business growth. Keep tabs on who's doing what and when. Communicate with your team in real-time to keep projects on track. Monitor project status, plan sprints and product roadmaps and create custom reports for data-driven decision making.
All this and more with Projectsly.
Conclusion
Whether they are trying to maintain their current market positions or growth is imperative, companies in all industries face constant problems in managing their business and with often scarce resources. Insight into the state of affairs is sometimes impossible, business can be chaotic, and the end results are often uncertain. Untimely information usually leads to a bad business decision.
Project management enables continuous adjustment to the market in accordance with the vision and mission of the company. Companies that use the principles of project management are able not only to reduce their costs but also to respond in the best possible way to trends and challenges of the market in which they operate. Once upon a time, changes in the economy happened once a month or even a year, and today in some industries change has become the only constant. Depending on how well people prepare, leaders lead, and information and communication technologies help; change will always be implemented with more or less success.
Employees are often in situations that are directly or indirectly related to projects, whether they have to make project-related decisions as top managers, or supply project networks with the necessary resources as functional managers, or participate in temporary organizational forms as project members. team. They most often seek to reduce the possibility of project failure which in most cases results only in disappointment, insecurity and mistrust.
It´s obvious, by incorporating project management practices, companies can better position themselves when executing their strategy and answer more effectively to today´s changing business conditions. However, embedding project management can be daunting and it will often represent a fundamental shift in your employees´ mindset and their approach to work. But, it doesn't have to be like that.
With Projectsly, you will be able to seize the benefits of Project Management by being able to close the gap between your business strategy and traditional output-driven metrics such as time, scope, and budget. Better project management capabilities ensure better execution of your business strategy and paves the way for winning in today´s chaotic business environment. Projectsly gives you the visibility and insights to serve you as a compass that help you navigate all your projects towards "true north".