What is Project Calendar?
Get to know about project calendar, why to use it, its advantages and how it works in project management in detail.
Project calendar helps you keep track of impending meetings, deadlines, and milestones. They can aid in the visualization of your calendar and serve as a reminder of crucial occasions such as holidays and vacation time. The issue is that individuals frequently handle many calendars at the same time. When these calendars are not connected with your job and synchronized with one another, it can cause tremendous confusion, headaches, and missed deadlines.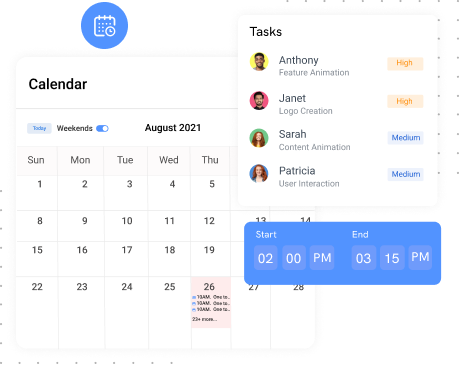 Why Should You Use a Project Calendar?
If you already maintain and update one or more calendars, you might not think calendar functionality is a vital component of Project Management Software. A task management app that includes calendars, on the other hand, has various advantages that other calendar solutions do not. Traditional calendars, for example, are fantastic for arranging your day but poor for planning, visualizing and discussing project work. While your online calendar may remind you of an imminent deadline, it is not meant to inform you what tasks are necessary to reach the deadline, who is working on them, and where they are in the completion process. You'd have to leave the software (or write an email) to find that vital information. Calendars in project management software provide answers to these fundamental concerns by connecting directly to project progress and information.
Advantages of Using Project Calendar
Here are 7 advantages that project calendars have over regular ones:
Allow you to manually track and plan crucial work
Track particular work for projects, teams, or files automatically
Color coding is based on status, channel, audience, and other factors
Allow you to stack calendars to get a bird's-eye view of numerous projects or folders
Allows you to see calendars by month, quarter, or year
Make it possible to open project tasks straight from the calendar
Make it simple to communicate real-time calendar updates with other stakeholders
Project calendar in project management software allows you to examine planned tasks that include all relevant information, files, and chats. This feature allows you to move directly from the calendar into work without having to navigate via other tools or programs. Furthermore, having a common Project Management Calendar allows you to see assignments and project plans for many teams and projects throughout the organization. This visibility aids in the identification of possible disputes and the coordination of activities among individuals and teams. Calendars in project management software enable you to rapidly communicate up-to-date information with internal and external stakeholders. This capability allows executives and customers to get a bird's-eye perspective of your project timeline and impending crucial dates in a straightforward, visual style.
How Project Calendar Works?
Project management calendars, unlike traditional calendars, connect directly to underlying projects and tasks inside your program. This means that if tasks and schedules change, the calendar will automatically update. Furthermore, these calendars support two-way synchronization. This implies that if you need to postpone or reschedule a task, you may do it directly from your calendar view.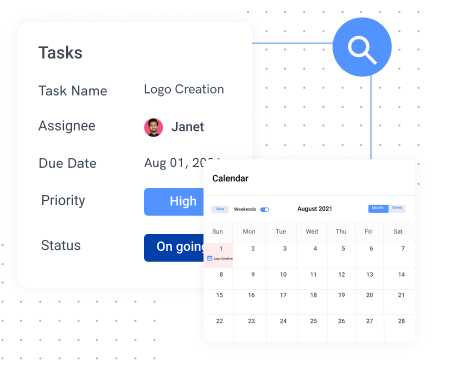 You only need to drag and drop the assignment to the new date. It will not only update the job, but it will also alter any dependent tasks automatically. Any task or project changes are promptly updated in both your project schedule and calendar in real-time, so you never have to worry about contradictory data and your whole team can rely on a single source of truth. Another way task management tool calendars help you keep one source of truth is by allowing you to create unique calendars without duplicating data.
For example, you may construct distinct calendars for various perspectives such as: - Different projects, teams, or departments - Separate project phases - Work by the target audience - Work by channel - Different workflow statuses
Because all calendars are still drawing from the same data source, any change in the project will be promptly updated in all calendars. This feature enables you to simplify calendar displays so that the amount of data does not become overwhelming and nothing is overlooked. You may also combine the individual calendars to view the larger image. Ready to streamline project planning process and enhance team productivity with Projectsly? Sign Up 14-day Trial
Types of Project Calendars
There are two types of Project Management Calendars:
Classic Calendars: Classic calendars are designed by hand by you or your team. They provide a versatile option that allows you to present only the duties that you have personally chosen. Classic calendars are excellent if you have a large number of tasks distributed across numerous projects and just want to keep track of the most significant or high-priority ones. Similarly, team members can establish their own traditional calendar to handle only a limited number of tasks, such as their own and those immediately before theirs.
Smart Calendars: Smart calendars generate calendar views that present all tasks inside a given project or folder. You may also use filters to construct smart calendars that only show items that satisfy certain criteria, such as if a team member only wants to view their allocated tasks. Smart calendars are effective if the tasks you want to track are all in the same project or folder and you can simply filter for them. The most significant advantage of smart calendars is that they can be built with only a few clicks and updated as the project evolves.
Conclusion
While a project management calendar provides a lot of extra features and benefits, you may still want to utilize your existing calendar application, especially if you're also keeping track of non-project-related events, meetings, and deadlines. As a result, it's critical to choose project management software that can integrate with major calendar apps like Google Calendar, Outlook, and Apple Calendar. This connection allows you to manage and update your own calendar without having to manage and update two distinct programs. Remember that standard calendars are not built to accommodate the level of detail that a project management software Calendar can provide. Look for a system that allows you to control the degree of detail that is published to your conventional calendar. For example, you may only want to view task due dates in your online calendar, or you may want to eliminate subtasks.