Every project requires detailed planning to ensure that all its elements come together. The plan also referred to as its blueprint, will contain all the essential details about the project, including the required materials, duration, and a full list of people that will work on it. Without proper planning, the entire project will lead to a disaster and an uneven combination of multiple components. After the plan has been created, the next thing is to execute it. An implementation plan serves as a written guide that contains vital information on the smooth execution of any particular objective.
According to the Harvard Business Review data, companies and businesses that adopted this plan earned 70% more than those that didn't. Therefore, an implementation plan is an essential part of any business. This piece will closely look at the meaning of an implementation plan, its benefits, how it can be created and managed, and potential risks associated with the plan.
Guide on How to Create an Implementation Plan Using Project Management Tools
Are you interested in developing an implementation plan for your business? Are you unsure of how to go about it? Are you looking for a detailed guide to teach you how to adopt this unique plan for your business? If yes, then you are in the right place. Keep reading to find out more details on this innovative concept.
What is an Implementation Plan?
An implementation plan, also known as an execution model, is a report that contains essential details of your project and the steps to take to accomplish the final objective. Often, it contains clear efforts to execute the project that has been assigned. If an organization is interested in achieving any goal, they start by setting up their strategy.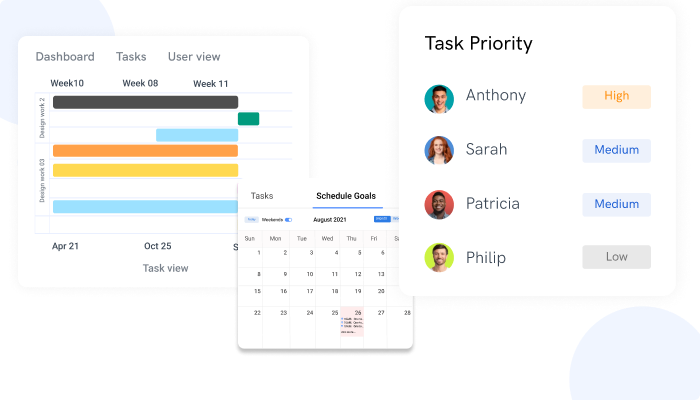 After creating their strategic plan, an implementation plan is a next phase. While the strategic plan contains all the tactics that will produce a particular result, an implementation plan showcases the step-by-step guide of how the project will be brought to life. The purpose of designing this plan is to answer all the essential details on who, when, what, and how the project will be executed. In addition, it will identify the role of everyone involved and how all resources will be transformed to achieve the organizational aim.
Benefits of an Implementation Plan
We've discussed the meaning of an implementation plan. Now, let's break down its benefits. Even if you have set up the best strategy to transform your business and reach more customers, there is a likelihood that the plan will fail without proper execution. The benefits of an implementation plan include:
1. It Offers Clarity
Designing your execution model offers better clarity on what is expected from everyone during the project. It also improves the understanding of your employees about the project. You will find it easier to communicate the objective requirements to your team members and high-level management and convince everyone that the plan will succeed.
2. It Keeps Everyone Informed
Your execution model clearly states everything expected from everyone during the project. There will be no cause for execution, and everything can run smoothly. Furthermore, it will also ensure that every team member or staff is accountable for their actions.
3. It Improves Cooperation
To guarantee the success of any project, different components and elements have to work closely together. The better the cooperation among other team members, the easier it will be to achieve the objective that has been outlined. By designing an implementation model, you will foster collaboration and educate each team member about how their work influences the next person.
How to Create an Implementation Plan?
To successfully create an implementation plan, you need to analyze the different vital components it comprises carefully. Before being finalized and relayed to the team, every part of the plan must be carefully scrutinized and considered. The steps of creating an implementation model include: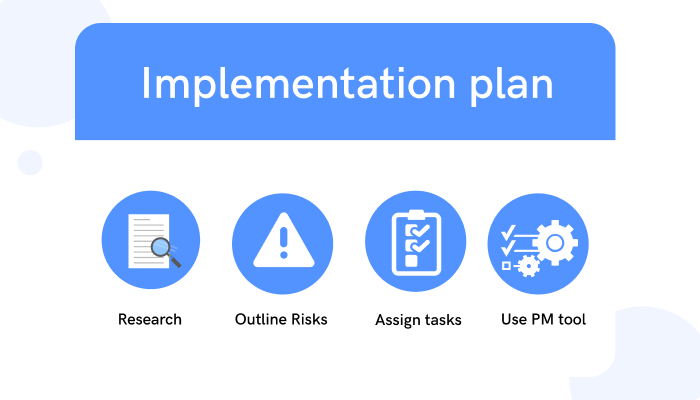 1. Research
The first stage of setting up your implementation plan is to conduct research. By now, you already know the problem and objective that you want to achieve. The next thing to do is multiple research tactics that can be used to achieve the outlined goal. Look at your previous implementation plans on similar projects to identify what has worked in the past.
If you have never embarked on the project, you may also draw on the experience of other organizations that have tried to create similar implementation plans. Take your time to identify what works for them, including their mistakes and shortcomings. Use the information gained during your research to define the goals and objectives of your implementation plan. However, make sure that the details of your project comply with the organization's overall vision.
2. Outline Assumptions and Risks
The next step is to identify any assumptions and risks that may define the process. Assumptions are the details of the plan that you are already familiar with. Assumptions can benefit your project because they describe details with which your team members are already friends. However, risks indicate the challenges that may come up during your execution.
Outline all the possible risks and create solutions to tackle them if and when they occur. If you fail to list out the risks and assumptions of your plan properly, you may end up losing too many resources to unforeseen elements.
3. Assigning Tasks and Responsibilities
When you are done identifying how you want to execute the plan and other essential aspects of the project, it's time to assign tasks to team members. Assigning tasks and responsibilities gives a clear picture of what to expect from everyone and the activities they need to be involved in. Make sure to clearly define the responsibilities of each person to make them more accountable. Break down the roles into simple segments and never assign similar functions to the different people to eliminate confusion. Ready to streamline project planning process and enhance team productivity with Projectsly? Sign Up 14-day Trial
4. Use a Project Management Tool
A Project Management Tool will transform your work process. This tool will help you break down different aspects of the implementation plan. It will also provide you with accurate information on the progress of your implementation model. When properly integrated, you will also get detailed reports on the aspects of the project to improve on and how your resources are being used up. A recommended Project Management Software to use for your implementation plan is Projectsly.com. The device is suitable for small and large organizations and contains the necessary features required to implement your goal successfully.
How to Manage an Implementation Plan?
When you are done creating your implementation plan, you also need to manage it successfully to ensure that it can produce effective results. The following steps will help you manage your implementation plan:
Provide everyone with a detailed copy of the implementation plan
Create routine checkups on the progress of the plan
Request for detailed reports from team members
Regularly update the plan
Reward high-performing team members
Potential Risks
There are potential risks that may reduce the effectiveness of an implementation plan or completely prevent it from being successful. These risks have to be quickly identified and eliminated. They include;
Bad Communication: When the communication process in your organization is filled with numerous bottlenecks, it can prevent everyone from being on the same page with the implementation plan.

Lack of training: Your team members and employees must be fully trained to perform the tasks highlighted in the implementation plan. You may hire some outside help to get them up to speed.

Poor Vision: The implementation plan relies a lot on the strategic plan and vision of the company. It's essential that the organization is interested in getting better results and improving its services to succeed.
Conclusion
Now, you're familiar with the meaning of an implementation plan and how to create one. Without any doubt, this plan will help your company achieve better results. First, however, you need to make sure that you set it up properly. If you're interested in learning valuable tips on creating an implementation plan, go through the details of this article.