Best Alternative to Monday Project Management Software
Projectsly is your best alternative to Monday project management software. Manage projects more efficiently, easy to use, and have a user-friendly interface.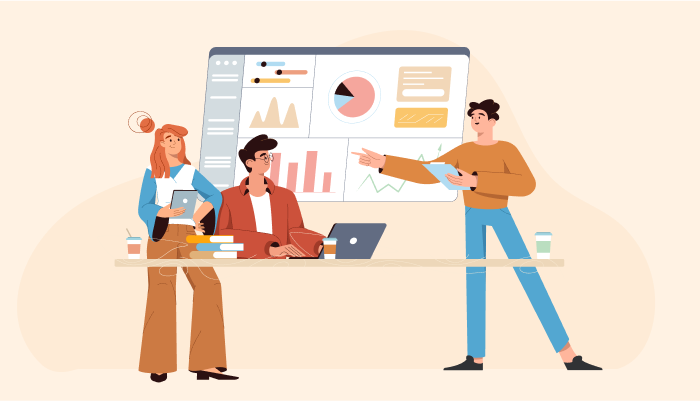 For small teams and projects,monday project management software is a useful project management tool. It performs admirably across a variety of fronts and might be considered a generalist product.
However, customer-facing initiatives with several teams, resources, milestones, and dependencies are challenging to manage. Due to its limited features, the best Monday project management software makes it difficult to track project tasks, report time, and provide stakeholder visibility. Furthermore, it is tough to template repetitive tasks and give your client a collaborative experience at the same time.
Introduction to Monday Project Management Software
Multi-platform project management and collaboration application that your team will like using is Monday project management software. Keep everyone involved and focused on what matters by centralizing all communication.
Your planning should be as lively as the projects themselves, which Monday.com enables you to do. You can create genuine and fluid planning with Monday project management software by organizing your projects' planning and execution in one location.
Monday.com stands out as the only solution that allows you to manage anything, including projects, tasks, people, ad campaigns, bug tracking, customer projects, and video production. It's also simple to use and establishes a visual language. There are teams who use it for practically anything, from teachers preparing their classes to engineers designing airplanes. There are probably hundreds of different ways to use it.
Introduction to Projectsly - Best Alternative to Monday Project Management Software
500apps is the single, most-advanced software platform that provides growing businesses with an All-in-One SaaS suite. It is an amalgamation of 39+ apps that covers various business functions such as Sales, Marketing, HR and Ops, Support, Developers, Productivity, Collaboration, and Browser extensions.
With the intention of helping businesses to centralize project planning and execute them successfully. Streamline your project planning and plan from start to finish every aspect of a project to improve business growth. Create custom reports for data-driven decision making, track the progress of projects, plan sprints, and create product roadmaps, 500Apps built Projectsly, free project management software.
Powerful Features of Projectsly
Powerful features of Projectsly are mentioned below:
1. Unlimited Projects
The terms unlimited projects, infinite tasks, and importing multiple-subtask tasks from a spreadsheet are all used to describe these features. Managing endless projects for several clients is one of the most crucial project planning responsibilities. Unlimited projects are exactly what they sound like—a method of management in which the project manager is in control of several projects at once. It's a tactic to enhance resource allocation and management inside a business and maximize the contribution of team members and resources to all initiatives.
2. Automation
Business project management software that can perform basic project management duties and functions without involving humans is referred to as workflow automation. By offloading manual, time-consuming, repetitive, and/or administrative duties, workflow automation aims to provide you and your team more time to work on more important tasks. Consistency is also improved through workflow automation. By removing the human element from a process, a machine can produce more consistent results.
3. Advanced Reports
A visual depiction of a project's status, insights, and data points from all sides is a project management dashboard. The project manager and team may get all the information they require at a glance since it compiles data from all significant project touchpoints and unifies it into a single interface. Project dashboards are designed to help teams make quick decisions by providing crucial information to them on-demand. When all of the crucial performance indicators are gathered in one place, project managers can measure the scope, budget, and time restrictions more precisely.
4. Time Tracking Integration
Organizations can monitor the working hours of their staff using time tracking software. Numerous firms, including those that depend on independent contractors and hourly workers, use the service. With these Integrations, you can streamline your time tracking and boost productivity. Other applications, like accounting and customer service, can be connected with tracking time.
5. Multiple Views
Multiple views refer to Kanban view, list, calendar, and Gantt views from a dashboard that features numerous sub-tasks. To increase team efficiency, managing numerous viewpoints is one of the most crucial project planning jobs. The easiest method to quickly grasp the big picture of your project is to use many views. Everyone will, after all, comprehend how their work fits into the project as a whole so that they may understand what will happen if they are late and how it will affect the project's overall deadline.
Ready to streamline project planning process and enhance team productivity with Projectsly? Sign Up 14 Day Trial
Projectsly vs Monday Project Management Software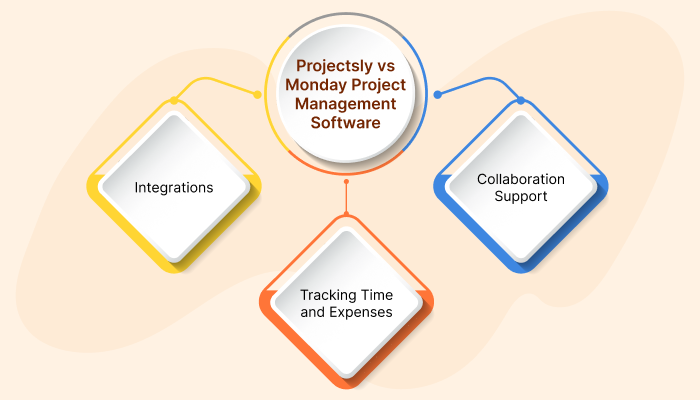 Below are the difference between Projecsly and Monday Project Management Software:
1. Integrations
At the moment, Monday project management software can be combined with a few other applications, such as Zapier, as well as Dropbox, Excel, Google Calendar, Google Drive, Slack, and Trello. You may combine Projectsly with many different outside programs. Users would want more options for integration, such as those with Salesforce, SharePoint, and other well-known third-party applications.
2. Tracking Time and Expenses
Due to the fact that Monday.com neither has nor aspires to have a Gantt chart, some users find it challenging to keep track of the time spent on each activity and the prices related to all the connected tasks for a single client. On the other side, you may plan, manage, and track tasks within a project using a Gantt chart from Projectsly, online project management software. Set deadlines, determine resources, and order the jobs appropriately.
3. Collaboration Support
Monday project management software does not provide organizations with the team-building tools necessary to connect and promote communication inside the team. At the same time, Projectsly facilitates virtual team meetings and brainstorming sessions through 500 conferences and document sharing, among other features.
Pricing: Projectsly
Monthly at $14.99/ user / month
Yearly at $9.99/ user/ month
Monday.com
Basic Plan: $8 / user/ month
Standard Plan: $10 / user/ month
Pro Plan: $16 / user/ month
Enterprise Plan: Customized plan
Hence, Projecstly has single and honest pricing with no tiers, no feature caps for all the 50 Apps at just $14.99/ user/ month.
Final Words
Projectsly is a web-based project management software that aids in task organization, time tracking, and cost reduction. We have complete trust that Projectsly is the greatest alternative to Monday project management software and that using it would help you be more productive.
To find out more visit 500Apps.
What Makes the Best Project Management Software?
#1
Plan, organize, track all your projects in one place
#2
Get a visibility over individual tasks in the form of kanban boards
#3
Track the project schedule using gantt chart and calendar view
#4
Create advanced workflows with powerful automations
#5
Track employee activities, and working hours using built-in time tracking software, Clockly
#6
Monitor activities using screen recorder on Windows, Mac and Linux devices
#7
Set S.M.A.R.T goals and achieve results
#8
Share files and collaborate with team through discussion boards
#9
Unbelievable pricing - the lowest you will ever find
#10
Everything your business needs - 50 apps, 24/5 support and 99.95% uptime
Join the SaaS Revolution
All-in-One Suite of 50 apps

Unbelievable pricing - $14.99/user

24/5 Chat, Phone and Email Support