Projectsly vs Smartsheet Project Management: A Tool Review
Projectsly is different from smartsheet project management and can help you stay on track.
Are you a project manager dealing with overwhelming projects and strict deadlines? Are you stuck in the whirlwind of projects, tasks, people, and schedules? Then, you should have a solution to plan, organize and run your projects efficiently and effortlessly. An online project management software helps you in project planning, time management, resource allocation, and change management.
According to the survey, 55% of project managers across organizations cannot access real-time KPIs to track teams' progress. A study reveals that 77% of high-performing projects use project management software in day-to-day tasks. Some top software solutions for managing your projects are Smartsheet project management, Notion project management, ClickUp project management, and Projectsy.
This article will give you a heads-up on the projectsly and Smartsheet project management features and a detailed review of the best tool to keep you on track.
Smartsheet Project Management Vs Projectsly
1. Price
Smartsheet project management charges $14 per user per month. On the other hand, Projecstly offers an all-in-one business suite where you can get 39 apps at $14.99, free for ten users.
2. Deployment
Smartsheet project management offers a cloud-based platform to empower everyone to manage projects, automate workflows, and complete projects on deadlines. Additionally, you can deploy Smartsheet project management on Mobile phones- Android/iPhone/MAC. It offers a web-based platform that can be a deal breaker for organizations looking for high-security solutions.
Whereas, Projectsly offers on-premise solutions apart from cloud-based solutions. It also has an option to install on desktops- Mac, Windows, Linux, and Chromebook.
3. Workflow Automation
Smartsheet and Projecstly project management software provides intelligent workflows to automate your business across systems. You can automate repetitive and error-prone tasks in both project management software.
4. Kanban Project Management
Projecstly uses agile frameworks and Kanban boards to visualize and improve workflows, reduce inefficiency, and increase the team's focus. Smartsheet does not have a Kanban view of project management and does not have functionality for agile reports.
5. Integration
You can collaborate and improve decision-making by integrating with the tech stack and boosting the ROI of your business. Smartsheet project management does not allow a hybrid social integration because it does not have an in-house integration. However, With Projectsly, you can simplify data integrations and applications across on-premise and multi-cloud environments.
6. Support
No FAQs or forums in Smartsheet and no live support system available for users, whereas Projectsly offers 24/5 live support and detailed FAQs. 7. Training
Projectsly only has webinars for training. Smartsheet gives training through in-person, webinars, documents, and videos. 8. Similar Features
Smartsheet and Projectsly have the below features in common:
Planning/scheduling
Dashboard/Analytics
Task monitoring
Automation
Data Visualization
Benefits of Using Projectsly to Smartsheet
The following are the benefits of using projectsly over Smartsheet for your project management:
Although similar pricing for Smartsheet and Projectsly, you can get an infinity suite for your business, much like a one-stop solution for all your business needs with Projectsly.

You can review your team's performance, track progress, and share updates with the stakeholders using the Agile Reporting technique with Projectsly. Agile reporting in Projectsly helps you customize reports like pie/ bar charts. Smartsheet has a bi-directional reporting system but in the form of sheets. You can share only sheet summary reports or row reports with your stakeholders.

Time tracking of Smartsheet only aids project management but does not monitor or measure productivity. Also, it has limited time-usage reports. Projectsy uses Clockly to track work hours, monitor real-time employee activity, and retrieve the team's productivity.

Smartsheet becomes complex when you deal with multiple projects making you work with multi-layered sheets.

Smartsheet is not ideal for beginners because you should learn Smartsheet-specific UI and formulas, which can be time-consuming. Learning Projectsly is easier compared to Smartsheet.
How Projectsly is Different from Smartsheet and Can Help you Stay on Track?
Smartsheet is a work execution platform that has a spreadsheet-like interface to plan, track, and manage complex projects in real-time. However, Projecstly enables team members to centralize project planning and work execution. With Projectsly, you can plan sprints and product roadmaps and create advanced reports to measure the team's productivity which you cannot accomplish with Spreadsheet. You can seamlessly collaborate across stakeholders and delegate tasks at every stage. Moreover, you can improve your team's effectiveness with the help of performance insights offered by Projecstly and keep your team on track. In addition, the reports are agile, which helps to monitor the team's efficiency quickly.
Why Projectsly, Compared to Smartsheet, Is The Best Project Management Tool
Projectsly is the best project management tool due to the following reasons:
Projectsly allows a hybrid social integration
It has a time-tracking feature (Clockly) to measure work hours and improve productivity
An all-in-one business suite at just $14.99
Visual planning, sprint planning, and project iterations are possible in Projecstly
On-premise deployment feature
Real-time chat option in Projectsly to collaborate within the team absent in Smartsheet
Kanban Task management to visualize the team's tasks and set priorities
It provides centralized activity feeds for all the projects lacking in spreadsheet-based Smartsheet
Goal management to set goals and track progress
How to Get Started with Projectsly
Get started with Projectsly in these three simple steps:
Sign up with your details
Log in with your credentials, and you will see an infinity portal. Select Projectsly from the Productivity drop-down
Click 'Add a project', and fill project name, description, and team members. You can choose a project icon of your choice and save it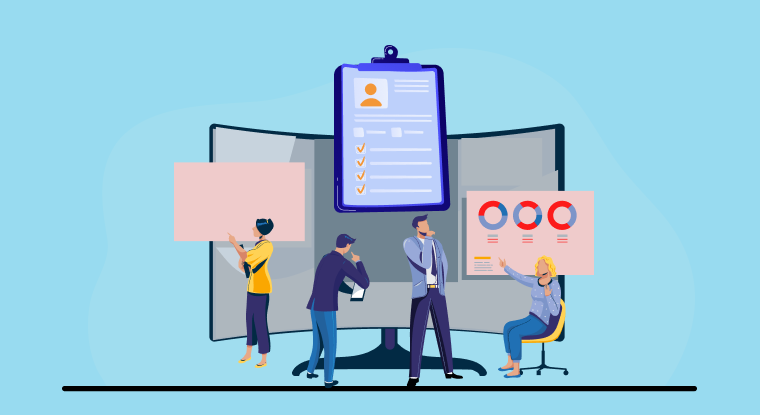 Summing It Up
Smartsheet project management is extensible and flexible but spreadsheet-based. You can build due dates, add notes, attach images, create a task hierarchy, and share your sheet with various stakeholders. The absence of centralized feeds, unavailability of real-time collaboration, and time-tracking tools are the major drawbacks that necessitate other project management software like Projectsly.
Projectsly is a project management application developed by 500apps that improves project transparency by offering file sharing and remote meetings for team members and sharing insights with the entire team. It monitors task status, plans sprints, and generates custom reports for your project. Projectsly eliminates the limitations of Smartsheet and eases your work. To learn more about the features and offerings of Projectsy, please visit the 500apps website.
What Makes the Best Project Management Software?
#1
Plan, organize, track all your projects in one place
#2
Get a visibility over individual tasks in the form of kanban boards
#3
Track the project schedule using gantt chart and calendar view
#4
Create advanced workflows with powerful automations
#5
Track employee activities, and working hours using built-in time tracking software, Clockly
#6
Monitor activities using screen recorder on Windows, Mac and Linux devices
#7
Set S.M.A.R.T goals and achieve results
#8
Share files and collaborate with team through discussion boards
#9
Unbelievable pricing - the lowest you will ever find
#10
Everything your business needs - 50 apps, 24/5 support and 99.95% uptime
Join the SaaS Revolution
All-in-One Suite of 50 apps

Unbelievable pricing - $14.99/user

24/5 Chat, Phone and Email Support