How Strategic Management can Make Your Business Grow?
The basic strategy of any business is to create a strategy. Strategic management software, a part of project management takes your project planning to the next level. Explore the scope of how strategic management works for your business.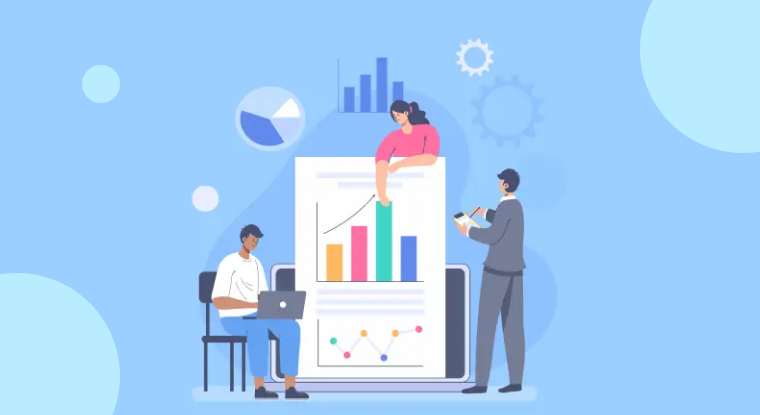 In a business organization, the basic planning of a project begins with strategies. The strategies in turn reflect the project's success - be it short-term or long-term. A project planning software has strategies embedded into it. So, as the formulation and implementation of an organizational goal and objective, the internal and external environment are assessed in which a business organization operates.
According to Peter Drucker, " Strategy management is not a box of tricks or a bundle of techniques. It is analytical thinking and commitment of resources to action."
However, one thing is clear about strategic management. It is the process involved in mapping out a plan to achieve the goals and objectives of an organization and then using the available resources, both human and capital, to actualize the dreams of the business.
For a business organization to grow in line with the global best practices and also out-shine its competitors, there is the need to invest heavily in strategic management. Innovative thinking, research, planning, and decision-making are some of the components of strategic management that need to be confused to bring about the growth of a business organization.
Strategic Management to Grow Your Business
The following management strategies have been researched and have proven to help in growing your business:
1. Planning
Planning is an essential process in strategic management. The primary task of strategic management is to predict future trends and plan for them. Strategic planning enables a business organization to embark on qualitative and quantitative analysis of the existing market, growth, and indexes. The external and internal factors that could affect the growth and development and plan ahead for them.
Adequate planning will enable the organization to have the edge over its competitors and stand the test of time. When a business organization plans adequately for the future, they are bound to grow. And, project management tool really drives them to work on their strategies and projects.
2. Forward-Thinking
Strategic Management enables you, the business owner, manager, and employees to have a well-thought-out strategy to achieve your organizational goals.
The human resource in an organization is an essential tool in that organization. Every employee has to use their tacit and explicit knowledge for the growth and development of the organization. The ability to think and come up with simple ideas to implement plans and activities of an organization is part of the components of strategic management.
3. Environmental Awareness and Impact
Strategic Management involves being conscious of your immediate environment ( competitors) and your external environment. You should also know how your business can affect or impact the general market and how the public market can impact your business.
Other external forces such as government policies, internal laws and regulations, price control, and a host of others are part of the activities which strategic management deals with, and when these environments and forces are adequately taken care of, it brings about continuous growth for your business
4. Resource Allocation
Strategic Management guides you to ensure that the available resources in an organization are well utilized. Irrespective of the size of the business organization, if the resources are mismanaged, the business will eventually collapse or go bankrupt.
Also, the raw materials, products, services and workforce are part of an organization's resources and should be well utilized. These resources should provide the necessary tools and working conditions to bring about optimum output and increase productivity.
The ability to manage an organization's resources judiciously is a component of strategic management, and this goes a long way in determining the growth of an organization.
5. Business Strengths and Weaknesses
One crucial component of strategic management is the ability to identify the strength and weaknesses of your organization and bridge the gap between these loopholes.
For every business organization, there are pros and cons. For example, The pros could be the availability of abundant resources, strategic location, and a host of others. At the same time, the cons could be unfavourable government policies, infrastructural deficit, lousy company reputation, understaffing, and a host of others. For a business to grow, the strategic manager must map out plans and bring together ideas to solve these cons and consolidate the pros.
While some weaknesses are beyond the control of strategic management, such as government policies, others such as company reputation and under-staffing can be looked into but investing in Public relations and customer relations. Also, more qualified staff members can be employed.
Furthermore, the strength of the business organization, such as abundant resources, and strategic location, can be well utilized to give the business an edge over its competitors. This will automatically help the company to grow.
Strategic Management Tools
Having discussed extensively how strategic management can make your business grow, the next chapter will focus on the task management software, strategic management tools and time tracking tools that can be incorporated into the day-to-day activities of an organization to enable the business to actualize its goals and objectives. They include;
1. Projectsly
Projectsly is a strategic management software that enables you to plan every aspect of your project from the beginning to the end for the organization's growth. This strategic management tool is used to streamline online strategic management in organizations; it enables you to monitor tasks, their current status, the laid down roadmaps, and automatically create reports for decision making.
500apps developed Projectsly with a user-friendly interface that enables you to monitor every connected team member's activity and the duration of such actions from your desk. This time tracking software functionalities include; issue management, project tracking, kanban board, timeline view, and a host of others.
As a result of its reliability and acceptability, it boasts over 30,000 active users with consistent uptime of 99.5%. It has a social pricing system that allows users to activate free trials, and subsequently, you get charged $14.99 per user every month. It is interesting to know that there are over 30 applications available on Projectsly, and with a single subscription, you have unlimited access to all.
Ready to streamline project planning process and enhance team productivity with Projectsly? Sign Up 14 Day Trial
2. Hirebook
Hirebook is a strategic management tool that is people-focused. It enables business organizations to organize meetings, and dialogues and map out action plans with ease. This strategic management software allows managers and business owners to check in with employees, provide designed spaces to share action plans, progress, and initiatives and discuss the development of the members of staff and the organization at large.
Hirebook is integrated with check-in, KPI and OKR, all combined into a sophisticated meeting tool to improve top to bottom engagement and general performance.
This strategic management tool helps your organization define your objectives clearly and presume the estimated results to ensure your team is clear on expectations. It also has easy-to-use dashboards that display project status to measure wins or push at-risk projects. Hirebook has a grading scale that allows organizations to assess if the organizational objectives were achieved or if they should be reassessed for the next quarter.
3. Asana
Asana is a strategic management tool that allows your business organization or manager to create tasks, and project templates and assign those tasks to other employees at ease. This strategic management tool has a flexible and well-organized interface that enables the administrator or user to create functions with titles, description, organizational tags, custom fields, due dates, and a lot more tabs that allows you to input additional information.
Asana, a free strategic management software, is easy to use and linked to other third-party apps such as Gmail and calendars.
The pricing system for Asana is quite friendly as it is free for members that are less than 15 individuals with restricted access to its essential features. Meanwhile, premium plans charge $10 every month or $120 for the annual subscription. The premium package contains all the features highlighted above.
4. ClearPoint Strategy
ClearPoint Strategy is a time tracking software that enables you to have time while managing your organizational strategic plans. This time tracking system cum strategic management software helps to Cut down the long hours expended in strategic management processes. It enables automated upload, provides notifications, and reminders, and generates reports with its report generation features.
ClearPoint has the edge over other time tracking software because it is cost-effective, secure, and offers a reliable customer support service to guide your organization and its employees in integrating the strategic management software into their work process.
This time tracking software allows its users to connect with other staff members, peers, and experts and have access to relevant resources to accelerate and foster dialogue and progress in achieving strategic growth in an organization.
5. Basecamp
Base camp is a strategic management tool that allows you to handle organizational activities and tasks such as emails, meeting schedules, deadlines, and individual products to track and monitor.
With Basecamp, you need not stress yourself; all you need to do is automate or integrate this strategic plan into this strategic management software. That is, it allows you to automatically schedule questions and feedback to check your team's activities and monitor productivity.
With this time tracking software, Questions like "what are you doing?", "What did you accomplish in the last session?" can be scheduled on an hourly, weekly, or monthly basis, and the answers generated would be automatically sent back via the same application on your team view interface.
As an administrator or manager, you can regulate who sees the messages, feedback, who gets assigned to a task and the estimated time for response. The time tracking software cum strategic management software is basically for monitoring and evaluation to increase productivity and efficiency in an organization.
Conclusion
Most times, it is not how to grow a business but how to maintain and improve on it. Strategic Management helps you to map out the plans, long-term, and short-term, to grow your business.
In a tweet by Entrepreneurship Secrets Group, "The world's economy grows in leaps and bounds when businesses are grown and also sustained, by their owners through a well thought out strategic management planning."
Since all work processes and organizational activities have become automated, Strategic management is not an exception. There are several project management software that can be integrated into the work process to achieve organizational goals. The best and easy to use among these time tracking software and strategic management tools is Projectsly, developed by 500apps.
What Makes the Best Project Management Software?
#1
Plan, organize, track all your projects in one place
#2
Get a visibility over individual tasks in the form of kanban boards
#3
Track the project schedule using gantt chart and calendar view
#4
Create advanced workflows with powerful automations
#5
Track employee activities, and working hours using built-in time tracking software, Clockly
#6
Monitor activities using screen recorder on Windows, Mac and Linux devices
#7
Set S.M.A.R.T goals and achieve results
#8
Share files and collaborate with team through discussion boards
#9
Unbelievable pricing - the lowest you will ever find
#10
Everything your business needs - 50 apps, 24/5 support and 99.95% uptime
Join the SaaS Revolution
All-in-One Suite of 50 apps

Unbelievable pricing - $14.99/user

24/5 Chat, Phone and Email Support