Know Everything About Construction Project Management
Every stage of the project life cycle, from conception to completion, must be managed in a construction project. It's a comprehensive approach to completewith the aim of completing projects on schedule and under budget. Cost control, timing, procurement, and risk assessment are just a few of the major issues that must be addressed when managing a construction project. Project managers communicate with all team members, including architects, owners, and contractors, who are involved in a building project.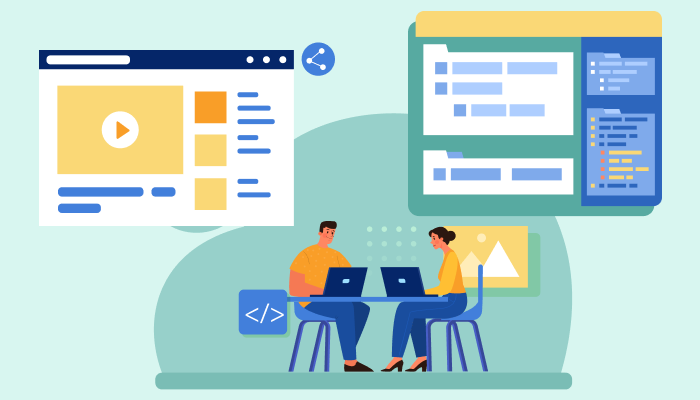 Avoiding costly errors becomes the top priority when millions are at stake in a building project. You must plan for every eventuality because of the limited time and budgetary restrictions. No matter if you're constructing power plants, oil and gas refineries, or cutting-edge infrastructure, construction project management can help you achieve this. Construction project management assists you in keeping the entire construction process productive and on schedule, from planning and design to resource management, budget allocation, and more. Discover how to begin with construction project management right away by reading on.
5 Stages in Construction Project Management Software
To manage construction projects properly, one must be aware of the five main stages-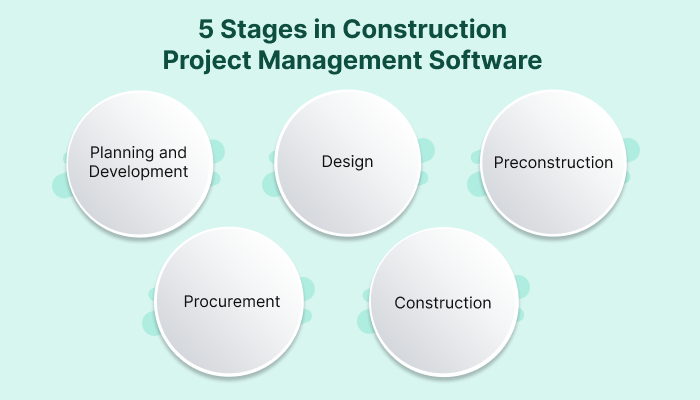 1. Planning and Development
The first and most crucial step in the construction process is deciding whether to proceed with a project. Project cancellation after they have started can be expensive, and the further advanced they are, the bigger the potential losses. This stage typically includes feasibility studies, capital budgeting, pro-con lists, and considerable stakeholder participation. To respond to the following questions regarding the project, among others, you can utilize these techniques:
2. Design
Once you've chosen a project, it's time to let your imagination run wild. The design process entails creating everything from the project's fundamental concept to precise blueprints that depict the final design. From first sketches to finished drawings and specifications, your design will go through several iterations, but each one should satisfy the project's needs while keeping the budget and timetable in mind.
After the design has been completed and authorized, the preconstruction stage should be initiated.
3. Preconstruction
Making a road map to lead you through the construction process is known as preconstruction. It involves creating a project game plan that outlines for everyone what they must do, when they must do it, how they should go about doing it, and how much it should cost. The project will be completed on schedule, to specification, and within budget if all stakeholders follow the plan and flawlessly carry out their duties.
4. Procurement
The process of procurement includes finding, getting, and shipping the supplies and labor you need to finish a project. To minimize unanticipated cost overruns during this stage, procurement and supply chain managers should offer advice during the planning stages. However, as prices are susceptible to changes in the market, some volatility is unavoidable. Through thorough preconstruction planning, you should consider this risk as much as possible.
5. Construction
You've created your plan, everyone is aware of their responsibilities, and you have the materials you need to get going. Now work can start on the project. In this phase all of your planning and preparation pay off, facilitating a smooth construction process and a successful conclusion. Of course, even the most extensive plans can't account for every potential obstacle, so it's essential to regularly monitor and assess progress during this period to stay on track.
4 Core Construction Project Management Processes
Below are the 4 core construction project management processes-
a) Ideation and Research
Ideation is an element of front-end loading (FEL), the project life cycle's planning and design phase. It occurs when stakeholders examine every aspect of a project to determine whether it fits with your company's present and projected portfolio of initiatives. In terms of ROI, applicable laws, integration with current projects, risk, and other elements, the proposed project must make sense.
b) Define and Plan the Project
Once you've chosen a project, it's time to fill in the blanks to avoid scope creep and maintain team cohesion once work actually starts. At this point, crucial information such as the project's scope, a workable schedule, necessary resources, a fair and realistic budget, and important performance metrics should be addressed (KPIs). It should once more be a top priority to solicit feedback from as many pertinent team members as possible at this phase, along with figuring out how many people would be needed for the project.
c) Determine Roles
Due to the large number of parties participating in any building project, you need to specify each party's role in detail. As a result, everyone's roles are made clear, you can hold team members accountable, and confusion and delays are avoided. Redundancies diminish and tasks don't fall through the cracks when every team member is aware of their position within the project and how to complete their assigned tasks.
d) Finalize and Execute Construction Plans
Project managers should meet with the appropriate stakeholders to evaluate the plan and make sure everyone is on the same page before the real building begins. While it's likely that you'll have to deal with unforeseen obstacles and modifications as the project moves forward, neglecting to get express buy-in before construction almost ensures that you'll run into more difficulties in the process.
Ready to streamline project planning process and enhance team productivity with Projectsly? Sign Up 14 Day Trial
Conclusion
Solutions for the construction project management industry enable you to enhance forecasts, centralize information, increase productivity, and save costs. You can do that and much more with the help of the top-notch enterprise project performance solution Projectsly provides. It relieves you of some of the strain that can be reduced by using an intuitive platform that reduces risk, gets rid of mistakes, and makes communication easier. Contact Projectsly right away to find out more about how we can help your upcoming building project succeed.
What Makes the Best Project Management Software?
#1
Plan, organize, track all your projects in one place
#2
Get a visibility over individual tasks in the form of kanban boards
#3
Track the project schedule using gantt chart and calendar view
#4
Create advanced workflows with powerful automations
#5
Track employee activities, and working hours using built-in time tracking software, Clockly
#6
Monitor activities using screen recorder on Windows, Mac and Linux devices
#7
Set S.M.A.R.T goals and achieve results
#8
Share files and collaborate with team through discussion boards
#9
Unbelievable pricing - the lowest you will ever find
#10
Everything your business needs - 50 apps, 24/5 support and 99.95% uptime
Join the SaaS Revolution
All-in-One Suite of 50 apps

Unbelievable pricing - $14.99/user

24/5 Chat, Phone and Email Support