Comprehensive Guide to Agile Project Management
Release of benefits throughout the process rather than just at the conclusion is one of the objectives of an agile or iterative strategy. Agile project management initiatives should fundamentally display the essential beliefs and conduct of cooperation, trust, and adaptability.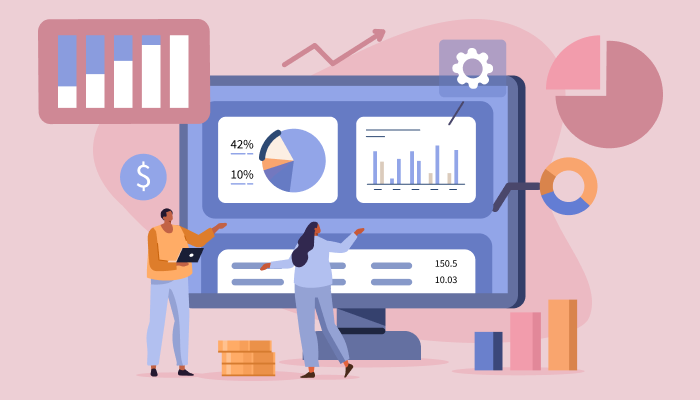 Agile project management is an iterative method for completing projects at all stages of their life cycles.
Numerous incremental actions are taken to complete a project throughout the course of an iterative or agile life cycle. Since iteration allows for on-the-fly adjustments rather than a linear path, iterative approaches are widely employed in software development projects to promote velocity and adaptability.
Here's the List of Frameworks in Agile Project Management
Frameworks are strategies for implementing Agile concepts to a project, as we said previously. Agile frameworks come in a wide range of variations. Here, we've included six of the most well-liked and widely used ones: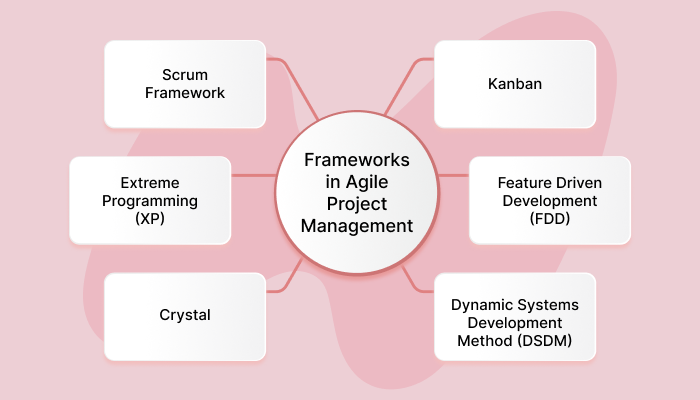 Scrum Framework: Perhaps the most popular Agile framework is Scrum. It is a framework that is focused on the team and uses roles and duties that are clearly defined for the team in order to achieve agile project management's responsive approach.

Kanban: In that it attempts to help teams operate at peak efficiency, Kanban is comparable to Scrum. It focuses on a project's workflow, streamlining ongoing work and preventing productivity bottlenecks. Typically, Kanban entails using a flowchart or Kanban board.

Extreme Programming (XP): Due to its emphasis on rapid releases, XP, or Extreme Programming, is a favorite in the project management app development industry. This strategy is perfect for initiatives where delivering continuous value is a top priority.

Feature Driven Development (FDD): Feature-Driven Development and XP are not that dissimilar from one another. Additionally, it aims to consistently provide clients with value across the course of a project. This particular paradigm is client-centric and gives stakeholder participation special emphasis.

Crystal: Crystal gives the project team a lot of her attention as well. Their capacity to decide what is best for the project's success is highly valued by this. It is a fantastic choice for smaller teams who prefer a "lightweight" method of project management with paperwork, reporting, and micromanagement.

Dynamic Systems Development Method (DSDM): It strives for consistent value delivery and open discussions with stakeholders, similar to XP and FDD, respectively. The primary focus of DSDM is on meeting the project's deadlines and spending limit.
Benefits of Agile Project Management
Primary limitations, such as time and cost, can be regularly assessed with agile project management. Teams' schedules are designed to include quick feedback, ongoing adaptation, and best practices for Q&A, which guarantees high-quality results and an efficient workflow. Some additional advantages of agile project management are as follows:
Increased attention to clients' individual demands
Reduced waste by using fewer resources
Increased adaptability enables teams to take on new challenges with ease
Better project management
Quicker turnaround times for projects
Quicker discovery of product flaws or problems
Increased interaction and feedback frequency
Enhanced development methodology
Increased success as a result of more concentrated efforts
Quick implementation of solutions
Ready to streamline project planning process and enhance team productivity with Projectsly? Sign Up 14 Day Trial
Phases of Agile Project Management
There are six essential stages in the Agile project management process. The nomenclature for each step goes somewhat like this, but organizations may use slightly different terms: concept or scope, plan, iteration or design, release, production, and retirement.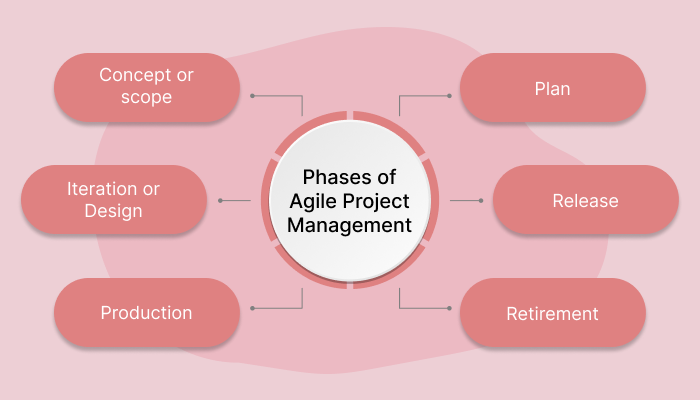 Concept or scope: The most important needs are scoped, and projects are chosen and ranked.

Plan: To make sure that all project needs are understood and taken into account, a project team is formed and input from stakeholders is obtained.

Iteration or Design: The product or service has undergone thorough design and analysis to guarantee that it satisfies the needs of all stakeholders.

Release: The product or service has undergone all necessary testing, and any problems have been fixed.

Production: The project team will offer further assistance for maintenance or upgrades when the product or service is put into full production.

Retirement: A product or service will be retired by the project team by turning off support and other duties.
Working of Agile Project Management
Agile is a way of thinking rather than a set of instructions. Consequently, there is a lot of room for variation in terms of how an Agile software development project could operate in a certain situation.
Agile primarily accomplishes the following:
Reduces the importance of activities that are not primarily involved in the creation of software. This could involve discussions about specifications, change control agreements, and carefully worded written contracts that bring all necessary skills under one team and in one place.

Encourages collaborative, integrated development where individuals cooperate rather than communicate in a hierarchical way. In an ideal scenario, cooperative development and eventual success are the responsibilities of both the developer and the final client.

Acknowledges that change is a given in any team or organization and that it is better to tolerate change as part of a development effort than to attempt and wring it out through processes and procedures.

Provides a corporation with a smaller, more manageable set of components as opposed to a comprehensive, large-scale solution. Agile works on a new and enhanced iterative method that enables clients to be involved at every level of project management, as opposed to adhering to the conventional way of sequential methods.

Enables independent decision-making by software engineers in a structured change management environment.

Attempts to abandon the notion of a comprehensive project planner that becomes rigid and prevents the realization of potential and individual innovation..
Final Words
Speed, flexibility, and autonomy are becoming more and more important as businesses transition to remote working environments. Because of this, Agile and its hybrid approaches are a great fit for your company. Remember that you can start by adopting the concepts and procedures that make sense for you and your team if you're still trying to select which methodology to use — Agile vs. Scrum vs. Kanban vs. Scrumban vs. some other hybrid.
What Makes the Best Project Management Software?
#1
Plan, organize, track all your projects in one place
#2
Get a visibility over individual tasks in the form of kanban boards
#3
Track the project schedule using gantt chart and calendar view
#4
Create advanced workflows with powerful automations
#5
Track employee activities, and working hours using built-in time tracking software, Clockly
#6
Monitor activities using screen recorder on Windows, Mac and Linux devices
#7
Set S.M.A.R.T goals and achieve results
#8
Share files and collaborate with team through discussion boards
#9
Unbelievable pricing - the lowest you will ever find
#10
Everything your business needs - 50 apps, 24/5 support and 99.95% uptime
Join the SaaS Revolution
All-in-One Suite of 50 apps

Unbelievable pricing - $14.99/user

24/5 Chat, Phone and Email Support