A Complete Guide on Team Task Management
This blog gives you a complete guide on team task management and its benefits, along with how to choose the best task management tool.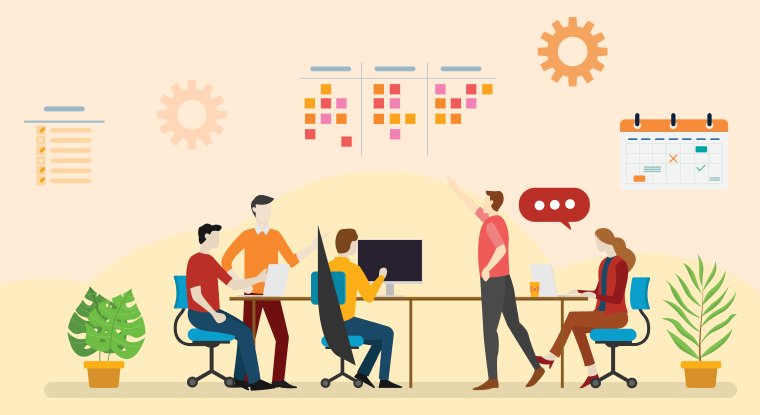 Task management is a core function under project management and involves an efficient work breakdown structure that divides a project into manageable tasks. Managing tasks on priority, keeping up with the schedule and cost criteria, and ensuring team collaboration form the basis for task management.
What is Team Task Management?
Team task management is an activity through which an individual or team leader can track a project's status in various stages and make decisions depending on the progress. Task management can be done via software tools that help organize and manage all tasks in multipe views from planning to assignment, task creation, reporting, time tracking, etc.
The reports generated in task management help the businesses analyze the efficiency of individuals, departments, or organizations by tracking group, shared, or personal activities. Team task management is a vital process that allows team leaders or supervisors to monitor the time an employee spends on a task along with employee workload and performance.
How Does a Task Management Tool Help Teams?
Task management tool is a user-friendly and feature-rich system that enables a business to gain a competitive edge by meeting all deadlines while maintaining employee productivity and efficiency.
Here is why teams need to integrate task management into the business system:
It improves coordination and collaboration among intra- and inter-departmental teams to accomplish all tasks.
It enhances planning systems and execution to save the time and effort of the team members.
It facilitates resource allocation to ensure the smooth accomplishments of all activities and business processes.
It helps strengthen a team's workflow by tracking the team members' activities and checking the real-time status of assigned tasks.
Benefits of Implementing Task Management for a Team
An efficient team task management system helps delegate various tasks to save valuable resources like money and time and increases the team's productivity.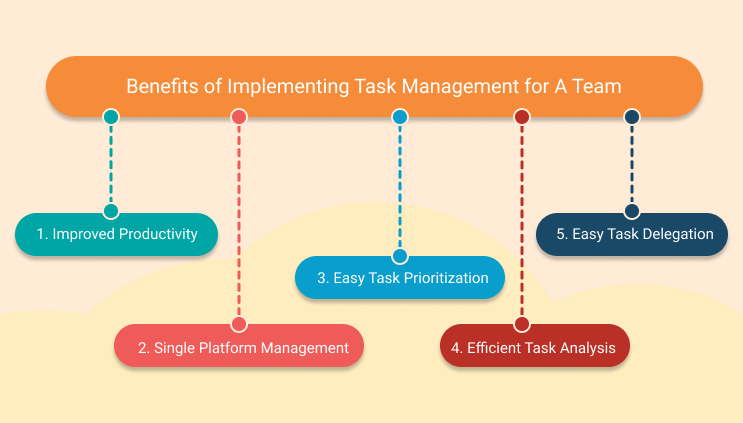 Here is a breakdown of the benefits of implementing task management for your team.
1. Improved Productivity Team task management improves collaboration between intra- and inter-departmental teams to accomplish various tasks. Each team member has a particular role in small and huge projects. So, task management helps take care of the task lists or automates them so that the team does not need to waste time attending to the system for analysis and updates.
The team members can locate their tasks easily using an efficient task management tool. The members can also view the significant activities related to a specific project with the due dates so they can plan things accordingly. It results in everyone getting organized and managing complex tasks effectively, which in turn improves productivity.
2. Single Platform Management You must keep every document or file in handy that is essential for a project when working on single or multiple projects. A task management system helps you keep everything together in calendar forms, cards, notes, tickets, etc.
Team task management provides you with a centralized integration platform to save all the team activities so that the members do not have to memorize things. Moreover, this system makes it easier for the team to stay on track while working on multiple projects simultaneously. Managing tasks from a single platform save you and your team from losing sensitive information by meeting deadlines and performing significant tasks efficiently.
3. Easy Task Prioritization Task prioritization is essential to meet the deadlines of significant tasks or projects. Otherwise, the team members may find it tough to manage all activities within a specified period. Most people get stuck with low-priority activities while starting work. It takes away the time required for more significant and complex tasks. If a team cannot prioritize tasks based on importance, they may miss deadlines or hinder project completion.
A task management system helps team members overcome the task prioritization complexities and issues so they can perform the priority activities on time without missing deadlines. So, task management helps in easy task prioritization.
4. Efficient Task Analysis Bigger organizations require the accomplishment of multiple tasks at the same time. The team members must view the status of all the tasks to see and analyze how things are proceeding. Manual tracking of tasks kills time because project managers must analyze the performance of every team member to identify problematic areas. However, managers do not have to worry about saving time using a task management system because they can keep track of all the members' tasks and progress in real-time within a short period with an efficient task management solution.
5. Easy Task Delegation Task delegation is a significant step in managing unlimited projects within a short period. A team task management system makes it easier to manage tasks because it enables you to assign tasks to the right person with a few clicks and monitor their progress from the same platform.
A project manager or supervisor cannot finish all tasks related to a project by himself. In this case, they can make use of each team member by efficiently delegating tasks to avoid getting overburdened. Task delegation also allows all team members to contribute to projects to the best of their abilities while bridging the gap between employees by developing the spirit of working together.
How to Choose a Best Task Management Tool?
The best team task management tool fits an organization's objectives and processes. So, business organizations must analyze the functionality and end result they are looking for when choosing a task management tool.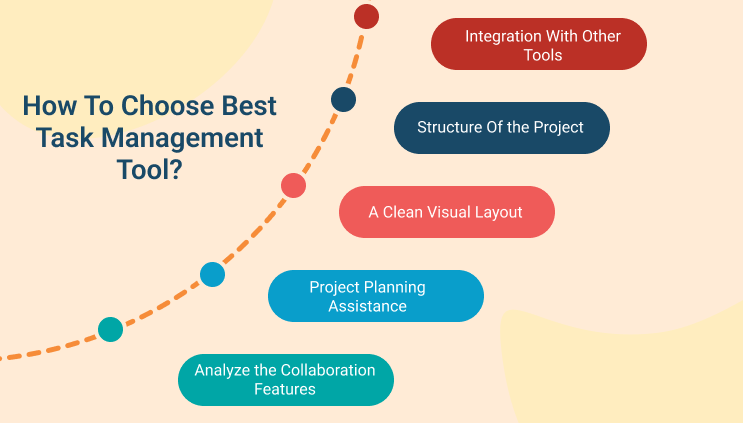 Here are the considerations for choosing a task management tool.
1. Analyze the Collaboration Features You must analyze a task management tool's collaborative capability because it is one of the most sought-after and useful functions for project management. The tool that you choose must have the power to hold teams together and get the members on the same page. You must think about how your team members like to communicate when choosing a task management tool. You can convey the communication style of your team to the software companies when discussing the features of their task management tools. You must also ensure that the tools help intra- and inter-departmental teams coordinate and collaborate to accomplish tasks.
2. Project Planning Assistance You must look for a team task management tool that offers real-time project updates to your business. If you get the task progress updates on time, it allows you to make sure that everything is on the right track. Moreover, you can also analyze whether any team member has left any significant task pending in a specific project.
You must choose an effective collaboration management tool that allows you to assign and schedule tasks and gives you updates once they get completed through the project lifecycle. A robust task management tool helps you and your business with project planning and assistance in meeting deadlines on time.
3. A Clean Visual Layout Team members may be resistant to new software and tools when they are a part of the learning curve within an organization. You can look for user-friendly task management tools that can eliminate the barrier to entry from all team members.
It is advisable to try looking for a tool that uses a single dashboard with visual elements to help classify and separate projects. You should make sure that the visual interfaces of the task management tools are less intimidating than complex spreadsheets or emails so that the team members can adopt them easily. An easy-to-understand, feature-rich task management tool can prompt your team to use it immediately without a fuss.
4. Structure of the Project Efficient projects operate with a specific structure, and an effective task management tool includes similar features for better accomplishment of activities. You must seek a software or tool that allows you to classify your projects, whether big or small, into phases. It results in the tasks getting divided into sub-tasks and provides room for flexibility in completing them. Hiccups are inevitable in projects because each of them is unique and has specific requirements. Therefore, you must choose task management software that is as agile as your team members and works towards boosting their productivity, and helps meet deadlines.
5. Integration With Other Tools Every organization has a plethora of tools that help accomplish all tasks efficiently. You must see how a task management tool functions and integrates with the existing tools when discussing incorporating it into your service system. You can ask a few questions to the tool's brand representative regarding its compatibility with other software or systems to get a better understanding of its functionalities. If you miss this verification step, you may have to dismantle things already working well for your business. For this reason, it is important to make sure that you choose an efficient and collaborative task management tool that works well with other systems.
Why Choose Projectsly as the Task Management Tool for Your Team?
Projectsly is an efficient project management software that helps team members to centralize projects and execute them successfully. The all-in-one, project management tool helps streamline tasks and projects through collaboration, powerful automation, and management features to boost productivity and track significant deadlines.
You can use Projectsly to streamline your task assignments and projects from a central location and team discussion to accomplish tasks within time. You can also align your team members with task activities and get real-time updates from them regarding the ongoing and completed tasks. Projectsly helps you achieve success in every project by helping you accomplish the tasks on time.
Here is why your team must choose Projectsly as a team task management tool.
It helps you get a complete picture of all ongoing and accomplished tasks from a single platform.
It keeps significant information like documents, activity timelines, notes, email integration, task hours, etc., organized in a single place.
It monitors a project's progress through various goals and helps you measure your completion.
It uses power automation to create advanced rules and includes a visual builder to fully control a system.
It easily integrates with in-built apps for better team collaboration and management within an organization.
Ready to streamline project planning process and enhance team productivity with Projectsly? Sign Up 14 Day Trial
Summing It Up
A task management software helps complete projects by prioritizing and organizing related tasks. The task management tools help individuals or teams to work efficiently, stay organized, and reduce wastage of time by ensuring that the team members work on high-priority tasks and meet deadlines. Efficient team task management addresses the need for task organization, visualization, and prioritization, ensuring a seamless project collaboration experience.
What Makes the Best Project Management Software?
#1
Plan, organize, track all your projects in one place
#2
Get a visibility over individual tasks in the form of kanban boards
#3
Track the project schedule using gantt chart and calendar view
#4
Create advanced workflows with powerful automations
#5
Track employee activities, and working hours using built-in time tracking software, Clockly
#6
Monitor activities using screen recorder on Windows, Mac and Linux devices
#7
Set S.M.A.R.T goals and achieve results
#8
Share files and collaborate with team through discussion boards
#9
Unbelievable pricing - the lowest you will ever find
#10
Everything your business needs - 50 apps, 24/5 support and 99.95% uptime
Join the SaaS Revolution
All-in-One Suite of 50 apps

Unbelievable pricing - $14.99/user

24/5 Chat, Phone and Email Support