Check These Project Management App Features Before Buying
The blog gives you a complete idea of major project management app features to be checked by the organizations before buying the app.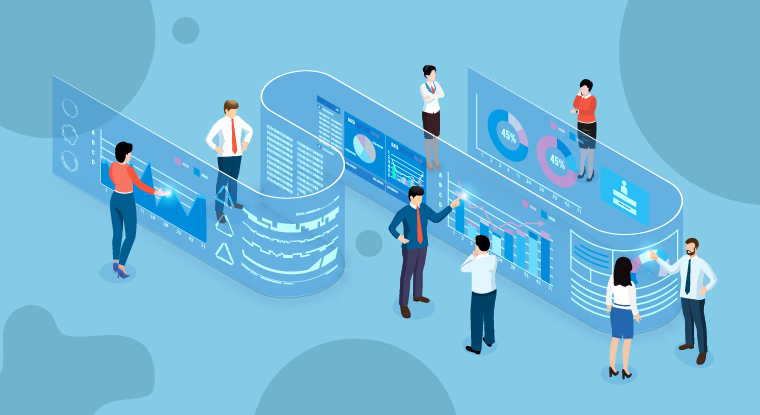 Keeping track of multiple ongoing projects led by different people can be challenging for any organization. As the work landscape is shifting away from the office to a blend of online and offline work, it is becoming harder for organizations to track their employees' progress. Over the years, various project management apps have entered the market to come to the aid of project managers by improving the performance of team members. In this article, we will discuss the features that will determine whether a particular project management software is right for you.
A project management app is essentially software that has been developed to facilitate easier project planning, efficient division of work, scheduling of different projects, and adequate resource allocation, among other things. They are used by all the top organizations globally since they streamline processes while also keeping track of the big picture. Project management software is also used to improve collaboration between various stakeholders of the project.
Main Project Management App Features to Look for in 2022
Before purchasing a project management app, it helps to ascertain your priorities as an organization. Therefore, one can wonder what aspects of your work will benefit from using such software.? This can be answered by creating a short list of goals you wish to accomplish with the project management software. Do you want to streamline product development, increase communication within and between teams or have a simple way to divide work among your employees? You can narrow down the list of project management apps that best suit your needs based on your objectives.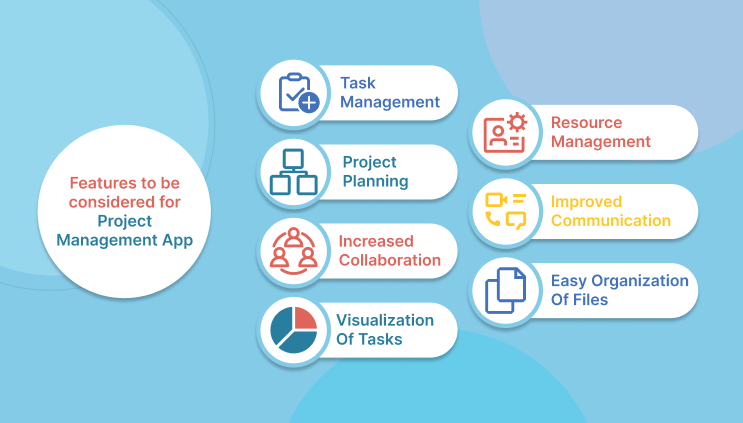 1. Task Management
If various tasks in an organization are not well defined, it can lead to ambiguity regarding the scope of an employee's job. A good project management system will have in-built task management software such that tasks can be broken down into sub-tasks and allocated accordingly. This will prevent confusion about who has to do what work.
2. Project Planning
Planning the project is the most crucial step in project management and usually takes a long time. Planning it right will help to identify and minimize risks while reducing the rate of failure. Project management software provides all the necessary tools in one place while making it possible to automate repetitive manual tasks. This makes it easy to plan, organize and deliver scalable projects on time.
3. Increased Collaboration
A survey by Queen's University showed that 39% of employees say that people in their organization don't collaborate enough. Project management software can change this by increasing collaboration as different teams can work on multiple projects together since the tasks can be divided equally.
4. Visualization of Tasks
Another feature of project management apps is to visualize tasks in a project in an easy-to-understand manner. This is done using tools such as Kanban board and Gantt chart which enable project managers and team members to stay updated about the current status of tasks.
5. Efficient Resource Management
Every project has a budget constraint. Project management tool helps managers control the budget by analyzing the number of resources used in every step of the project. Managers can see how much time and resources each employee is spending on tasks so they can identify the areas where too much money is being spent.
Ready to streamline project planning process and enhance team productivity with Projectsly? Sign Up 14 Day Trial
6. Improved Communication
No project can be easily executed without a clear line of communication. A good project management app will have in-built chat features, which are much more efficient as compared to sending an email and waiting for a response. In some cases, every communication related to a project is archived until the project is completed.
7. Easy Organization of Files
Anyone who has worked on a large project knows of the struggles of having to organize various files that have been shared on multiple platforms. A project management app solves this problem by storing and organizing all files online while allowing users to seamlessly share these files through the same platform.
Why Should Businesses Follow Them?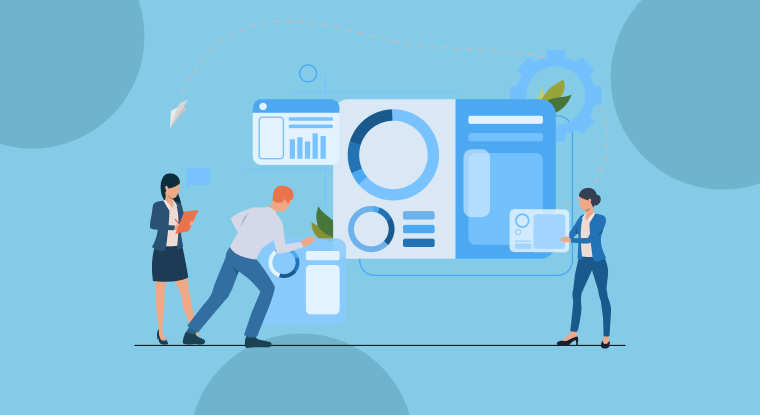 The PMI, in a study, found that for every $1 billion invested in projects, $122 million gets lost in practice due to questionable project management, which eventually leads to poor project performance.
The right project management tool can turn any organization into a thriving one. Project management software is among the most valuable tools that can make a company competitive, giving it an edge over its competitors. It helps you stay organized and focused on meeting your client's demands by centralizing the record of tasks and keeping track of progress.
The main reason for buying these apps is to improve the efficiency of project planning. If you feel like your organization is getting overwhelmed by too many projects, these apps can help you plan and organize different projects.
If you or your team are struggling to manage the time spent on a project and having trouble meeting deadlines, then project management apps can help you. This softwareThese software hashave built-in calendars that can be automatically updated with meeting dates and project deadlines that the entire team can access. They also help you track the number of minutes you spend on various tasks allowing you to optimize your work.
Summing It Up
Buying a project management tool for your team can seem like a daunting task since there are a lot of aspects to consider. Today, there are more options than ever, as the Saas (Software as a service) market has seen major growth over the last few years. However, most of these apps offer a free trial period, so you can take your time and experiment with different options to decide what best suits your needs and style of work. We recommend short-listing a few options and trying them out before making your final decision. We hope this guide has been able to help you understand the different features of project management apps and enabled you to make an informed decision about optimizing your work.
What Makes the Best Project Management Software?
#1
Plan, organize, track all your projects in one place
#2
Get a visibility over individual tasks in the form of kanban boards
#3
Track the project schedule using gantt chart and calendar view
#4
Create advanced workflows with powerful automations
#5
Track employee activities, and working hours using built-in time tracking software, Clockly
#6
Monitor activities using screen recorder on Windows, Mac and Linux devices
#7
Set S.M.A.R.T goals and achieve results
#8
Share files and collaborate with team through discussion boards
#9
Unbelievable pricing - the lowest you will ever find
#10
Everything your business needs - 50 apps, 24/5 support and 99.95% uptime
Join the SaaS Revolution
All-in-One Suite of 50 apps

Unbelievable pricing - $14.99/user

24/5 Chat, Phone and Email Support