20 Best Project Planning Tools to Look for in 2022
A project planning tool helps you to create, collaborate, & organize all your work in one place. Here are the best project planning tools to look out for in 2022.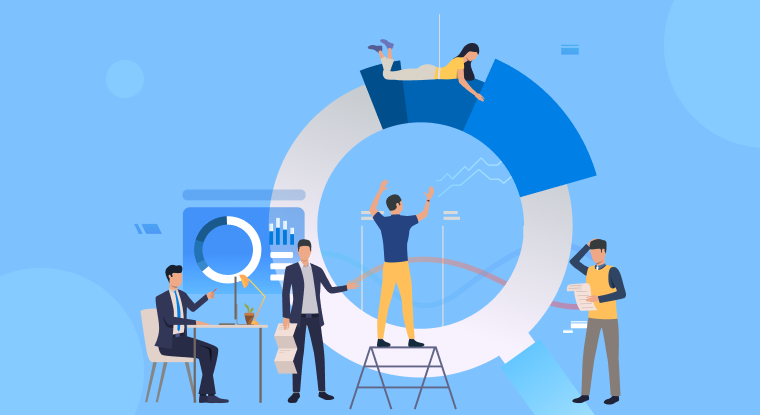 Project management tools are aids to assist an individual or team in effectively organising work and managing projects and tasks. The term usually refers to project management software you can purchase online or even use for free. The importance of effective project management, especially in this "changed" world, cannot be exaggerated.
With regard to this, Joe Cahill, Chief Operating Officer of Project Management Institute said, "In a turbulent world, project managers need to drive change with confidence so that others in the organization have the confidence they need to shape a better tomorrow. This is perhaps the most important role that project professionals play during troubled times."
A staggering 96% of customers generally feel the businesses they deal with could improve when it comes to communication and project management.
However, as fortune would have it, there's been an efflux of effective project management/planning tools to help attenuate and do away with those problems. They're devised to give people – and the businesses they makeup – the tools they need to be more satisfied, more productive, and more organised – greatly improving communication generally.
With many options available, it can be difficult to decide which project management app to use. As such, in this article, we'll round up 20 of the best Project Planning Tools to look out for in 2022– with descriptions, features and even pricing!
Best Project Planning Tools in 2022
Best project planning tool in 2022:
Projectsly
Developed by 500apps, Projectsly is a project planning tool that helps you streamline your project planning, plan every aspect of a project from start to finish to accelerate business growth, keep tabs on who's doing what and when and communicate with your team in real-time to keep projects on track.
Streamline online project management and align your teams around a centralized system for increased collaboration, efficiency, and revenue growth.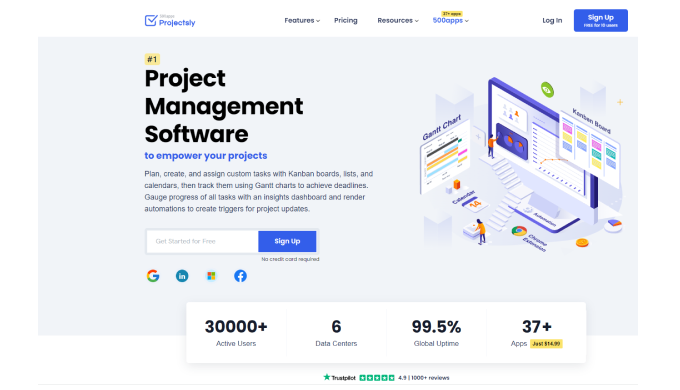 Top Features
Agile Methodologies
Budget Management
Collaboration Tools
Milestone Tracking
Resource Management
Pricing: Projectsly is free for up to 10 users and costs $14.99 per month, per user thereafter. Ready to streamline project planning process and enhance team productivity with Projectsly? Sign Up 14 Day Trial
Asana
Asana is—without a doubt—one of the most popular task management tools out there. If you've ever worked in a large team, chances are you have run into this useful task manager.
Asana combines elements of project management, file storage, and collaboration and helps to manage projects across a team without email.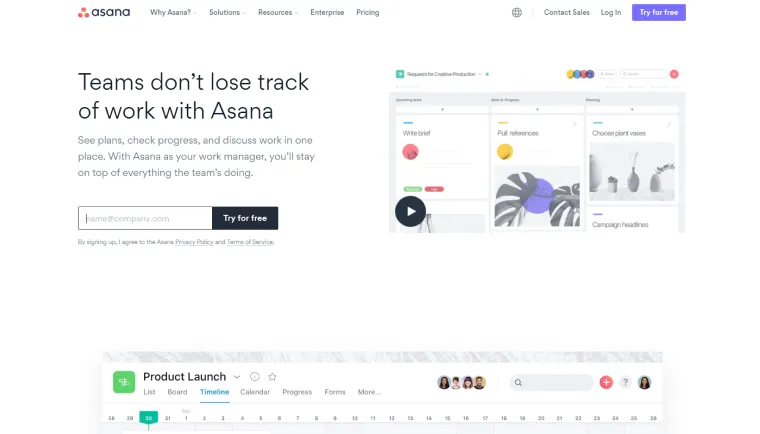 Top features:
Break your work down into tasks, and assign it to team members
Organize your tasks into projects for roadmaps and timelines
Review milestones, and check on your team's progress
What's special about this tool: Asana is a really easy-to-use tool with a simplistic layout. If you're a small team with not too complex projects, check it out.
Pricing: Free for up to 15 members, Premium from $8.33 user/month
Monday.com
Monday.com can handle workflow management for any project. Monday.com features a visual to-do list that allows for flexibility by allowing the user to choose a suitable template and customize it. To-do lists can be shared with others for collaboration or kept to yourself to help organize your personal life.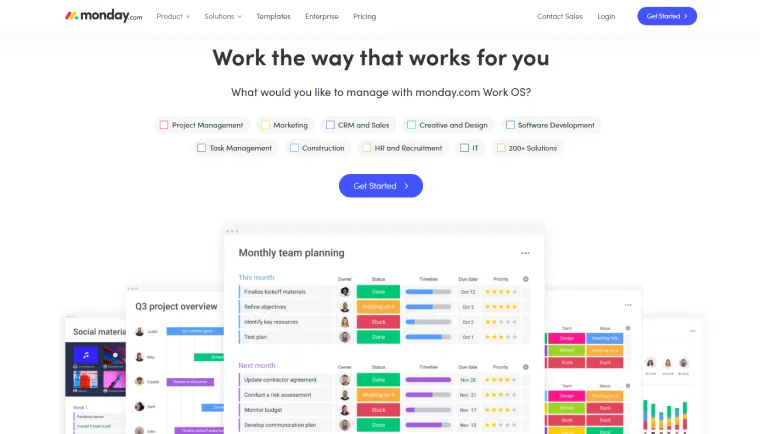 Features
Project development can be tracked through Kanban, Timeline, or Gantt chart.
It has functionalities for planning sprints, creating user stories and assigning to team members.
Reporting.
Trello
Trello's boards, lists, and cards enable teams to organize and prioritize projects in a fun, flexible, and rewarding way.
Trello is known for visualizing project tasks on a cardboard-like dashboard that's great fo managing short and quick everyday assignments.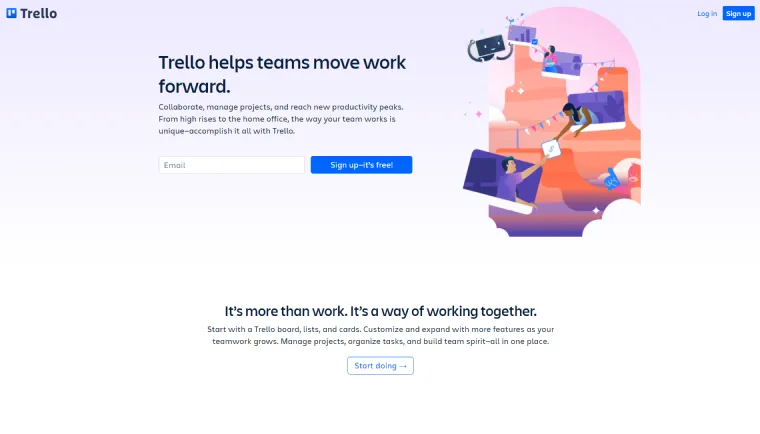 Top features:
Simple task management on a cardboard
Creating unlimited task lists
Image and file sharing
What's special about this tool: From startups to Fortune 500 companies, Trello is the most visual way for teams to collaborate on any project.
Pricing: Free for personal use, $9.99 user/month for businesses
Paymo
Paymo helps freelancers get paid more by offering all the necessary tools for tasks, client management, and time tracking. Paymo offers a simple yet powerful tool bringing together project management, work reporting, and time billing.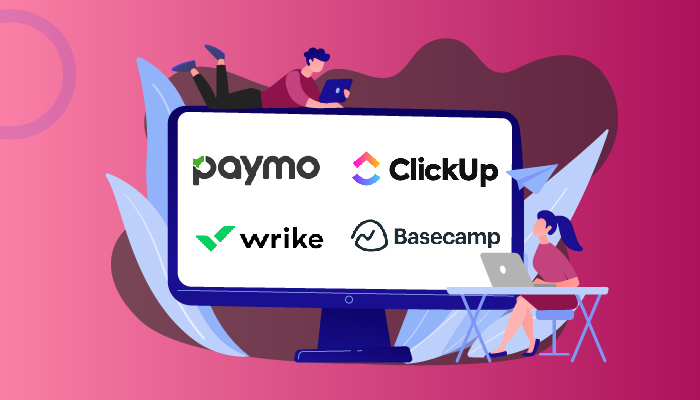 Top features:
Tracking the time spent on tasks and projects
Thorough work reports
Dashboard to see your team's performance
What's interesting about this tool: With Paymo Plus, you can automate your time tracking completely. All you need to do is download the desktop app, let it track your PC usage, and at the end of each day, categorize all your time entries.
Pricing: Free and paid plans from $9.56 user/month
Wrike
Wrike is an online, agile, and real-time project management application that boosts communication among teams. Its simplicity and responsibility make the users achieve the results on time.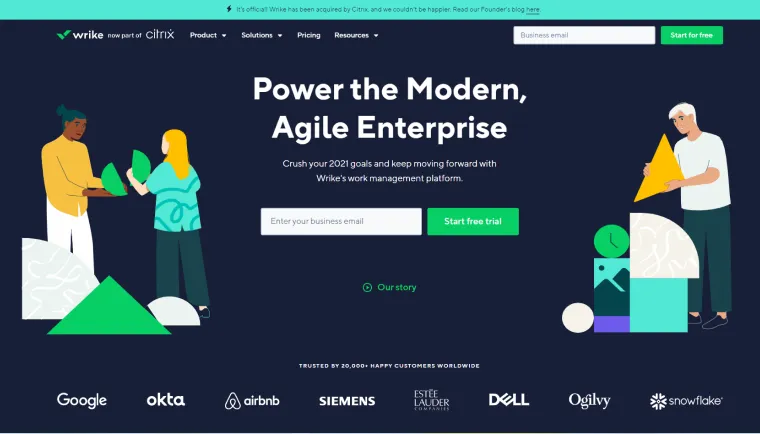 Wrike project management software provides everything you need for a remote workspace. Work can be organized by different departments, campaigns, and projects to maximize organization efficiency for businesses.
Wrike is mainly used in mid-sized or large projects.
Pricing: Wrike is free for 5 users, with paid packages starting at $9.80 for 5+ users.
ClickUp
ClickUp is a project management platform that's focused on efficient task management. Built for teams of all sizes and industries, ClickUp's fully customizable features make it a must-have for agile teams that want to keep everything from design to development in one intuitive place.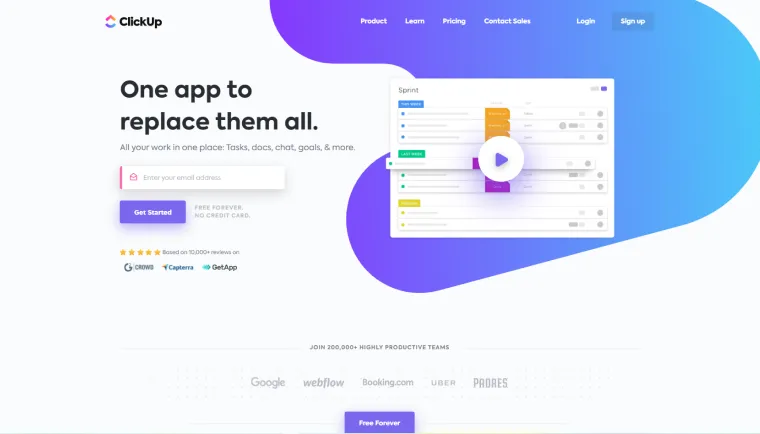 Top Features:
3 different views (Board, Box, List)
52 customizable features for each project (Statuses, Assignees, ClickUps)
Tools like 'Smart Search' and 'Smart Estimates' make you more productive over time
What's special about this tool: ClickUp's beautiful design and unprecedented user experience in an otherwise dull space echo what Slack did to communication.
Pricing: Free for up to 100MB, Premium for $5 user/month
Basecamp
With Basecamp, you break up your work into separate projects. Each project contains everything related to the work at hand; all the people involved, every discussion, every document, file, task, important date, etc. Everything!
Basecamp is the preferred tool for thousands of project management teams, who enjoy its modern social media-like interface and carefree team collaboration features.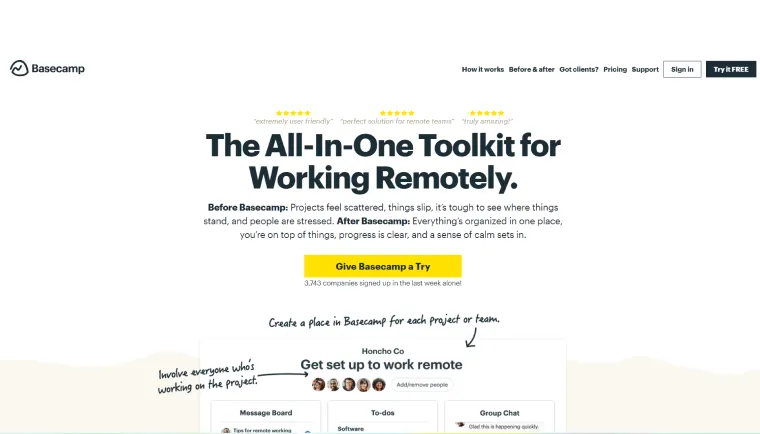 Top Features:
Projects to manage multiple users' work
Message boards for discussing new projects or ideas
In-app collaboration with the team
What's special about this tool: Basecamp is free for teachers and students!
Price: $99/month for unlimited users
Airtable
Airtable is a different kind of task management software. It is a low-code platform for building collaborative applications that fit your project needs.
It's pretty hard to give an idea of the structure of Airtable, mainly because it's so flexible. You can really edit so many of the features and settings to fit your exact needs as a business that providing a screenshot or video of a 'typical' project is really difficult!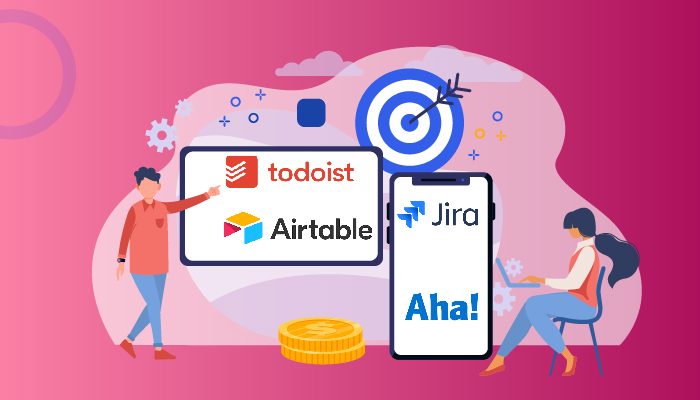 Pricing: Airtable has a free plan with basic features like 1,200 records per base and 1 synced table per base through April 2021. For paid plans, pricing starts at $10 monthly per user when billed annually.
JIRA
JIRA has powerful reporting tools and dashboards that give teams a comprehensive view of project progress. JIRA is a cross-platform issue and bug tracking software with advanced project management capabilities and features.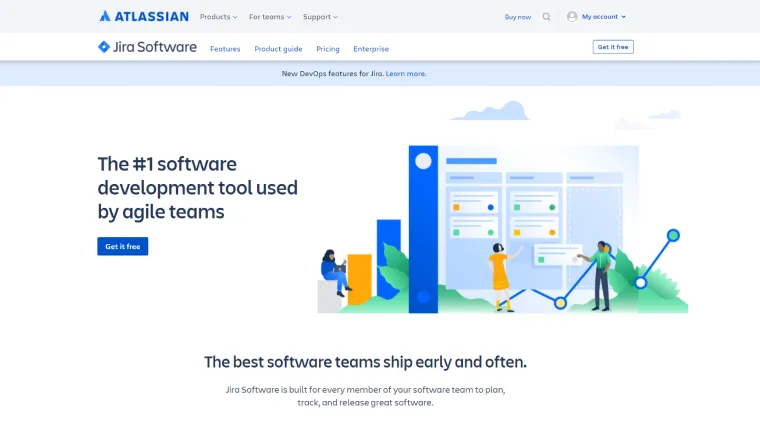 Top Features:
Create user stories and issues, plan sprints
Distribute tasks across your software team.
Prioritize and discuss your team's work
What's special about this tool: JIRA is designed for software development teams, making it the perfect IT project management tool.
Pricing: Starting from $10/month (up to 10 users), $75/month for 15 users, $300/month for 50 users.
Todoist
A fast mobile-optimized task management software, Todoist is built to help project managers handle multiple tasks without feeling overwhelmed. As you might expect from the name, Todoist is a task manager that lets you create simple, intuitive to-do lists. It's a versatile tool that can be used for personal or business tasks, as you can see in the video demo above.
You can create projects, and then populate each project with simple to-do items. They can be allocated to team members, given due dates, and ticked off as you go.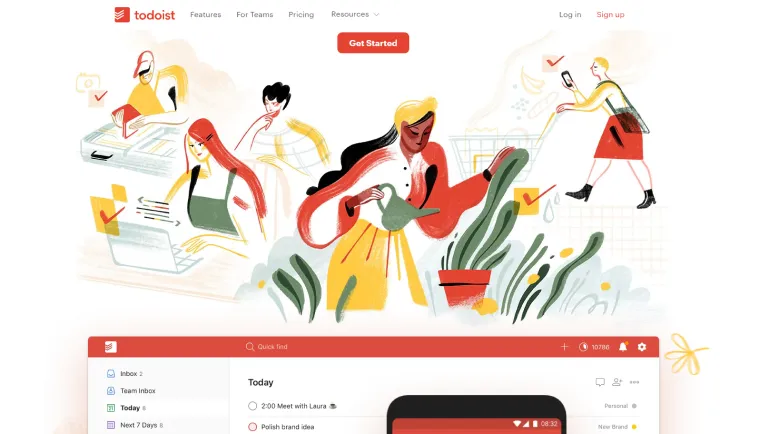 The tool comes with a range of themes so you can choose the look and feel that works for you….
Pricing: Todoist is free for up to 80 projects, with up to 5 users per project. You can expand these numbers with the Premium package ($3 per user per month,) or the Business package ($5 per month.)
Aha!
This software balances advanced project management features with a straightforward user interface. Also, the name is fun to say.
Aha! is a cloud-based project management solution for small, midsize and large enterprises. It caters to industries including education, energy, finance, government, legal, IT services, marketing, medical, non-profit and others. Primary features include task lists, product roadmaps, Kanban board, collaboration and analytics.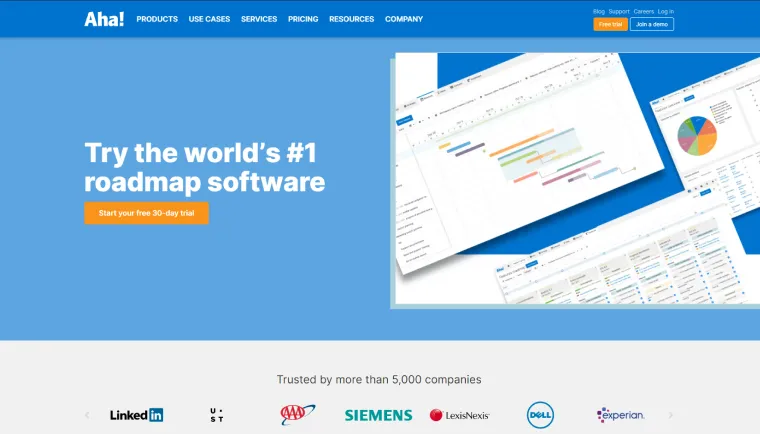 Aha! supports agile and scrum workflows. It allows users to create product, technology, consulting, manufacturing and marketing roadmaps. Product managers can create the strategy and visual roadmaps for their product launch and features. It provides Gantt charts to view project status.
Users can customize the navigation tab, layouts and workflow, and capture customer and colleague ideas through a portal.
Pricing: Aha! is free for a 30-day trial period and the price for the annual plan starts from $59.
Podio
Podio is a flexible and highly customizable online hub for work and team communication.
Top Features:
Assign tasks, attach files and discuss details within the solution
Share encrypted & large files
Automate the sales pipelines, project budget tracking, and more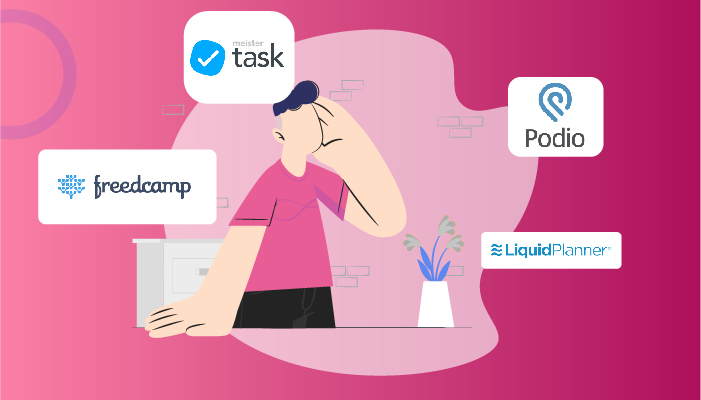 What's special about this tool: Podio's workflows feature enables you to add if-this-then-that logic to Podio apps. For example, instruct your app to create a task or comment, when an item is created or when a particular update is made to an item.
Pricing: From $24 month/user for a full suite of features.
ActiveCollab
ActiveCollab is a project management solution for creative professionals. It offers cloud-based subscription plans or a self-hosting license. Active Collab helps your team stay organized while you outgrow email.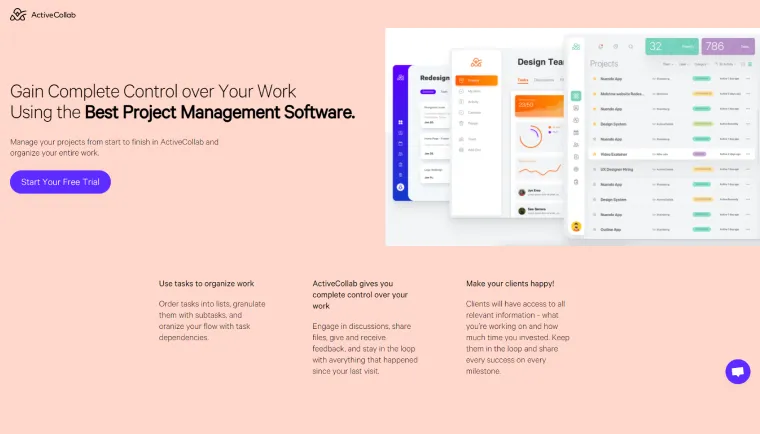 Top Features:
Time tracking and invoicing
Gantt-like timeline for planning
Kanban cards
What's interesting about this tool: Active Collab is especially great for collaboration, with functions like collaborative text editing and @mentions for communication.
Pricing: From $25/month for the cloud version to $499 for the self-hosted version
Meistertask
MeisterTask is an online team collaboration management tool with a wide choice of organizational features that allows its users to collaborate in real-time. Meistertask is a really nicely put-together task management tool for teams.
Logging into the system gives you a really nice dashboard showing you your current projects, tasks and notifications – as well as your local time and a nice motivational quote!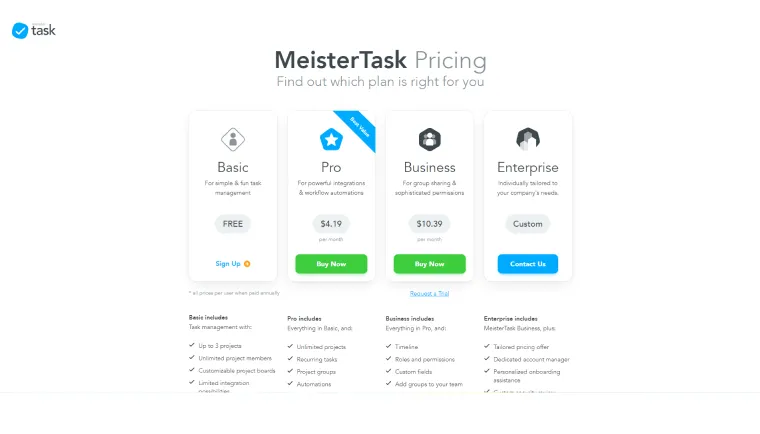 Setting up new projects and tasks is quick and easy, and you can invite fellow team members with just a few clicks, which is great.
Meistertask also integrates with a range of other tools including Slack, Gmail, Dropbox and plenty of others. It's powerful enough to manage work for teams but simple enough to be used for home and personal projects, too.
Pricing: Free for up to 3 projects with paid upgrades available if you need more, starting from £8.25 per user, per month.
nTask
nTask has a free basic plan for freelancers and individuals, which makes it great for personal project management or simple work management. This project tracking software is organized as an online collaboration platform that lets users plan tasks, meetings, and projects, as well as track time spent on projects.
One of its greatest features is the ability to organize meetings by creating and sharing a meeting agenda, bookmarking key discussion points during the meeting, and adding follow-up actions and decisions.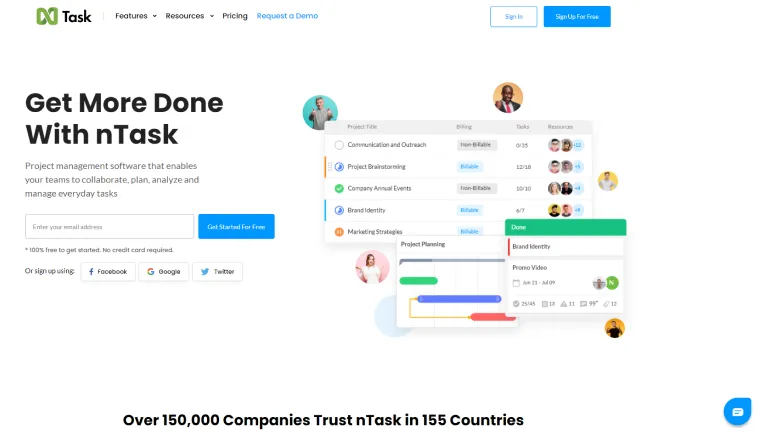 If your team is struggling with ineffective online meetings, nTask can help you become more productive and stop wasting time during calls.
Pricing: A free basic plan for individuals/freelancers, with paid plans starting at $2.99 monthly per user when billed annually.
ProofHub
ProofHub offers a replacement for conventional emailing and a bunch of other tools, integrating multiple project management features under one roof.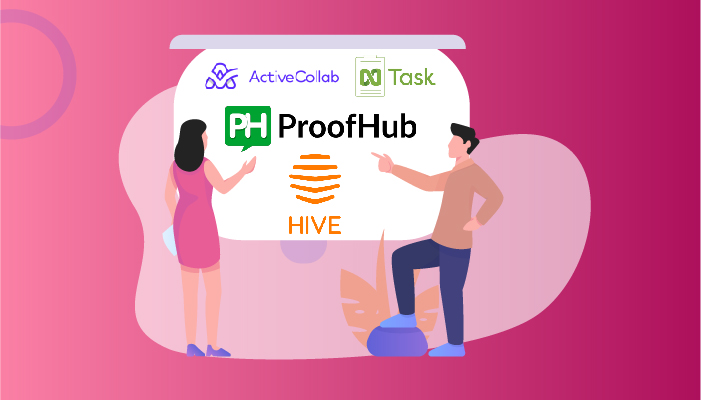 Top Features:
Assigned user roles
Online team discussion and chats
Task delegating and assignments
What's special about this tool: ProofHub has a simple and well-designed user interface that helps the team to collaborate more efficiently.
Pricing: From $20/month (up to 10 projects) to $150/month (unlimited projects)
Freedcamp
Freedcamp will help you, whether you have wedding plans, organizing a camping trip or leading a work project. Working from home or at the office.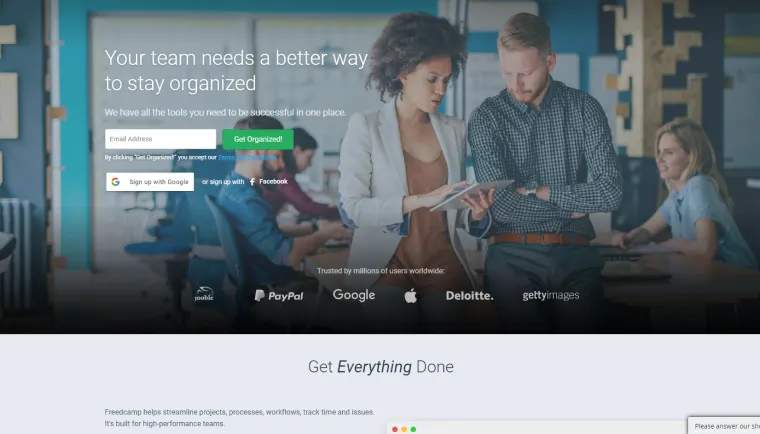 Top Features:
Task lists & status management
Shared team calendar
Project templates
What's special about this tool: Like sticky notes? You're in luck! Freedcamp uses kanban board with sticky notes to manage tasks.
Pricing: Free plan, paid add-ons
Hive
Hive, project management software enables you to plan projects, track work, and execute digital campaigns. By using and customizing Hive templates, you can save time by avoiding repetitive tasks. There are templates for business development, operations, HR, PR, marketing, product management, and software development.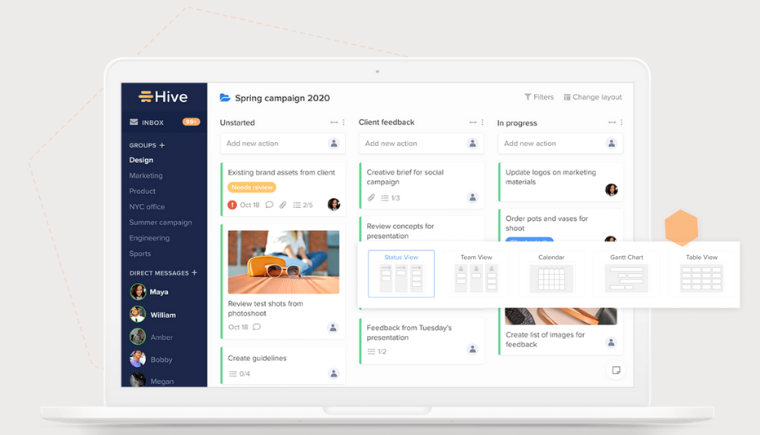 Although Hive offers automation as one of its features, the greatest downside is that you cannot create recurring dependent tasks within a project and have to manually recreate them every time you need to use them.
Pricing: Their plans start at $12 monthly per user when billed annually.
LiquidPlanner
LiquidPlanner is a collaboration tool that combines project management and time-tracking.
Top Features:
Estimating a realistic range of time to complete tasks
Commenting on tasks and schedule
Task-specific collaboration boards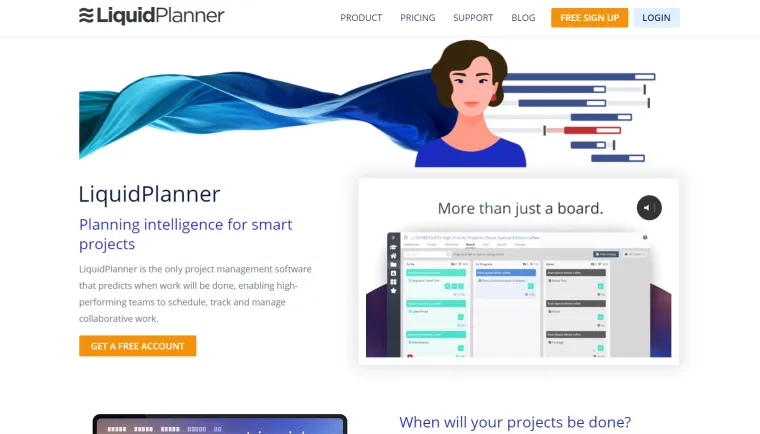 What's special about this tool: LiquidPlanner has an interesting methodology for project management – it helps teams to set realistic deadlines based on best-case and worst-case scenarios.
Pricing: From $39 user/month, billed annually
Conclusion
As you can see, there are plenty of choices around project management tool to use for your business! The above tools are at least free to try, so, when making such a big decision, it's always a good idea to sign up and test-drive each of them.
This is the best way to learn what the system can and can't do, and how it might work for your business if you were to fully adopt it.
As the Project Management Institute stated, "Projects represent change and often, innovation. How we structure our teams to facilitate that innovation can mean the difference between success and failure.
Project management tools are aids to assist an individual or team in effectively organising work and managing projects and tasks. The term usually refers to project management software you can purchase online or even use for free. The importance of effective project management, especially in this "changed" world, cannot be exaggerated.
What Makes the Best Project Management Software?
#1
Plan, organize, track all your projects in one place
#2
Get a visibility over individual tasks in the form of kanban boards
#3
Track the project schedule using gantt chart and calendar view
#4
Create advanced workflows with powerful automations
#5
Track employee activities, and working hours using built-in time tracking software, Clockly
#6
Monitor activities using screen recorder on Windows, Mac and Linux devices
#7
Set S.M.A.R.T goals and achieve results
#8
Share files and collaborate with team through discussion boards
#9
Unbelievable pricing - the lowest you will ever find
#10
Everything your business needs - 50 apps, 24/5 support and 99.95% uptime
Join the SaaS Revolution
All-in-One Suite of 50 apps

Unbelievable pricing - $14.99/user

24/5 Chat, Phone and Email Support