Cloud-based Project Management Software: Why Do Businesses Need Them?
The blog gives you a clear idea of cloud based project management software, why should businesses adopt them and what are their benefits.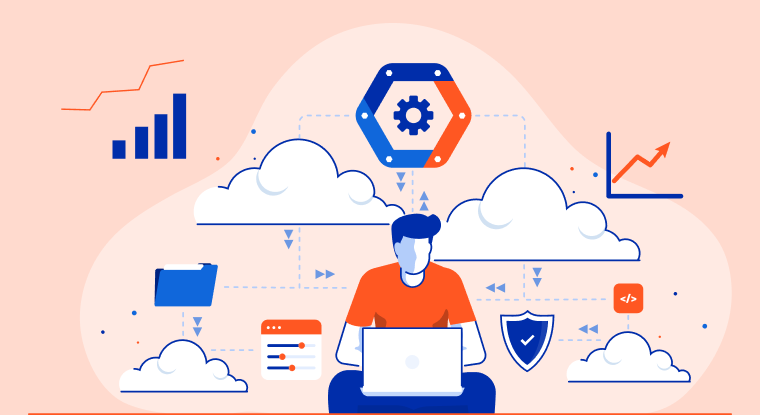 Cloud software allows you to store and retrieve data without the need for local storage devices. Even if you don't know the exact terminology, chances are you have been utilizing cloud software for quite some time. This technology has altered daily operations for practically everyone who utilizes the internet since the mid-nineties. Individuals can store their data on platforms such as Dropbox and Google Drive rather than USB sticks or portable hard drives, which is a game-changer, particularly for people who use mobile devices.
Similarly, instead of purchasing and maintaining their physical servers, businesses may use cloud storage to save money and minimize the need for internal IT assistance. In fact, businesses have already begun to adopt this technology as they use cloud-based project management software to encourage productivity and streamline their workflow.
What is Cloud-based Project Management Software?
Cloud-based project management software coordinates the planning, collaborating, monitoring, and delivery of a project. It allows project managers and teams to get work done using a network of tools available within the software, rather than a plain old whiteboard and sticky notes. The usage of project management software varies from company to company and team to team. But, all in all, it is designed to make managing projects and deadlines easier and more effective.
Benefits of Cloud-based Project Management Software
Cloud based project management software offers several key benefits to individuals working in any sector. Here are five such benefits.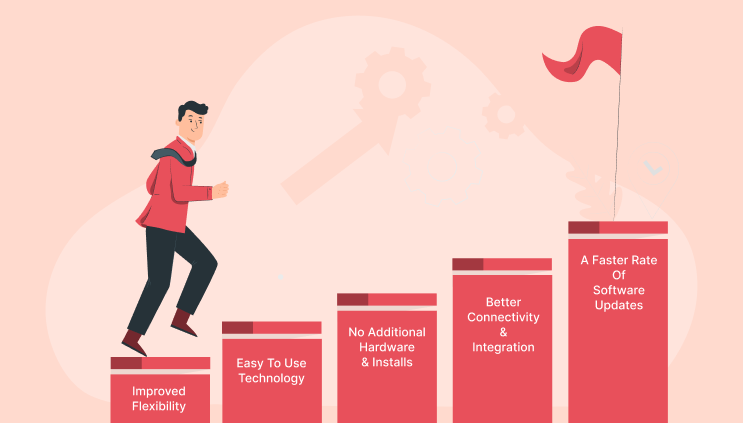 1. No Additional Hardware and Installs
One of the numerous benefits of using these tools is that they do not require any hardware or additional installs. Unlike traditional technologies, where you need to purchase multiple licenses for each machine with changing settings, a cloud-based project management solution eliminates the need for this entirely. Hence, cloud-based systems can also save the company thousands of dollars.
Due to cloud-based systems, companies now have to make minimum monthly payments rather than pay hundreds or thousands of dollars upfront. Furthermore, most project planning tool does not need a long-term commitment, which is also a great benefit.
2. A Faster Rate of Software Updates
Traditional techniques frequently need substantial maintenance, but cloud project management platforms do not. In most circumstances, the program provider handles any issues that arise, such as faults or software upgrades. With a cloud based project management software like Projectsly, software upgrades are performed on the provider's end and may be distributed regularly, allowing you to reap the benefits immediately. In fact, you may not even notice if the provider updates the software. You will also not require an IT specialist to administer your software and keep it in excellent working order.
3. Easy to Use Technology
Cloud systems are constructed differently from traditional systems. They are free of the constraints of old processes and are created by experts who understand how to make the most of the current technology. This makes cloud-based PMSs extremely user-friendly and straightforward to use, ensuring that your employees can easily browse and complete their everyday tasks.
It's also a significant benefit when it comes to training. As the design has been well thought out, you won't need to educate your personnel on a new system or get new workers up to speed. Your lessons are more likely to come across far better guidelines and eLearning materials, such as Mews University, a complete set of online videos.
4. Better Connectivity and Integration
There are hundreds of new productivity solutions available to improve your business, whether revenue management software or a CRM tool. Integrating them is much easier with cloud-based project management system.
It is essential to look for suppliers who have an open API as well. This allows you to integrate any third-party or custom solutions without the regular time commitment and high expenses. Many of these solutions are plug-and-play, with a 30-minute setup time guarantee.
5. Improved Flexibility
A cloud solution does not need to be connected to a local network. You can access it at any time, from any device with an internet connection. That means your employees can access the PMS from their phones or tablets. Furthermore, a manager may swiftly pick up performance statistics on their smartphone on the way to a meeting, and a receptionist can check in a visitor on a tablet while sitting next to them on a couch.
Why Do Businesses Need Cloud-based Project Management Software?
Below are a few reasons that businesses need cloud-based project management software: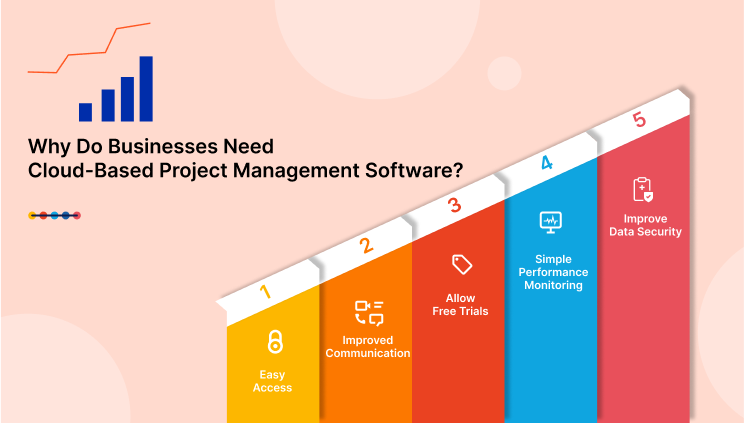 1. Easy Access
To begin with, cloud based project management software allows you to access information from anywhere on the globe as long as you have an internet connection. You can access information from a mobile phone, a laptop, or a tablet. Whether you are in a meeting room, a conference room, or your living room, you may have access to all of your information at your fingertips. It successfully eliminates the need to be connected to a certain server at your office or any unique platform (Mac, Windows, Linux, etc.). As a result, it offers a great deal of flexibility and convenience in accessing company project information.
2. Improved Communication
Every successful firm relies on effective team discussion. This is especially true in light of the impact of the covid-19 epidemic, which has made robust communication systems more than a must in the current circumstances. Good cloud-based productivity tools guarantee that your firm communicates effectively at all levels, both internally and publicly. These tools, which make all areas of communication more efficient, may now be incorporated with a few clicks.
Online cloud based project management solutions give a centralized location for communication and document exchange, resulting in excellent productivity for all team members at no expense. Audio communications, file sharing, email, video conferencing, and chat are all components of good cloud-based productivity applications. It also allows businesses to communicate with team members scattered across the country, saving both money and time.
3. Allow Free Trials
Almost every online cloud-based project management software provider provides a 30-day free trial. This enables consumers to test and examine the product's features, learn how the program works, and finally determine whether the solution is appropriate for their needs.
A free trial, as opposed to convincing writing on a landing page or even a demo film, allows prospects to peek behind the curtain. It tells them, without a doubt, what your product looks like, how it works, and how they can engage with it. As a result, you should take advantage of this free trial period before purchasing the software.
4. Simple Performance Monitoring
It is important to be aware of the project's development at frequent intervals. If a team member is working on a vital project component, it is essential to know where he is and how he is doing. Furthermore, management must have a comprehensive understanding of the entire project to identify concerns and report progress to the client. This is only achievable if you have a robust productivity tool.
When working remotely, monitoring the processes mentioned above can be difficult. Project management app can see the real-time performance of all workers no matter where they are with their assigned targets. It allows you to identify employees who do not complete their work, but it also allows you to praise the outstanding job that employees do. This increases openness and responsibility in your system while motivating other team members to do better, thus improving total productivity.
5. Improve Data Security
One of the key concerns with sharing information is data security, especially when adding new employees, applications, or technologies to your company operations. Furthermore, data leaks are more likely to occur when many individuals participate in a project. Even a minor data breach might result in a significant loss.
Fortunately, cloud-based project management software has advanced security safeguards that limit security threats and keep your data secure, preventing it from falling into the wrong hands. Furthermore, it allows you to safely access your software from any location, at any time. In addition, you do not lose any data if your laptop crashes or is stolen. All you have to do is switch to the mobile app or another computer to log back in and continue working.
Projectsly - What Does It Do?
Projectsly by 500apps is one of the best cloud-based project management software. The application allows you to view all tasks in List, Kanban, Calendar, and Gantt views to get a full perspective of the task at hand. Furthermore, you can organize all of your key information in one spot, notes, activity timelines, email integration, and task hours. You can also use the time tracking integration with the in-built tool, Clocky and the team collaboration software, Teams.cc.
Ready to streamline project planning process and enhance teams productivity with Projectsly? Sign Up 14 Day Trial
Some Other Key Features Include:
Creating automated processes using a simple visual designer and removing any repetitive tasks
Monitoring work progress and providing real-time information
Manage all tasks in one place by combining calendar applications with Projectsly's iCalendar sync.
Price: You can avail all the above-mentioned features and more for only $14.99 a month. This includes 50 other applications in the 500apps suites.
Summing It Up
Cloud based task management has already become the primary method of managing tasks for all except the largest firms, which can afford the time and money to maintain their data safely in-house.
All in all, cloud-based productivity software provides a safe and secure means to access and manage work. It helps organizations achieve more by providing them with the liberty and ability to select suppliers that share their data security and privacy principles.
What Makes the Best Project Management Software?
#1
Plan, organize, track all your projects in one place
#2
Get a visibility over individual tasks in the form of kanban boards
#3
Track the project schedule using gantt chart and calendar view
#4
Create advanced workflows with powerful automations
#5
Track employee activities, and working hours using built-in time tracking software, Clockly
#6
Monitor activities using screen recorder on Windows, Mac and Linux devices
#7
Set S.M.A.R.T goals and achieve results
#8
Share files and collaborate with team through discussion boards
#9
Unbelievable pricing - the lowest you will ever find
#10
Everything your business needs - 50 apps, 24/5 support and 99.95% uptime
Join the SaaS Revolution
All-in-One Suite of 50 apps

Unbelievable pricing - $14.99/user

24/5 Chat, Phone and Email Support