5 Effective Project Planning Software Use Cases to Check-in 2022
The blog talk about some industry-specific project planning software use cases that every business should go through before buying the software.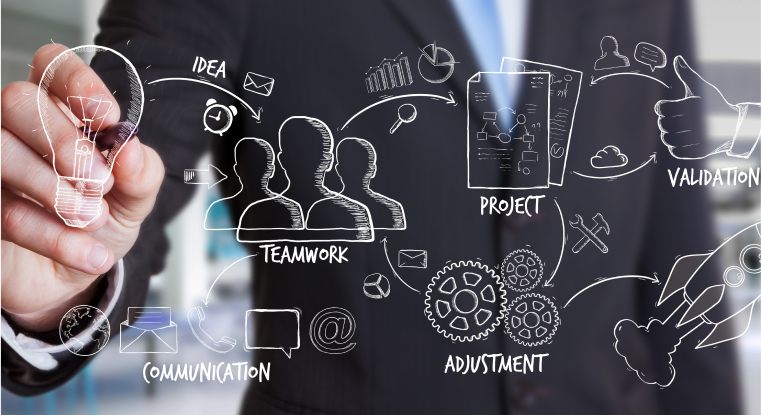 Before starting any project, every company must prepare a strategy; otherwise, they will not be able to succeed in the long run. Project planning software makes the job easier by organizing, planning, scheduling, resource allocation, and collaborating on projects, saving you time and effort. Good Project management software may help you keep track of your budget, quality control, and document exchanges throughout the project.
The software is used primarily to save time and increase the overall efficiency of the company. With the use of planning software, it becomes easier to grasp the challenges present in the project and strategies to resolve them without hampering the overall performance of the project.
Project planning software has numerous advantages in the field of business. We'll look at a few of them in more detail throughout the article.
Project Planning Software Use Cases
Project planning software use cases are mentioned below: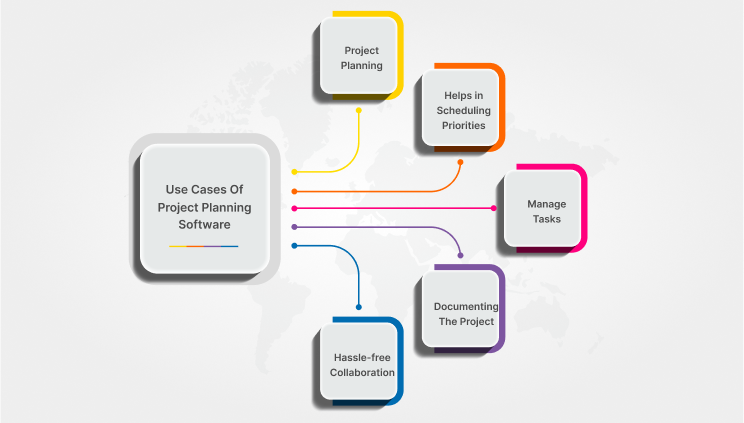 Project planning helps a company evaluate the entire process to complete a project on time. It is done to determine the amount of time needed to complete a project, develop strategies, track progress, allocate people and resources, and determine the project's start and end dates.
Aside from that, it ensures whether the project is on time or not, or how much extra time may be needed to complete the project if it is postponed, and so forth. Prior to the commencement of a project, it is always advisable to do some quick project planning to make the process easier and faster.
Helps in Scheduling Priorities
Because of some unforeseen events or alterations, the project timetable may vary from the initial plan halfway through implementation. To keep the project on track, you need to understand the importance of each task and make decisions based on which tasks need to be completed first and who should accomplish them. Most project planning software have a basic calendaring tool that lets you calculate the quickest time to complete assignments. Through project planning software, businesses can schedule priorities smoothly and effectively. It also provides you with a best-case and worst-case projection that assists your businesses in calculating a project completion timeline.
The ability to manage and track tasks is one of the most useful elements of project planning tool. Through this software, managers can define the task, assign it, set deadlines, and receive notifications when the task is completed. Project managers frequently employ project planning solutions to automate task management and streamline the workflow. This feature can be used by all small, medium, and large businesses to effectively track their progress and deliveries at regular intervals.
The aim of project documentation is to record everything that was accomplished during the project in detail. It may seem tedious, but excellent documentation may make all the difference between a project's success and failure because these documents include all of the project's information which can be used to address any issues that may arise during the project in the future. Documentation of the project is designed to eliminate any project-related confusion and avoid any stakeholder conflict over the project's status. Project planning software allows you to seamlessly document your projects with ease, saving you time, money, and resources.
Hassle-Free Collaboration
Collaboration can take place anywhere, anytime between people who work in the same workplace, the same location, or the same field across the globe. To keep up with outsourcing and labor mobility trends, many project planning software focuses on this feature. These solutions include powerful capabilities for sharing and storing documents, communicating via numerous channels, and delivering presentations, conferences, and webinars without difficulty. The planning software eases the overall collaboration process for any project.
Benefits of Project Planning Software
Below are the benefits of project planning software: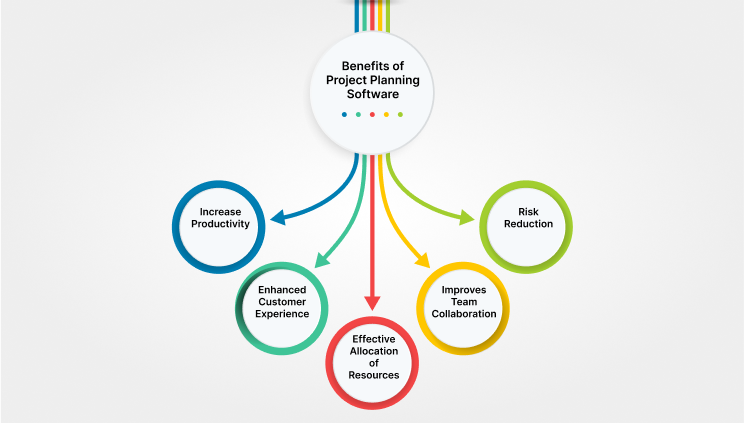 By collating all of the essential information in one place, project planning software assists in the optimization of the decision-making process and help empower employees' work efficiency. It is an essential tool that enhances your work, team collaboration, and overall productivity.
Enhanced Customer Experience
We all like seeing customers who are pleased with the services provided by the company. Project planning software improves client satisfaction by ensuring that projects are delivered on time. Businesses can use this tool to narrow their focus, plan and meet their objectives, and enhance deliverability.
Effective Allocation of Resources
The importance of resource planning should not be underestimated, as it encourages healthier work standards. With the help of project planning software, managers can effectively allocate resources, assist in timely project delivery by removing bottlenecks, and channel resources properly. It also gives you an insight into the workloads of your entire resource portfolio, allowing you to predict future hurdles and devise suitable countermeasures to ensure smooth project completion.
Improves Team Collaboration
Individuals are frequently assigned tasks that are part of a larger project. They can work together on projects using project planning software, which allows them to discuss deadlines, tasks, dependencies, overdue work, and more. By prioritizing important tasks, the tool improves team productivity, reduces the need to rework, and supports the team in achieving the desired goal quickly and efficiently.
Project planning software helps in reducing the risk by identifying, evaluating, and removing it at an early stage, allowing the project to stay on schedule and meet its objectives. Businesses should not avoid the risks that could hamper the project's success in the long run. For this reason, it is vital to deploy project planning software that can analyze the risk and reduce or eliminate it instantly.
Ready to streamline project planning process and enhance team productivity with Projectsly? Sign Up 14 Day Trial
Summing It Up
Project planning software improves the overall success rate of a business by keeping track of ongoing projects at each and every step till completion. So, if you want to succeed as a project manager, you should use good project planning software that can optimize the workflow, help you manage resources, and troubleshoot unforeseen problems that may crop up during the project. There are many project planning solutions available in the market.
Still, to save you time figuring out which one is the best, we recommend getting Projectsly, a project planning software powered by 500apps, which can collect all your important project-related information in one place and let you see the bigger picture of the tasks that need to be fulfilled to bring your project to fruition. Moreover, by integrating with other management apps and its stage of art workflow automation capabilities, this all-in-one project planning software can surely meet all your business needs.
What Makes the Best Project Management Software?
#1
Plan, organize, track all your projects in one place
#2
Get a visibility over individual tasks in the form of kanban boards
#3
Track the project schedule using gantt chart and calendar view
#4
Create advanced workflows with powerful automations
#5
Track employee activities, and working hours using built-in time tracking software, Clockly
#6
Monitor activities using screen recorder on Windows, Mac and Linux devices
#7
Set S.M.A.R.T goals and achieve results
#8
Share files and collaborate with team through discussion boards
#9
Unbelievable pricing - the lowest you will ever find
#10
Everything your business needs - 50 apps, 24/5 support and 99.95% uptime
Join the SaaS Revolution
All-in-One Suite of 50 apps

Unbelievable pricing - $14.99/user

24/5 Chat, Phone and Email Support