Best Alternative to Notion Task Management Tool
The process of tracking the tasks for your project at each stage, from planning to completion, is known as task management. The effective completion of your tasks is your goal, along with making decisions for your tasks to account for changes that may occur in real-time.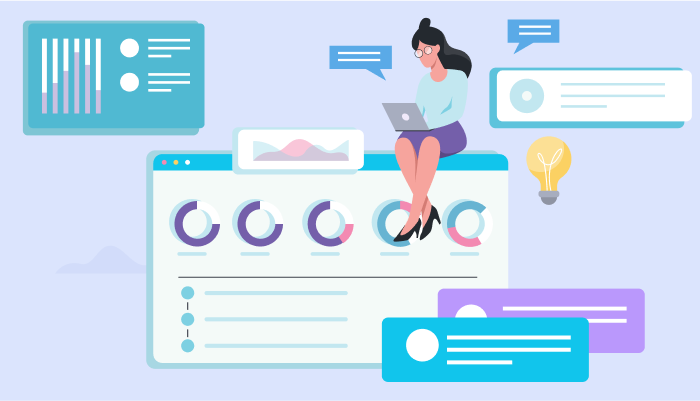 Notion task management template takes care of the hard work for you. Add tasks quickly, manage your day or week with the Today and Next 7 Days views, add subtasks and recurring tasks, and even manage large projects with board views. It enables you to take notes, add tasks, manage projects, and more. Notion is an all-in-one workspace where you can write, plan, collaborate, and get organized.
Notion task management tool offers the building blocks, but you can design your own workspaces and toolkits to complete tasks. Notion is frequently referred to as an "internal wiki" that enables teams and individuals to organize their projects, tasks, and objectives.
With the help of this workspace, you can create your own personal wiki; plan using a kanban view, a calendar, or a straightforward list view, and last but not least, capture workflows and keep track of everything by using spreadsheets and databases. Notion functions on all platforms, including Mac, Windows, iOS, Android, and the Web.
Notion task management system gives teams the tools they need for in-the-moment communication, including the ability to share, comment on, and assign tasks and reminders. Therefore, teams can use Notion in the same way that individuals and professionals can.
Introduction to Projectsly - Best Alternative to Notion Task Management Tool
The only cutting-edge software platform that offers an All-in-One SaaS suite to expanding organizations is 500apps. It is a collection of 50 apps that address a range of business needs, including sales, marketing, human resources and operations, customer service, support, developers, productivity, collaboration, and browser extensions. With the goal of assisting organizations in successfully centralizing project planning and carrying it out. To increase business growth, streamline your project planning and consider all components of a project from beginning to end. Track the status of projects, schedule sprints, and develop product roadmaps, as well as produce customized reports for data-driven decision-making.
Projectsly, an alternative to Notion task management tool was created by 500Apps.
Powerful Features of Projectsly
Features of Projectsly are mentioned below: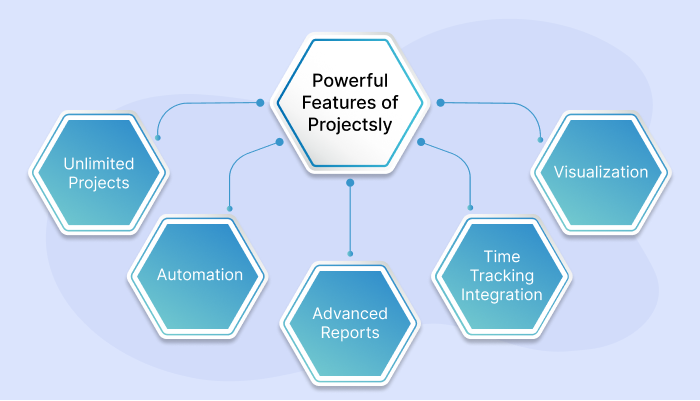 1. Unlimited Projects: One of the most important project planning duties is managing endless projects for several clients. The phrase "unlimited projects" refers to a management approach in which the project manager oversees multiple projects concurrently. It's a strategy to improve resource management and allocation inside a company and maximize team members' and resources' contributions to all efforts.
2. Automation: Workflow automation refers to business project management software that can carry out fundamental project management tasks and operations without requiring people. Workflow automation seeks to provide you and your team more time to work on more crucial activities, by offloading manual, time-consuming, repetitive or administrative processes. Workflow automation also enhances consistency. A machine can deliver more consistent outcomes by eliminating the human factor from a process.
3. Advanced Reports: A project management dashboard is a visual representation of a project's status, insights, and data points from all angles. Given that it gathers information from all major project touchpoints and integrates it into a single interface, the project manager and team may quickly access all the information they need. Project dashboards are created to support teams in making quick choices by giving them access to vital information whenever they need it. Project managers may more accurately gauge the scope, budget, and schedule constraints when all of the critical performance indicators are aggregated in one location.
4. Time Tracking Integration: Employers can keep an eye on their employees' working hours by employing time monitoring software. Many businesses use the service, including companies that rely on hourly workers and independent contractors. You may improve productivity and streamline time monitoring with the help of these integrations. TrackingTime can be integrated into other programs such as accounting and customer service.
5. Visualization: The Dashboard's Kanban view, list, calendar, and Gantt views each have numerous sub-tasks. One of the most important project planning tasks is to handle several points of view in order to maximize team efficiency. Utilizing many perspectives will help you immediately understand your project's overall scope. After all, everyone will see how their contribution to the project as a whole fits in, allowing them to comprehend the consequences of their delay and how it will affect the project's overall deadline.
Ready to streamline project planning process and enhance team productivity with Projectsly? Sign Up 14 Day Trial
Projectsly Vs Notion Task Management Tools
Differentiation between Projectsly and Notion: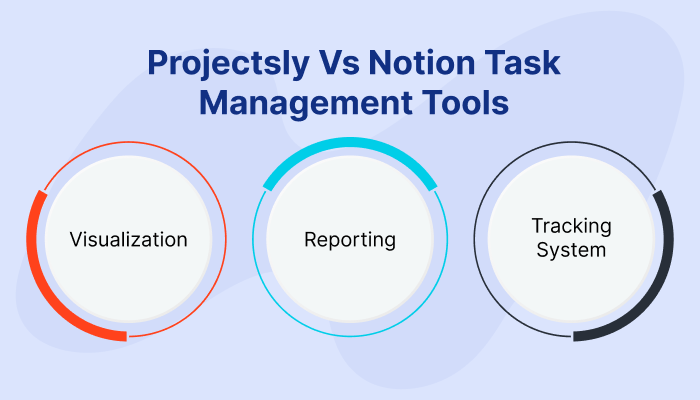 1. Visualization
One of the main responsibilities of project management is to keep an eye on the development of the project and guarantee timely delivery. Every project has task dependencies that let you determine the best job order and the quickest path to completion. A project timetable or a Gantt chart that displays the order of activities that must be completed is required to manage these task dependencies. Despite having a timeline view, Notion cannot manage dependencies, which is essential for managing larger, more complicated projects.
With Projectsly, the best alternative to the Notion task management tool, the story is different. You get a 360-degree view of ongoing projects and in-depth insights into tasks through the calendar, to-do lists, and kanban boards, and get a visual view of all tasks through Gantt charts.
2. Reporting
Projectsly, the best alternative to the Notion task management tool gives extensive coverage of advanced reports to view data and metrics quickly. Get a consolidated view of all project data and data analysis that provides the project team with insightful information.
On the other hand, the ability to track your team's progress via reports is another crucial functionality that Notion is missing. Every team needs reporting, which is a fundamental yet obvious tool. Unfortunately, Notion doesn't come with a reporting mechanism.
Reporting integrations are available, but they are very expensive.
3. Tracking System
Leveraging the goal management feature in Projectsly, the best alternative to the Notion task management tool you can achieve strategic objectives. Set objectives, and deadlines, measure progress and be reminded of your chores and projects.
However, Notion does not provide a means for you to mark significant project milestones, receive an overview, or monitor your progress toward your objectives.
Pricing: Through honest pricing, Projectsly, the best alternative to the Notion task management tool stands apart from other task management software platforms. That is single pricing for all 50 apps.
Projectsly Plans are as follows:-
Monthly Plan: $14.99/user/month
Yearly Plan: $9.99/user/month
Available Features:
All features of Pro Plan
Unlimited Team members
Collaborative workspace
Admin tools
Advanced workspace
Notion Pricing Plans are as follows:-
Personal Pro Plan – $4 month/user
Team Plan – $8 month/user
Available Features:
Unlimited File Uploads
Unlimited guests
Version History
Final Words
Projectsly is a web-based task management tool that helps with task organization, time tracking, and cost reduction. We have complete trust that Projectsly is the best alternative to Notion task management software and that using it would help you be more productive.
Visit 500apps to get your hands on All-in-One Projectsly, task management software.
What Makes the Best Project Management Software?
#1
Plan, organize, track all your projects in one place
#2
Get a visibility over individual tasks in the form of kanban boards
#3
Track the project schedule using gantt chart and calendar view
#4
Create advanced workflows with powerful automations
#5
Track employee activities, and working hours using built-in time tracking software, Clockly
#6
Monitor activities using screen recorder on Windows, Mac and Linux devices
#7
Set S.M.A.R.T goals and achieve results
#8
Share files and collaborate with team through discussion boards
#9
Unbelievable pricing - the lowest you will ever find
#10
Everything your business needs - 50 apps, 24/5 support and 99.95% uptime
Join the SaaS Revolution
All-in-One Suite of 50 apps

Unbelievable pricing - $14.99/user

24/5 Chat, Phone and Email Support