Project Management System Overview: Features & Benefits
The blog gives project management system overview that talks about what it is, the main features, benefits and how is it used by businesses.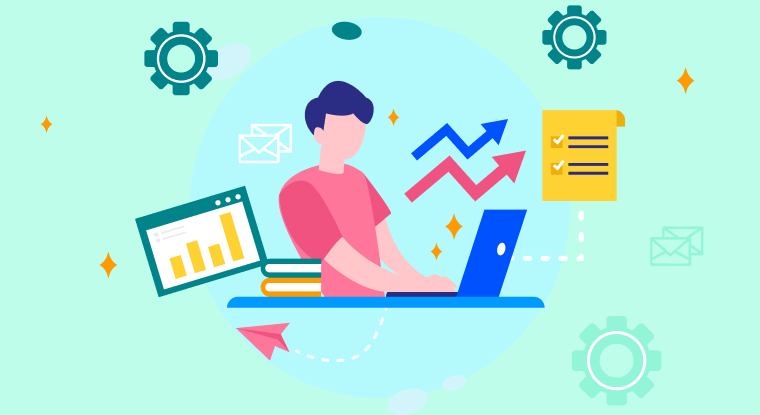 What is a Project Management System?
A project management system is software used for scheduling, resource allocation, planning, and changing management. It enables project stakeholders, managers, and users to control expenses and manage budgets and documentation.

Who Uses It?
Businesses of all sizes use a project management system to track their projects. It works best in groups, but it may also be used to manage personal or individual tasks. Some businesses that use project management software are as follows.
Marketing Firms: Marketing firms use project management (PM) software to conduct campaigns more efficiently. Marketers must go through an exhaustive brainstorming process at the campaign's outset. These project management tools help them assign work to certain members, so they don't forget what their responsibilities are at a later time.
Education: With project management software, teachers can quickly construct a curriculum that perfectly suits the needs of the children.
Information Technology: Information technology is a broad field that involves everything from digital security to software development. Project management software works best in this business as specialists keep track of various forms of work for their teams.
Why Use a Project Management System?
Many businesses have been compelled to function online because of the COVID-19 outbreak. Digital tools enable businesses to work remotely, and for this reason, they are one of the most popular tools of a project management system.
Apart from assisting customers, this software helps employees manage work and stay on the same page as their colleagues. In addition, the software provides shared storage and collaboration options. However, according to recent data, only 23% of the firms worldwide utilize project management software.
Reasons Why a Project Management System is Useful for Businesses of Any Size
Below are the 5 reasons why a project management system is useful for businesses of any size-
Collaboration: Project teams are occasionally made up of people from many departments. Therefore, it can be difficult for all stakeholders to attend meetings and stay informed. This communication gap can cause unnecessary project delays and issues, wasting valuable resources.

The project management system has the significant advantage of making project team cooperation incredibly simple. It maintains all communication in one location. Furthermore, insights such as project timelines and status updates are easily accessible with a single click, and important notifications are instantly forwarded to the appropriate parties.

Planning and Scheduling: Without a system in place, it might be difficult for your team to stay on track as there is no established guideline to follow. This frequently has an impact on one's productivity. Using the project management software helps organize and visualize tasks.

Management of Resources: Resource management refers to planning, tracking, and maximizing the use of all available resources for a project. Personnel, equipment, and space are examples of resources. This is another task that can be done with ease using project management software.

Budget Administration: Each project has a cost that is budgeted for contingencies and profit. A project manager aims to maintain the actual cost below, or at least at, the predicted cost to maximize the company's profit from the project. A project management app helps managers keep track of everything using a real-time project reporting tool and preventing project costs from soaring.

Documentation: Many firms utilize spreadsheets, while others still use traditional pen and paper to document the progress of their collaborative project. However, having this sort of setup exposes the firm to possible faults. In fact, 88 percent of spreadsheet data contain inaccuracies, which is concerning for firms that rely on spreadsheets to handle corporate operations and execute financial analyses. Using project management software ensures accurate data-based documentation.
Top Features of Project Management System
Here are some features of efficient project management software.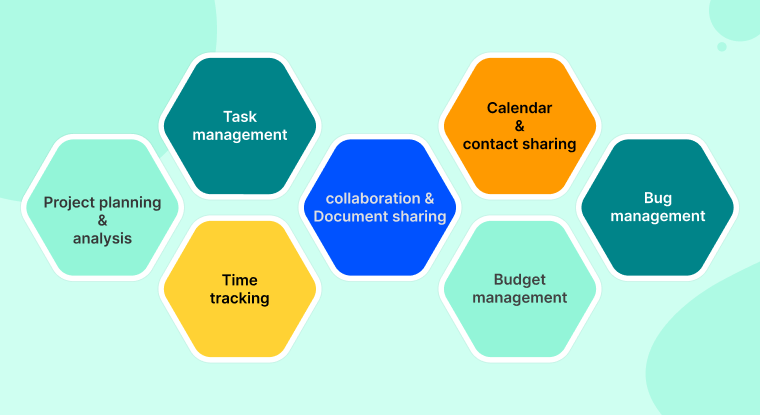 Project planning and analysis: A project manager may use the program to map project activities and visually depict task relationships to build a project timeline and analyze the completed tasks.

Task management: This enables the creation and assignment of tasks, as well as the setting of deadlines and the compilation of progress reports.

Document sharing and collaboration: A central document repository accessible to project stakeholders boosts productivity.

Calendar and contact sharing: Project timelines comprise planned meetings, activity dates, and contacts, which should be updated automatically across all PM and stakeholder calendars.

Bug and error management: Project management software makes it easier for stakeholders to report, view, alert, and update bugs and errors.

Time tracking: The software should be able to track time for all jobs and save records for third-party consultants.

Budget management: The software should be able to record project budgets and have an automatic billing feature.
Ready to streamline project planning process and enhance team productivity with Projectsly? Sign Up 14 Day Trial
Benefits of Project Management System
Below are the benefits of a project management system-
Feedback and Team Collaboration Requirements: More regular evaluations via PM systems can help employers better grasp their workers' skill sets. In fact, in a study conducted earlier this year by HR Daily Advisor, organizations that adopt frequent employee feedback as a part of a performance management approach had 14.9 percent lower turnover rates than employees who do not get feedback.

Furthermore, providing an open PM platform for employees to communicate and discuss their tasks regularly can aid in identifying training gaps before they affect productivity.

Effortless Project Management: If organizations have learned anything from years of project management, it is that most of the time spent on project planning is wasted. However, this need not be the case. Project management software has advanced to provide reliable AI forecasts of when projects may be finished, considering restrictions such as cost, scope, and time.

Forecasting Pipelines: Companies grow more competitive and lucrative by taking on more initiatives and leading them concurrently. However, one of the most common issues with multi-project management is a lack of insight into how various projects move and resources are allocated. Project management software gives everyone an overview of completed, ongoing, and planned projects, allowing bottlenecks to be avoided before they become a disaster.
Summing It Up
Good project management systems can help you cooperate efficiently and assure the success of your initiatives. For instance, Projectsly, a project management tool created by 500apps, provides a simple and user-friendly project management solution. It includes everything you'll need to successfully complete tasks, including Kanban boards, lists, and calendars. The dashboard provides visibility into the status of all projects and allows the use of automation to establish triggers for all project changes.
What Makes the Best Project Management Software?
#1
Plan, organize, track all your projects in one place
#2
Get a visibility over individual tasks in the form of kanban boards
#3
Track the project schedule using gantt chart and calendar view
#4
Create advanced workflows with powerful automations
#5
Track employee activities, and working hours using built-in time tracking software, Clockly
#6
Monitor activities using screen recorder on Windows, Mac and Linux devices
#7
Set S.M.A.R.T goals and achieve results
#8
Share files and collaborate with team through discussion boards
#9
Unbelievable pricing - the lowest you will ever find
#10
Everything your business needs - 50 apps, 24/5 support and 99.95% uptime
Join the SaaS Revolution
All-in-One Suite of 50 apps

Unbelievable pricing - $14.99/user

24/5 Chat, Phone and Email Support