Best Alternative to Monday Task Management Tool
Task management is the practice of monitoring the tasks for your project at each stage, from planning to completion. Your objective is to effectively complete your chores while also making judgments for your tasks that take into account potential real-time modifications.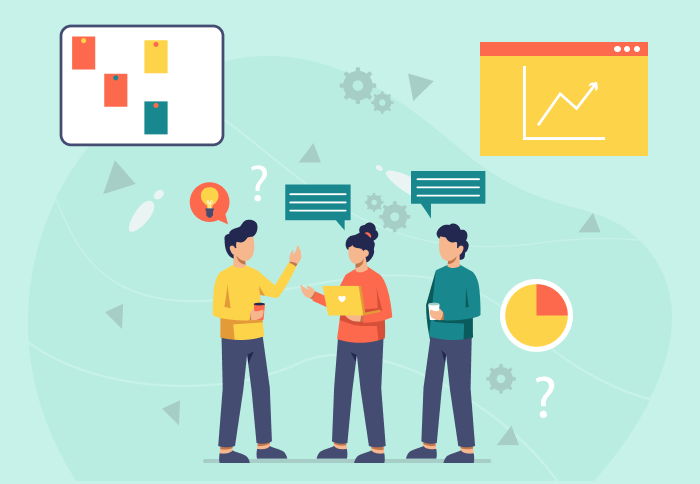 Using the all-in-one work management platform Monday.com, teams can efficiently manage challenging projects while streamlining their workflow. This cloud-based platform was created to make your work easier by developing practical tools and applications for Monday task management.
Monday.com began as a tool for teamwork, but it hasn't developed into a flexible one for handling projects, client relationships, human resources, software development, and other business-related tasks. Monday.com (Work OS) calls itself a work operating system. Using pre-made templates or creating your own from scratch, the platform supports you in modifying workflows.
Monday.com was formerly called daPulse when it was first established in 2012. Three years after Monday Software's initial commercial release in 2014, the company changed its name formally to Monday.com.
The platform quickly gained traction and was recognised by Deloitte as one of the fastest-growing businesses in 2017.
Best Alternative to Monday Task Management Tool- Projectsly
500apps is the only cutting-edge software platform that gives growing enterprises access to All-in-One SaaS package. 50 apps are included in this collection, which covers a variety of business needs like sales, marketing, human resources, and operations, customer service, support, developers, productivity, collaboration, and browser extensions. with the intention of helping businesses successfully centralize project planning and execute it.
Streamline your project planning and take into account all project components from start to finish to boost business growth. Track project progress, plan sprints, create product roadmaps, and create tailored reports for data-driven decision-making.
Projectsly, an alternative to Monday task management tool was created by 500Apps.
Powerful Features of Projectsly - Best Alternative to Monday Task Management Software
i) Unlimited Projects
Managing never-ending projects for several clients is one of the most crucial project planning responsibilities. The term "infinite projects" describes a management strategy where the project manager manages several projects at once. It's a tactic to enhance resource allocation and management inside a business and maximize the contributions of team members and resources to all endeavors.
ii) Automation
Business project management software that can perform basic project management duties and operations without the need for human intervention is referred to as workflow automation. By offloading manual, time-consuming, repetitive, or administrative operations, workflow automation aims to give you and your team more time to work on more important tasks. Automation of the workflow also improves consistency. By removing the human element from a process, a machine can produce results that are more reliable.
iii) Advanced Reports
A visual depiction of a project's status, insights, and data points from all sides is a project management dashboard. The project manager and team may easily obtain all the information they require because it collects data from all significant project touchpoints and merges it into a single interface. Project dashboards are designed to assist teams in making quick decisions by providing them with immediate access to crucial data. When all of the key performance indicators are gathered in one place, project managers may more precisely assess the scope, financial, and time restrictions.
iv) Time Tracking Integration
Employers can use time tracking software to keep a check on the working hours of their staff. The service is used by many enterprises, including those that hire hourly workers and independent contractors. These connections can help you increase productivity and simplify time tracking. Programs like accounting and customer service can be connected with TrackingTime.
v) Visualization
There are several sub-tasks in the Kanban view, list view, calendar view, and Gantt view of the Dashboard. Improving team productivity by managing several points of view is one of the most crucial project planning tasks. Using a variety of viewpoints will help you quickly comprehend the broad scope of your job. Everyone will, after all, be able to understand how their contribution to the project as a whole fits in and how their delay would affect the project's overall deadline.
vi) Multiple Views
The term "multiple views" refers to a dashboard's Kanban view, list, calendar, and Gantt views, each of which has numerous sub-tasks. One of the most important project planning tasks is to handle several points of view in order to maximize team efficiency. Utilizing many perspectives will help you immediately understand your project's overall scope. After all, everyone will realize how their contribution to the project as a whole fits in, allowing them to comprehend the consequences of their lateness and how it will affect the project's overall deadline.
Projectsly Vs Monday Task Management Tool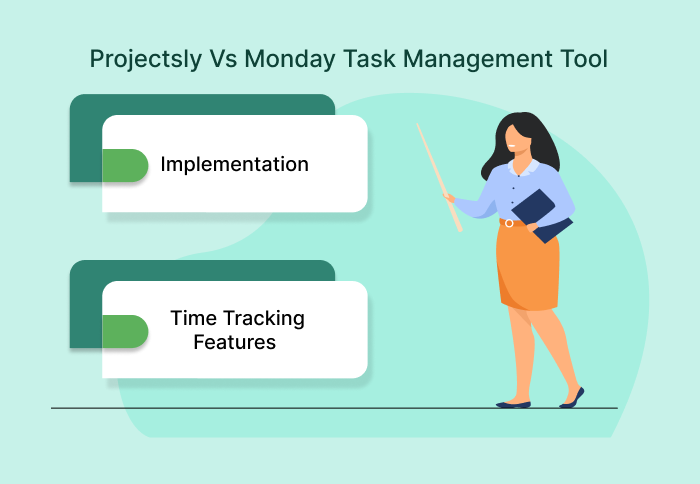 i) Implementation
It is a complete project management system, and its implementation involves fundamental changes to the way business is done. As a result, it could take some firms a long time to properly adopt this solution and learn the ropes. Alternatives on Monday may be far superior in that regard.
When it comes to Projectsly, it is easy to learn and simple to implement. Projectsly can be used in any industry across small, medium, and large-scale businesses.
ii) Time Tracking Features
A work hours tracker is useful for keeping track of unfinished projects and generating accurate reports and bills. Unfortunately, Monday's usual plans don't include it. Although they do include employee time monitoring in their most expensive plan, many smaller organizations won't find it to be worth the extra costs. Fortunately, Everhour has its own Monday time tracking integration to make things easier for you.
Leveraging the goal management feature in Projectsly, the best alternative to the Monday task management tool you can achieve strategic objectives. Set objectives, and deadlines, measure progress and be reminded of your chores and projects.
Pricing Through honest pricing, Projectsly, the best alternative to the Monday task management tool stands apart from other task management software platforms. That is single pricing for all 50 apps. Plans are as follows:-
Monthly Plan: $14.99/ user / month
Yearly Plan: $9.99/ user/ month
Monday.com With 4 layers of pricing, Monday.com has
Basic Plan: $8 / user/ month
Standard Plan: $10 / user/ month
Pro Plan: $16 / user/ month
Enterprise Plan: Customized plan
Final Words
There is the best alternative to the Monday task management solution with lots of features that may help modern businesses in many ways, from streamlining workflow to boosting productivity, which raises ROI over time. All you need to do is choose a trustworthy alternative monday task management tool that can be easily adopted by and used by your staff in the future.
With the help of Projectsly, your business can manage all duties effectively in this difficult moment and even in the post-COVID era. Our feature-rich alternative to the Monday task management app assists businesses in achieving deadlines and making efficient use of resources while overcoming project management obstacles.
We firmly believe that Projectsly is the greatest alternative to Monday task management and that utilizing it will increase your productivity.
Visit 500apps to get your hands on All-in-One Projectsly, the Best alternative to Monday task management software.
What Makes the Best Project Management Software?
#1
Plan, organize, track all your projects in one place
#2
Get a visibility over individual tasks in the form of kanban boards
#3
Track the project schedule using gantt chart and calendar view
#4
Create advanced workflows with powerful automations
#5
Track employee activities, and working hours using built-in time tracking software, Clockly
#6
Monitor activities using screen recorder on Windows, Mac and Linux devices
#7
Set S.M.A.R.T goals and achieve results
#8
Share files and collaborate with team through discussion boards
#9
Unbelievable pricing - the lowest you will ever find
#10
Everything your business needs - 50 apps, 24/5 support and 99.95% uptime
Join the SaaS Revolution
All-in-One Suite of 50 apps

Unbelievable pricing - $14.99/user

24/5 Chat, Phone and Email Support