10 Best Online Gantt Chart Makers in 2022
Online Gantt chart makers help you schedule large projects, effectively splitting the project into bite-sized pieces with a separate timeline.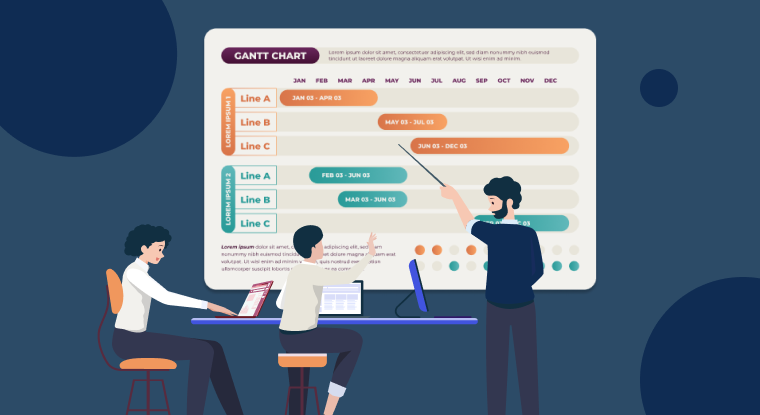 There are often dozens (if not hundreds) of steps involved to get the job done when it comes to any business process. In most cases, it's necessary to streamline processes and ensure that everyone is on the same page. Large-scale projects are nothing to scoff at, and the idea of trying to deal with such a project without the help of proper software can be overwhelming.
This is why you need Gantt chart to ensure your project goes smoothly.
List of 10 Best Online Gantt Chart Makers
Gantt chart makers are tools that can help you schedule large projects, effectively splitting the project into bite-sized pieces that have a separate timeline. It's a great way to get the ball rolling, as there are so many ways things can go wrong if you don't successfully organize your project.
Fortunately, we're here to help! We've compiled a list of some of the very best Gantt Chart makers around, giving you all the choices you need to push your company ahead in a competitive industry. Here are the top 10 best online Gantt Chart makers in 2022!
1. Projectsly
Projectsly is well known for its all-in-one project management software and allows your business to manage team projects without any trouble. The thing about business projects is it can be frustrating to learn an entirely new tool just for the sake of organizing a project. You need something to help ensure you make the most out of your opportunities while still being intuitive enough to use without trouble. Projectsly offers a fantastic Gantt Chart maker tool that gives you all the features you need without being bogged down by anything else. Learn how to develop aesthetically pleasing Gantt charts with easy-to-follow timelines through Projectsly.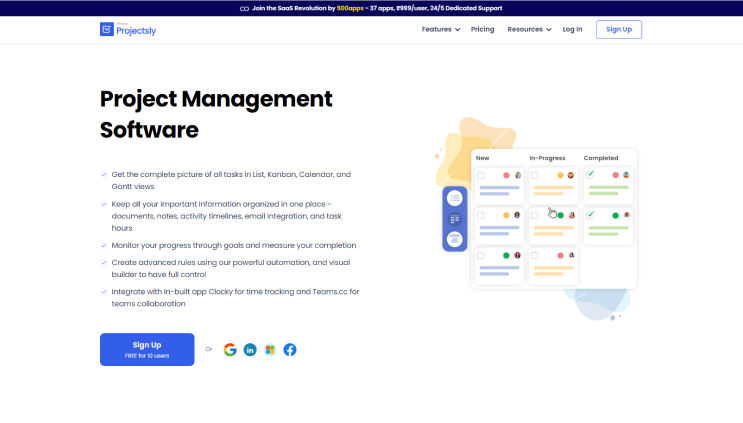 While there are many other Gantt Chart makers on the list below, if you're unsure of how to move forward, it's recommended that you give the Projectsly Online Gantt Chart maker tool a try.
Keep track of your projects and organize and increase productivity through effective collaboration with a Gantt Chart in task management system. Ready to streamline project planning process and enhance team productivity with Projectsly? Sign Up 14 Day Trial
2. TeamGantt
While Projectsly offers the ideal experience, there are quite a few others worthy of praise that you can try. For example, TeamGantt offers a surprisingly intuitive Gantt Chart maker that can help ease the overall burden while you try to keep everyone on the same page.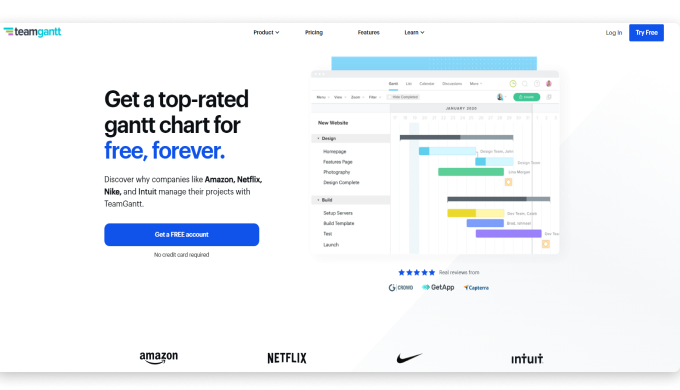 The advantage of TeamGantt is that it can help you manage workloads through a drag and drop system for your large-scale projects. It's a good way to move forward in a competitive industry, as you can get the job done without having to work too hard.
3. Wrike
The core tenet of Wrike is to help ensure that you simplify all communication across the board. When running a business, it's vital to ensure that everyone understands their responsibilities, allowing you to focus on what you do best without being bogged down by the details. Wrike offers that solution in a convenient software package.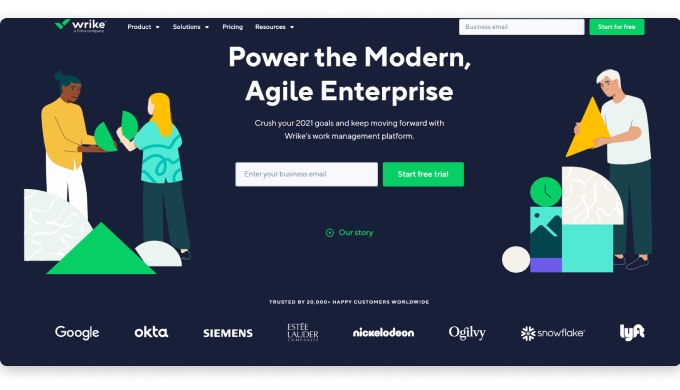 Wrike also makes it much easier to handle a Gantt Chart through smartphones, making it an easy choice for any business owner that wants to control every project through mobile. As a result, Wrike is undoubtedly one of the top Gantt Chart makers of 2022.
4. Instagantt
You'll find that there's a pattern with the most popular Gantt chart makers around. Typically, the most effective Gantt chart makers are intuitive, easy to understand, and can get the job done without any fuss. Similar to every other maker on this list, Instagantt offers a fantastic way to build a Gantt chart without worry.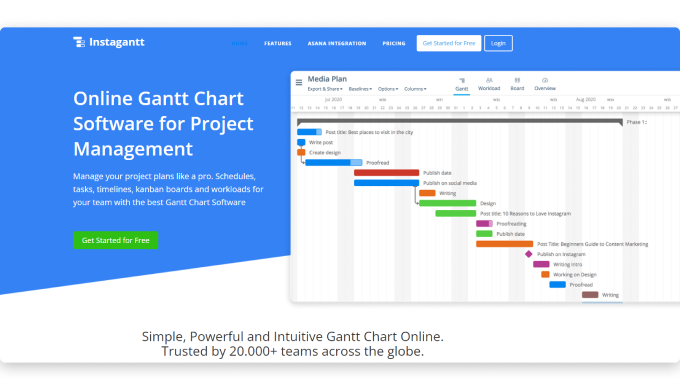 Instagantt also has the added benefit of seamless integration with other platforms such as Asana. It's a great way to simplify things for you and your staff without adding too many features and overcomplicating things.
5. Smartsheet
If you're looking for a no-nonsense and simple approach to Project Management and timelines, Smartsheet offers a solution in the form of their Gantt chart maker. Similar to most others on the list, Smartsheet will help you learn how to manage tasks without having to deal with any hoops.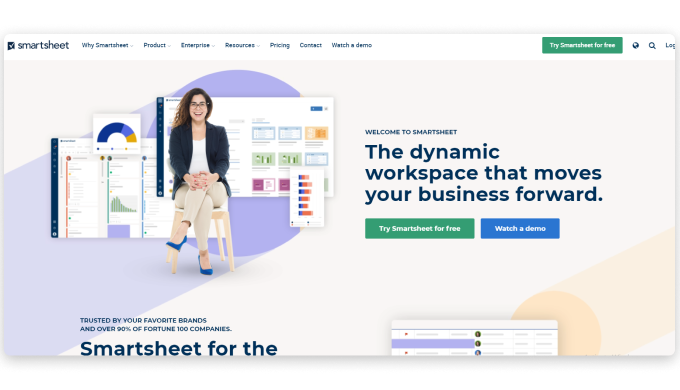 If you're looking for a Gantt chart maker with the experience to boot, Smartsheet has worked with many different brands to help make their work that much easier.
6. GanttPRO
One of the primary advantages of GanttPro is that it focuses on control over just about everything else. For company owners that want as much control as possible when managing a project, GanttPro offers the ideal solution. While all Gantt Chart makers offer better control, this particular platform makes it a point to ensure all project leads are given every project planning tool they need to get the job done.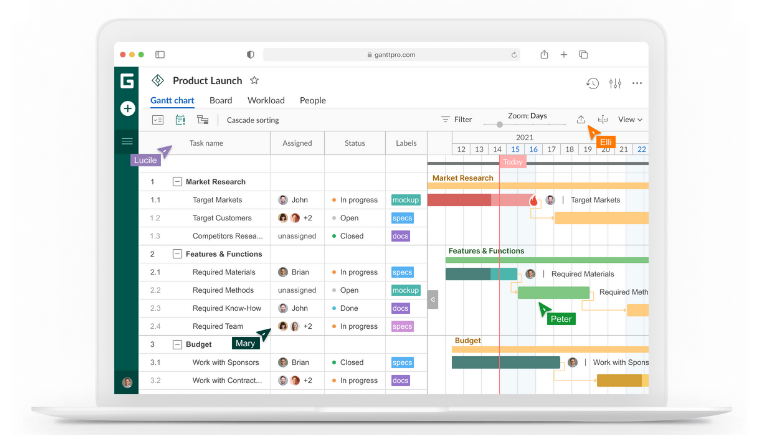 While you might have to do a bit more research to help ensure you make the most out of the platform, what you get in return is the ability to handle projects in a hands-on fashion.
7. ProProfs Project
As a project manager, you constantly have to stay on top of your daily tasks to ensure a hassle-free project run. And ProProfs Project helps you with just that! This Gantt chart software offers a simple and intuitive way to create the entire project roadmap and track how things are going at a glance. You can set up task dependencies so that everyone on your team is clear about their roles and responsibilities. You can even set up milestones and monitor deadlines effectively.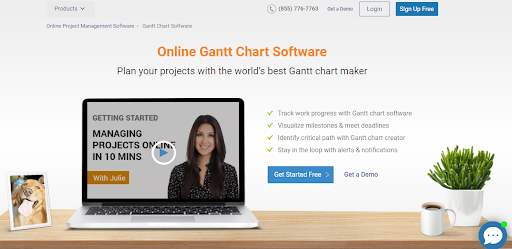 Also, if you struggle with workload management, then this platform can help you get an overview of the team workload. This way, you can identify overworked or underutilized resources and quickly reschedule tasks within seconds.
8. ClickUp
Click Up is one of the best Gantt chart makers around when it comes to integration and the ability to sync and import. With Click Up, you won't have to worry about using multiple tools to try to handle a single project.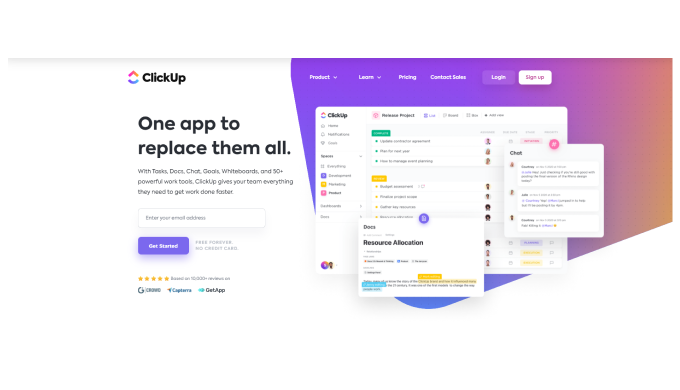 Click Up has an all-in-one platform that allows you to make the most out of your Project Management opportunities.
9. Proofhub
One of the more challenging things about making the list of best Gantt Chart makers in 2022 is that the ones at the top tend to be quite similar — which means it's a personal preference when it comes to the one you want.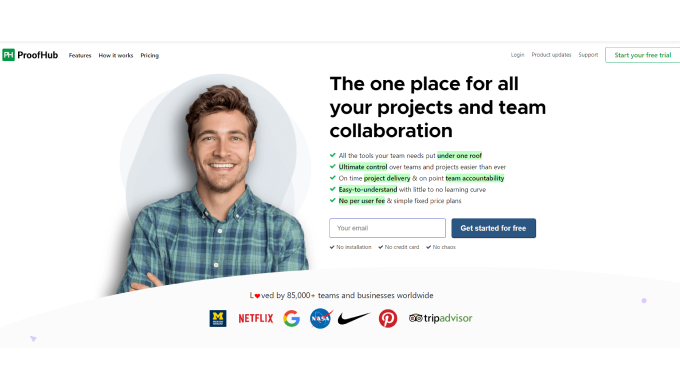 If you're familiar with Proofhub, you'll know that they're well known for their all-in-one Project Management Software, and their software allows your business to manage team projects without any trouble. It's all a matter of getting used to the different tools available. Once you and your team are used to how everything works, Proofhub's software will help you push forward with your team project.
10. Canva
There's little need to explain how Canva works since just about everyone uses its software in one way or another. You'll also likely know that their services are entirely free — giving you a chance to manage your projects without having to spend a cent.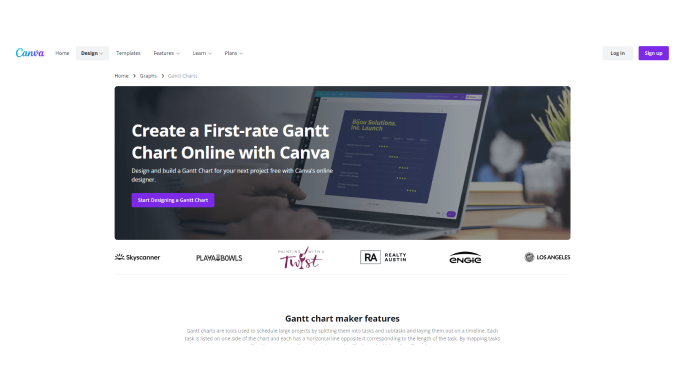 Canva's Gantt Charts are nothing to scoff at, as they're just as competent as every other chart maker on this list. The good news is you won't have to take too long to get used to Canva due to how easy it is to pick up and master.
Conclusion
Consider your business quite lucky when it comes to team and project management system, as there is an abundance of Gantt Chart makers that can get the job done in 2022. You can choose from any chart maker on the list, and you won't regret your choice. All that's left is to get more control over your project timelines, allowing you to get the job done in record time.
What Makes the Best Project Management Software?
#1
Plan, organize, track all your projects in one place
#2
Get a visibility over individual tasks in the form of kanban boards
#3
Track the project schedule using gantt chart and calendar view
#4
Create advanced workflows with powerful automations
#5
Track employee activities, and working hours using built-in time tracking software, Clockly
#6
Monitor activities using screen recorder on Windows, Mac and Linux devices
#7
Set S.M.A.R.T goals and achieve results
#8
Share files and collaborate with team through discussion boards
#9
Unbelievable pricing - the lowest you will ever find
#10
Everything your business needs - 50 apps, 24/5 support and 99.95% uptime
Join the SaaS Revolution
All-in-One Suite of 50 apps

Unbelievable pricing - $14.99/user

24/5 Chat, Phone and Email Support