6 Amazing Project Management System Facts & Stats to Know
The blog discusses various project management system facts and stats that a business should know before adopting them and how it helps them grow.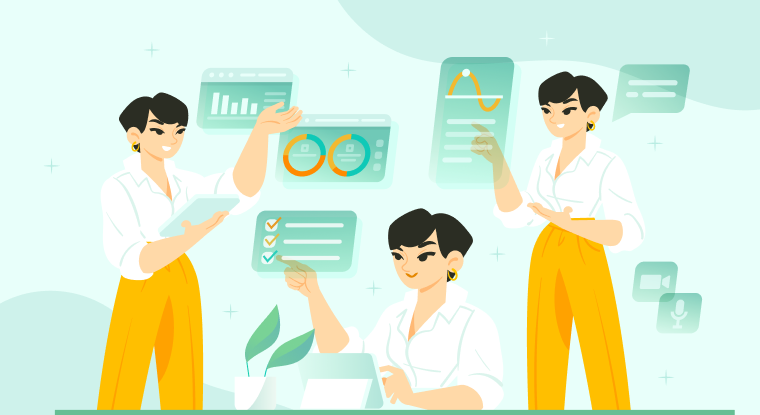 A project management system helps plan, manage, and organize various resource tools and develop accurate estimates. Organizations can control planning, estimation, cost control, scheduling, resource allocation, documentation, collaboration software, etc., using the management system.
What is a Project Management System?
A project management system helps plan, manage, and allocate resources to manage various projects. It helps the teams collaborate and track a project's progress by defining the tasks and responsibilities. The management system provides an overview of multiple projects and helps prioritize tasks by keeping everyone on the same page.
Here is a breakdown of the benefits of an online project management system.
It enables team collaboration and better communication.
It improves the resource management of project teams.
It enables simple project analytics and reporting.
It allows the centralization of project data for an organized information system.
It saves time and enables efficient budget management.
Facts and Stats About Project Management System
An online project management system is crucial to an organization's success. It helps project managers deal with various issues like ever-changing demands, negotiations with stakeholders, vendor management, etc. The managers must manage the team with constantly shifting tasks and priorities. Project management software is the best initiative for project managers to handle projects efficiently.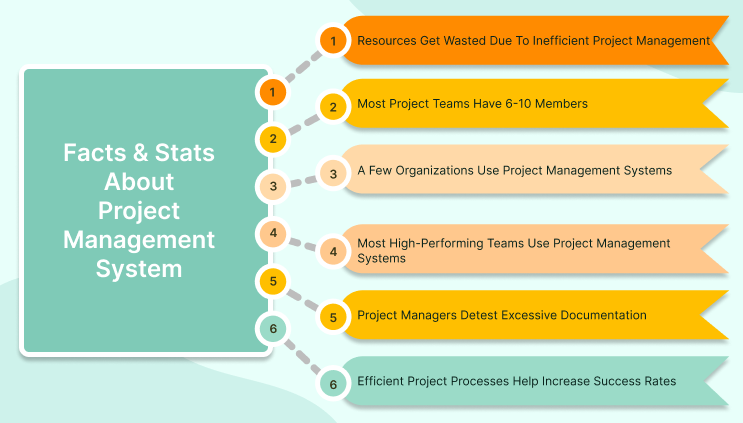 Here is a breakdown of the key facts and statistics about the project management system that everyone needs to know in 2022.
1. Resources Get Wasted Due to Inefficient Project Management
Estimates suggest that 54% of organizations fail to track their key performance indicators (KPIs) effectively in real-time when working on projects. Failure to track KPIs leads to failed projects with unhappy stakeholders. Organizations waste around 12% of their resources due to bad project management. The wastage can be reduced significantly with a proactive approach and effective project management.
A failed project implies a waste of resources. If an organization sets up a project but fails to fulfil the deadline, the time, money, and resources go in vain.
Here are the factors that influence project management resource waste within an organization:
Lack of divisional, regional, or department-specific Project Management Offices (PMOs).

Zero utility of standardized project management practices.

Zero provision of tools and training facilities for project management.

Non-classification of projects as strategic initiatives.

Zero portfolios and program management with low project management maturity.
When projects get complex, and deadlines are pushed for too long due to inefficient project management, it results in several possible wastages of resources. Such wastes can undermine the project and organization if left uncontrolled. It is why organizations ensure to streamline their projects with an efficient project management tool.
2. Most Project Teams have 6-10 Members
The common trend among organizations in current times is to have project teams with 6-10 members. 30.5% of project teams have five or fewer members. Around 39% of teams have six to ten members, leaving only 30.5% who have more than ten members.
Experienced project managers can handle large teams but prefer smaller ones because they are easy to manage. Moreover, the members of small teams can do multiple tasks without any hassle or conflict.
Project managers believe that small teams allow better flexibility, autonomy, and accountability in terms of idea-based changes and scheduling processes. The managers can foster trust over the team members with little to zero fear of failure.
The growing consensus among business professionals proves that having five to eight members maximizes the team's potential and productivity. A small team can efficiently manage a project management system through better engagement and accountability.
The project management system acts as a guideline to strengthen manager-employee relationships and increase productivity in meetings. Employees working in small teams are more engaged and satisfied with their output. Studies also suggest that teams with 5-9 employees have higher engagement compared to large teams of ten or more members.
3. A Few Organizations Use Project Management System
An online project management system has multiple benefits. However, only one in four companies use the system software in their capacity. It means only 25% of organizations are using project management software while the rest are struggling with papers, spreadsheets, and sets of tools with less or no integration capabilities. What is the reason behind organizations and teams not using a project management system?
A task management system defines a set of processes that every team member must follow. The processes act as routines that many organizations find lengthy, complicated, or boring. A web-based, open management system tracks an individual's working life. Individuals tend to avoid risks when they know someone having a high expectation is watching them. So, not using such systems is the best bet for such individuals.
Moreover, organizations do not want to incorporate a new system if the old one gets the job done efficiently. Most organizations have non-standard and undocumented ways of completing tasks. So, they do not want to introduce a new system to standardize best practices or keep track of things because the changes may appear as threats to some of the team members who cannot handle them.
4. Most High-Performing Teams Use Project Management System
An efficient project management system makes a marked difference in any project. Three out of four successful project teams use the management system for completing tasks successfully. 77% of high-performing teams use the system to manage, operate, and plan tasks for projects.
A project management system uses quality software that eases tracking, project collaboration, and period analysis, which increases the productivity of teams who use them. The system allows teams to stay on track while focusing on the priorities of multiple projects. It has built-in tools for reporting, task management, and collaboration features that provide every minute information to the teams on the project's status. Organizations deploy project management software or tools to optimize resource allocation. The teams can manage the resources to ensure that they do not waste anyone's time and enable smooth operation. The organizations can also provide an opportunity for the clients to sign in and view project data specific and relevant to them. It allows the clients to make edits, provide feedback, and review the project's progress from a single platform. Task management software is the best way to define workflow within an organization to enable the teams to deliver high-quality output.
5. Project Managers Detest Excessive Documentation
Every project manager wants to do away with a single element from the task list, which is documentation. According to a survey, most managers keep project documentation as a priority among things that they want to avoid during projects. A manager has to spend countless hours on presentations and regular reports that may reduce focus from other essential tasks.
Project documentation is a significant part of the project management system that helps reduce the tedious and time-consuming tasks of project managers. The efficient documentation ensures that all the project requirements are fulfilled within the stipulated time and establish traceability concerning the to-do list.
The project management system includes features to lay the foundation of history, traceability, and quality for both individual documents and those of the entire project. Project managers do not get well with documentation processes. So, the management system software guides the managers to understand the context of various projects and their expectations with the click of a mouse. The software also helps lay down an efficient project plan to give the desired output and deliverables within the stipulated time.
Project managers take help from online project management software to organize and share information among team members and clients.
6. Efficient Project Processes Help Increase Success Rates
A project management system helps establish effective processes suitable for an organization and its team members. Multiple stats prove that companies with mature delivery processes are more likely to meet their goals compared to others.
Project teams having a matured system meet 77% of their goals compared to others who have a success rate of 56%. Matured teams deliver 63% of projects within the stipulated time compared to others who meet deadlines only 39% of the time.
An efficient project management system helps the project managers achieve the goals and objectives related to various projects. It helps the managers bring in a successful project before the suggested deadline and within budget limits. The system enables them to use limited resources with zero wastage to complete the requirements related to a project.
The project management system includes effective planning, proper project evaluation, and a work management system to efficiently cover the requirements of a project. Organizations that have an efficient management system witness more success rates in their projects compared to the ones using traditional documentation methods. Successful projects meet business requirements, get delivered on time, and are maintained as per budget and schedules. The best way to achieve more successful projects is by using an efficient system that can plan and execute tasks effectively.
Projectsly - The Best Online Project Management System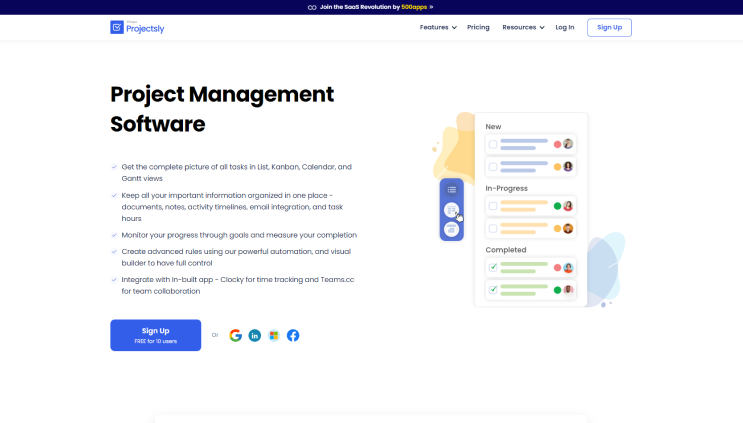 Are you looking for the best-quality project management software to handle multiple projects? Look no more as Projectsly is your one-stop solution for managing all project-related tasks, queries, documentation, schedules, etc. The management software system has the following features.
It provides a visualization of tasks in Calendar, Kanban, Gantt chart, and List views.
The system keeps your information like notes, documents, email integration, etc., organized in a single place.
It monitors your progress by understanding the goals and measures your completion capacities.
The software creates advanced rules using visual building and powerful automation tools for full control.
It enables you to integrate the system with a built-in app for time tracking and team collaboration.
Ready to streamline project planning process and enhance team productivity with Projectsly? Sign Up 14 Day Trial
Summing It Up
Various industries use online project management systems for resource allocation, project planning, and scheduling purposes. The system enables project managers and teams to control their respective budgets, ensure quality management, and exchange proper documentation within the project. A project management system is the best alternative for project managers and teams to collaborate and meet their goals in time.
What Makes the Best Project Management Software?
#1
Plan, organize, track all your projects in one place
#2
Get a visibility over individual tasks in the form of kanban boards
#3
Track the project schedule using gantt chart and calendar view
#4
Create advanced workflows with powerful automations
#5
Track employee activities, and working hours using built-in time tracking software, Clockly
#6
Monitor activities using screen recorder on Windows, Mac and Linux devices
#7
Set S.M.A.R.T goals and achieve results
#8
Share files and collaborate with team through discussion boards
#9
Unbelievable pricing - the lowest you will ever find
#10
Everything your business needs - 50 apps, 24/5 support and 99.95% uptime
Join the SaaS Revolution
All-in-One Suite of 50 apps

Unbelievable pricing - $14.99/user

24/5 Chat, Phone and Email Support