5 Tips for Choosing Task Management App for Your Business
This article gives you steps on choosing task management app for your team and talks about the key features an app should be having.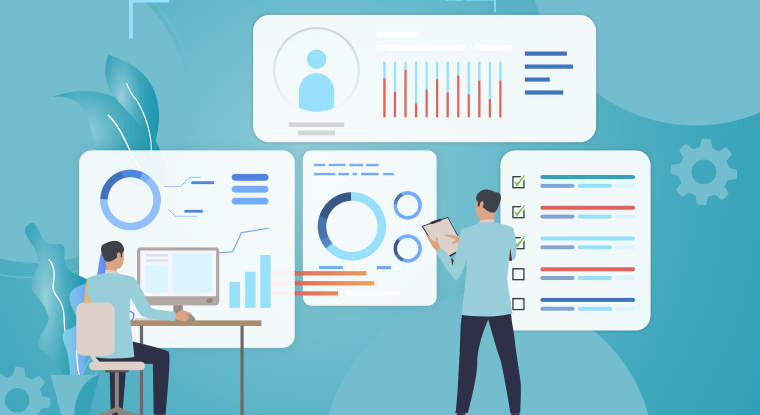 The way teams function in the workplace is evolving at a rapid pace. What was formerly limited to notebooks, notepads, and reminders is now a time-consuming process of locating and utilizing the appropriate cloud-based task management app. So far, the adjustments have benefited the corporate world. This is because organizations, no matter how large or small, must simultaneously manage multiple projects, plans, tasks, and people. It turns out that project managers and teams are finding it increasingly difficult to keep track of what they're doing and what has to be done next. A specialized app or software solution that helps individuals plan better and stay organized throughout the day may be of some help to them.
What is Task Management App?
A task management app manages your tasks, assists with scheduling, and tracks dependencies, resources, and milestones. Furthermore, it helps you make decisions when priority adjustments are required. It is crucial to understand your goals to ensure you acquire a solution that can boost your productivity rather than create more work!
Why Should Project Teams Use Task Management App?
Businesses and organizations that do not employ task management software are likely to undertake more work and earn less profit due to time lost on simple activities. However, if you manage to execute these jobs efficiently, your team may be able to focus on more pressing issues and core operations.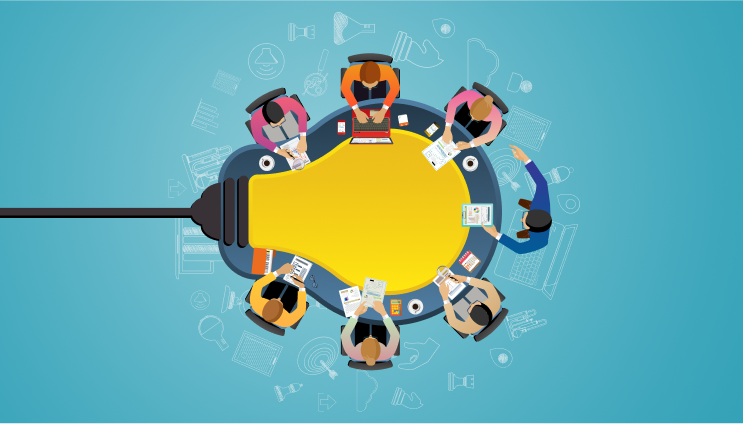 Each team member is allocated to a specific task when working on large projects. A task management app mentions what part of the project each team member is working on, thus making it easier to collaborate.
If you don't have a structure in place, it might be difficult for your team to stay on track. A task management app helps in this situation as you can use it to organize and manage tasks in various ways like the Gantt chart or Kanban method.
In addition to managing your team, it is essential to manage resources and prevent wasting time. On a task management tool, you obtain a centralized source of information about your resources. A task management app can do it all, beginning with high-level time monitoring, present and projected resource usage, long-term allocation, talent pool, and ending with the exact profit a person is earning in the current project.
Projects have a variety of expenditures that must be tracked to ensure that everything stays under budget. With a task management app, you can better track all of those moving pieces and shift prices.
The app provides tools to help you simplify project planning and cost management by allowing you to define a baseline, track labor rates, and add additional expenses on a task-by-task basis. You may easily change and add things as they occur during the project using these features.
Tips to Choose the Best Task Management App
Choosing a good task management app requires one to consider the following factors.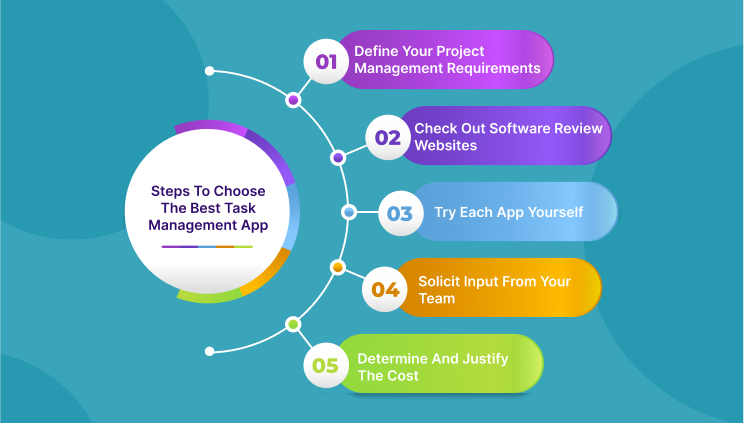 1. Define Your Project Management Requirements
The first step in finding a project management solution is recognizing the present issues in your team's workflow. It's important to document these issues in a list to which you can return. Problems that may arise include:
Departmental communication breakdown
Inability to interpret client comments
Email inbox overflow
Uneven task distribution among team members
Projects that are disorganized and have missed deadlines
Many pointless meetings
You may also use this list to help you decide what features you want in a project management application. You can mark each feature as high, medium, or low importance to rapidly determine whether the prospective tool meets your business requirements.
2. Check Out Software Review Websites
Many software review websites have tested the most popular applications so that you can have an easier time selecting the one that's the best for your business. Based on evaluations reported by real people who have tested the application, you can create a shortlist of those that you and your team want to test for your company.
Furthermore, you should compare each tool's feature set and cost to your list of requirements. You can ask the following questions to do so:
Does your team require Gantt chart?
What about Kanban systems?
Is it worth making the additional effort to get the right fit?
After you have your shortlist, you can reduce them down to roughly five finalists and allow team members to vote for their desired project management solution.
3. Try Each App Yourself
Without using the application, it is nearly impossible to decide which project management software would best meet your needs. It is essential to sign up for the free trial or contact the company if they don't have a full-featured free trial. If a firm refuses to give a trial of the whole product, it's probably a hint that you should look for a better alternative.
Seeing a demo is not the same as freely and unrestrictedly using the program for a few weeks. A demo refers to a thorough examination of the app. It is essential to check for features and an intuitive user interface. Suppose you're going to document all of your work in this software. In that case, you should be able to conduct routine activities without being confused or navigating through a slew of complicated choices.
It would also help to examine how simple it is to collaborate with other departments. For instance, if your business necessitates your company to frequently deal with clients, you can check if your task management software integrates with CRM software to help streamline customer service operations.
4. Solicit Input from Your Team
It is essential to collect feedback from everyone who participated in your task management application trial by sending out a survey to gather their feedback in writing or by meeting with the entire team at once to address issues. It would be best if you inquired about the following:
Did the project management tool improve the efficiency of their workflow?
How much time would it take to update it?
How long did it take them to get used to the app?
What did they enjoy best and worst about the tool?
How probable is it that they may suggest the tool?
After trying out the software and discussing individual experiences, you and your team would be better positioned to judge which task management solution caters to all your business needs effectively.
5. Determine and Justify the Cost
Task management apps are available at various price ranges. Generally, the application vendors have a lot of plans at different rates, each with more features than the next. For example, a company may provide a free, basic, standard, and pro plan, with the basic plan allowing you to use the least amount of features and the pro allowing you to use all of them. Hence, it is important to determine what features you require and your budget before choosing a task management system.
Key Features That Every Task Management App Should Have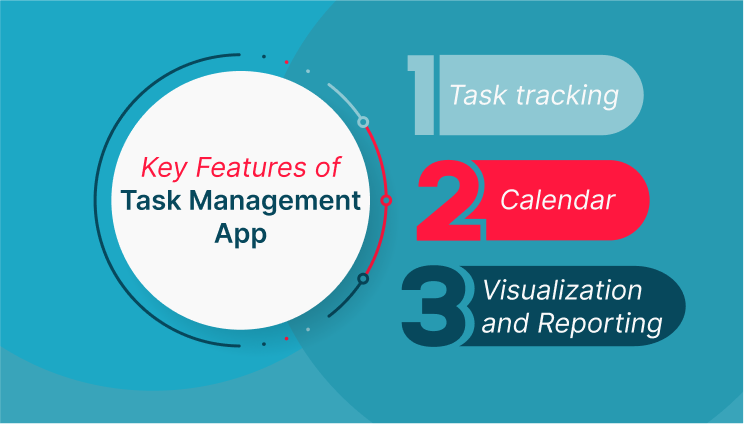 1. Task Tracking
When a large number of tasks are planned, especially in groups, keeping track of all the work completed might be difficult. To make this process easier, it is a good idea to use a program that can help you track the work progress until task completion. Generally, applications provide unlimited task tracking and real-time monitoring only in the basic or standard plan.
2. Calendar
A good task management application should be able to connect with a simple to maintain and retrievable calendar that streamlines the entire workflow. This feature is generally available in the free and basic plan.
3. Visualization and Reporting
You may acquire a high-level overview of all your team's active, overdue, and over-budget tasks and a breakdown of those tasks using the task management reports. Generally, a good piece of software provides analytical reports and data only in a pro plan. Hence, you will have to pay anywhere from $25 to $80 per month, depending on your application. However, an exception to this is Projectsly, which provides comprehensive task reports only at $14.99 per month.
Projectsly: The Best Task Management App
Projectsly is task management software that is meant to help you manage your projects quickly and effortlessly. The app can help you handle several projects simultaneously, have team meetings, track task statuses, and produce real-time reports. It offers different views to manage tasks, including Gnatt Chat and Kanban task administration, using which you can efficiently manage activities and projects. In addition, you can get a better understanding of your team's priorities by displaying all teamwork on one screen and allowing for drag-and-drop capabilities.
Ready to streamline project planning process and enhance team productivity with Projectsly? Sign Up 14 Day Trial
Summing It Up
Task management solutions are intended to make the lives of your team members more productive and simple. So, it is essential to choose the finest task management app that corresponds with your objectives and gives your team members total control over projects.
Therefore, we recommend getting Projectsly, a project management application developed by 500apps that offers a straightforward and user-friendly project management solution to help you efficiently manage projects while staying on schedule and within budget.
What Makes the Best Project Management Software?
#1
Plan, organize, track all your projects in one place
#2
Get a visibility over individual tasks in the form of kanban boards
#3
Track the project schedule using gantt chart and calendar view
#4
Create advanced workflows with powerful automations
#5
Track employee activities, and working hours using built-in time tracking software, Clockly
#6
Monitor activities using screen recorder on Windows, Mac and Linux devices
#7
Set S.M.A.R.T goals and achieve results
#8
Share files and collaborate with team through discussion boards
#9
Unbelievable pricing - the lowest you will ever find
#10
Everything your business needs - 50 apps, 24/5 support and 99.95% uptime
Join the SaaS Revolution
All-in-One Suite of 50 apps

Unbelievable pricing - $14.99/user

24/5 Chat, Phone and Email Support