10 Ways Project Management Software Helps Growing Businesses
This blog explains how project management software helps growing businesses and why should they adopt the same to improve productivity.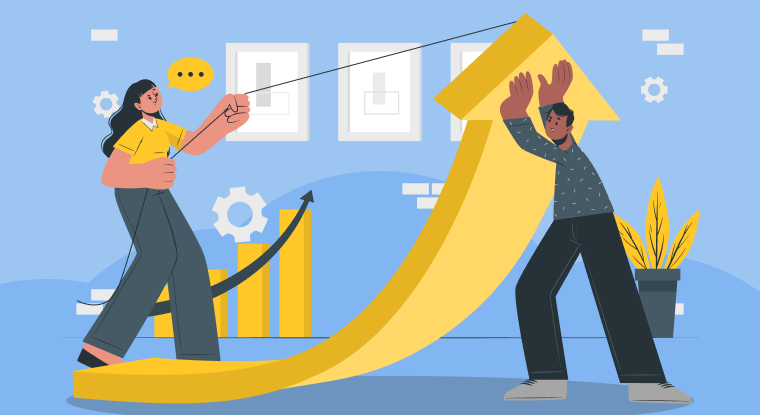 Project management software is a comprehensive solution for project planning, resource allocation, and scheduling in various business sectors. It enables cost control, budget management, quality management, and document management for project managers (PMs), stakeholders, and users. This software also acts as a hub for project stakeholders, allowing for a smooth collaboration. In this article, we are going to discuss ten ways in which project management software can help growing businesses.
Project management software helps managers and supervisors keep track of tasks and monitor the entire project with the aid of deep analysis. It ensures that every component of your project works together as a whole. A solution like this can help businesses manage teams working on the same project from different departments and make sure that all tasks are finished on schedule.
Managing everything the team does in a business environment is nearly impossible without some kind of tracking system. You can use project management software to organize all of your tasks and then communicate that information to your team by sending them messages through the software. This eliminates the need for email or other tools for communication, which means you're more likely to stay focused on the project at hand and avoid potential distractions.
In addition, project management software maintains threads and links of every task which prevents conversations from getting lost in emails, chat rooms, or handwritten notes. This helps teams to efficiently monitor the work progress, identify bottlenecks, and effectively troubleshoot problems, all while meeting deadlines.
How Project Management Software Helps Growing Businesses?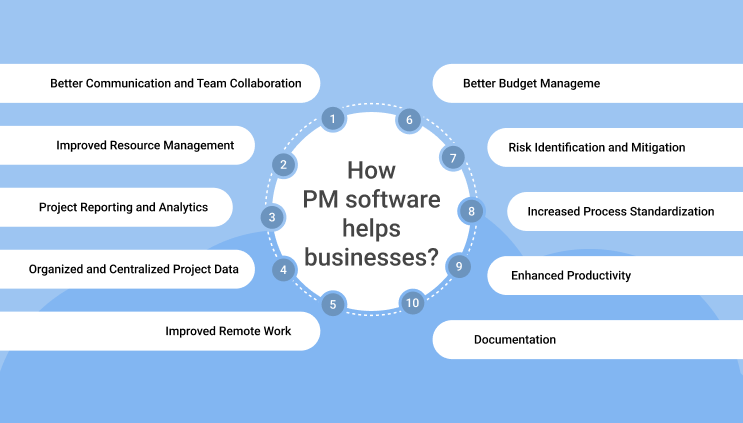 People risk drowning in a never-ending sea of spreadsheets, post-its, and paperwork when they don't have a robust project management solution to manage projects. Therefore, it is important to understand what kinds of benefits a PM software can provide to a business.
1. Better Communication and Team Collaboration
Since all of the information is in one location, managers can effortlessly assign tasks, mention team members in comments and take advantage of document-sharing tools. Project management tool make it easier to inform team members on even the most minute project plans and specifics. Knowing who is responsible for what also eliminates confusion, allows for tracking of progress, and promotes task completion on schedule. This also keeps the project planning process orderly and lessens delays brought on by a lack of a system.
2. Improved Resource Management
Resource management is essential for all the members of a company, including freelancers or full time employees engaged in creative marketing or offering expert product services. The time of an employee is the most crucial resource of an organization. Using capabilities for establishing work calendars, Gantt charts, staff scheduling, time tracking, and resource analysis, project management software can aid in efficient time management which helps teams to stay on schedule and complete their assigned tasks before the deadline.
3. Project Reporting and Analytics
Project in flow and proper records gives efficiency that runs from intake scenario planning to in depth optimization that delivers data to continuously improve your Project. Whether it's role-based dashboards or executive-ready risk breakouts, it creates transparency and unparalleled process with visibility for control to best practices analytics. This simplifies overall capabilities between the resources and managers both can easily predict the results. It makes work smarter not harder to unveil the project data insights that are required for business to succeed.
4. Organized and Centralized Project Data
Using project management system, any team working on a project may securely centralize project data. As a result, there is a well-organized informational structure that encourages transparency and enhances collaborative capabilities. Every team member can work on the appropriate documents, make revisions in real-time, and be certain that everyone else working on the project is aware of any changes thanks to a single source of truth.
5. Improved Remote Work
With the help of a PM software, team members can track project progress or join a new project as long as they have an internet connection. as all the data is available in the project management application. The majority of project management software are supplied as software-as-a-service (SaaS), which allows users to access the tool from any location at any time via their preferred web browser app or all of the above, allowing remote working employees to fulfill their assigned tasks from the comfort of their home.
6. Better Budget Management
It is imperative to always put efficiency and cost control above everything else. With a project management application, you can see your data and resources and how they are being used, planned, and analyzed. Budget forecasting is a feature of the best project management software that analyses data from previous projects to get precise projections for ongoing and forthcoming projects. Most project management software may be set up to provide alerts and notifications if you deviate from the planned spending limit.
7. Risk Identification and Mitigation
With advanced reports, insights, and several data viewing options, project management software may help you see the bigger picture of how various pieces of information fit together, making it simpler to identify problems and opportunities and take appropriate action. To communicate the entire picture to all stakeholders, including clients, customers, partners, and your internal team, the project management software can help you chart and visualize the SWOT analysis (strengths, weaknesses, opportunities, and threats).
8. Increased Process Standardization
The work processes often become more complex as the team expands, making it difficult for newcomers to catch up. Using a project management software streamlines the workflow, which allows the new recruits to get used to their new position and efficiently contribute to the project by taking advantage of a standardized work process.
9. Enhanced Productivity
One of the biggest advantages/ features of this software for business is the ability to manage all the resources in one place under one umbrella. The utilization of resources by maintaining multiple access points to varied users irrelevant to teams or departments. Another aspect is ease of access to data, it not just maintains data in the network across organizations but it also gives real time access to every individual in the project. This efficient scheduling of resources can complete a job without delays.
10. Documentation
While many companies still use pen and paper to track the progress of team projects, others are stuck using spreadsheets. This kind of arrangement exposes you to potential mistakes which can significantly impact your company's returns. The term documentation is the management of documents which are created throughout the duration of project cycle. Project plan, project budget, and project schedule are the project documentation, it also includes project activities, procedures and guidelines formed by the team during the tenure of project.
Projectsly: Project Management Software from 500 apps
A team may centralize project planning and complete it with the help of Projectsly, a project management tool. To accelerate business growth, simplify project planning and consider every component of a project from beginning to end. Track the status of projects, schedule sprints, and generate product roadmaps using custom reports for data-driven decision-making.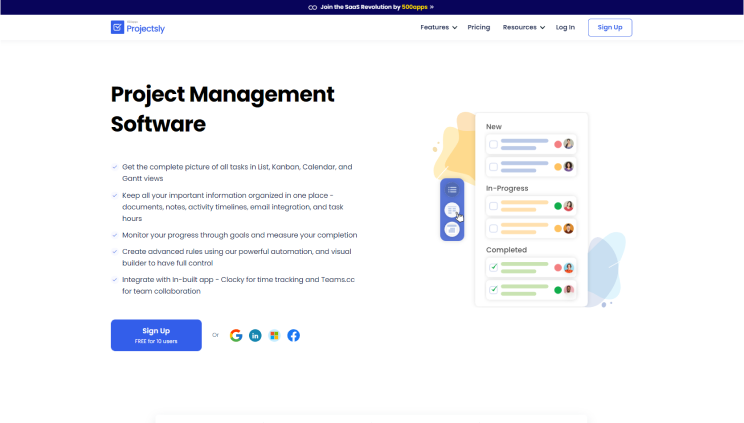 Unlimited projects may be created, tasks can be managed in various views, team discussions can be held, task statuses can be tracked, and real-time reports can be formed. By using a simple visual designer, you can create automated workflows that do all the monotonous work for you. Favorite among project managers and employees is also effective because of its user-friendly layout, support for remote teams, and Chrome extension that allows you to integrate Projectsly with Gmail and manage all of your projects in one location.
View all tasks in multiple views - List, Kanban, Calendar, and Gantt views. Get quick insights into work dependencies and timetables, and allow the team to monitor their task status to determine if they are on track to meet deadlines.
Organize all of your pertinent data in one, including papers, notes, activity timelines, email integration, and task hours. Track your accomplishments about your goals.
For complete control, create complex rules utilizing our robust automation and visual builder. Integrate with Teams. cc, an in-built tool for team collaboration, and Clocky for time tracking.
Ready to streamline project planning process and enhance team productivity with Projectsly? Sign Up 14 Day Trial
Summing It Up
You might be asking where the list of drawbacks is, and we won't tell you there are none. However, the 'disadvantages' are just short-term and relate to the expense (as opposed to using free Excel spreadsheets) and the time it takes for your team to adjust (vs. the time wasted without a system you can streamline). Other than that, there aren't any genuine drawbacks worth sacrificing the benefits for. Therefore, we recommend using Projectsly, by 500apps, which allows you to centralize project planning and successfully execute projects to accelerate business growth, streamline your project planning, and plan every aspect of a project from start to finish.
What Makes the Best Project Management Software?
#1
Plan, organize, track all your projects in one place
#2
Get a visibility over individual tasks in the form of kanban boards
#3
Track the project schedule using gantt chart and calendar view
#4
Create advanced workflows with powerful automations
#5
Track employee activities, and working hours using built-in time tracking software, Clockly
#6
Monitor activities using screen recorder on Windows, Mac and Linux devices
#7
Set S.M.A.R.T goals and achieve results
#8
Share files and collaborate with team through discussion boards
#9
Unbelievable pricing - the lowest you will ever find
#10
Everything your business needs - 50 apps, 24/5 support and 99.95% uptime
Join the SaaS Revolution
All-in-One Suite of 50 apps

Unbelievable pricing - $14.99/user

24/5 Chat, Phone and Email Support