Best Alternative to Microsoft Project Management Software
Microsoft project management software is a practical project management tool for small teams and projects. It excels on many different fronts and may be regarded as a generalist product.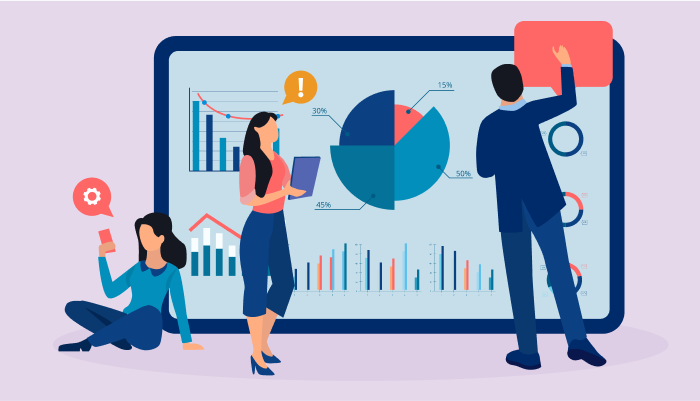 It can be difficult to manage customer-facing initiatives with several teams, resources, deadlines, and dependencies. Microsoft project management software has few capabilities, which makes it challenging to track project tasks, report time, and give stakeholder visibility. Furthermore, it is challenging to template repetitious operations while also providing your client with a collaborative experience.
Introduction to Microsoft Project Management Software
One of the first and best project management software Microsoft Project. As a result, it is an established product that has benefited from innumerable user comments throughout time. With a large number of lessons and manuals available online, it is a dependable tool that is maintained and supported by one of the largest companies in the world. But as more companies integrate project management into their workflow, it is clear that not all of them are eager to follow Microsoft's lead.
Microsoft Project is an online project management software used for scheduling, planning projects, managing resources, and keeping track of time. It contains features for project management experts like Gantt charts, kanban boards, and project calendars.
Microsoft project management software is collaborative and allows you to work how you like if you're seeking a less-priced and more flexible option. We provide a collaborative, user-friendly platform with numerous project views, unlike Microsoft Project. Managers may plan projects using Gantt charts or the sheet view, while teams can manage their work using kanban boards, calendars, or detailed task lists.
Introduction to Projectsly - Best Alternative to Microsoft Project Management Software
Growing organizations can get an All-in-One SaaS suite from 500apps, which is the one and most sophisticated business project management software available. It consists of more than 39 apps that serve a range of corporate operations, including sales, marketing, human resources, and operations. It also includes apps for support, developers, productivity, collaboration, and browser extensions.
With the goal of assisting enterprises in effectively centralizing project planning and executing it. To boost business growth, streamline your project planning and prepare for every stage of a project. Create personalized reports for data-driven decision-making, monitor project progress, schedule sprints, and develop product roadmaps, Projectsly is a free project management tool created by 500Apps.
Powerful Features of Projectsly
Powerful features of Projectsly are mentioned below: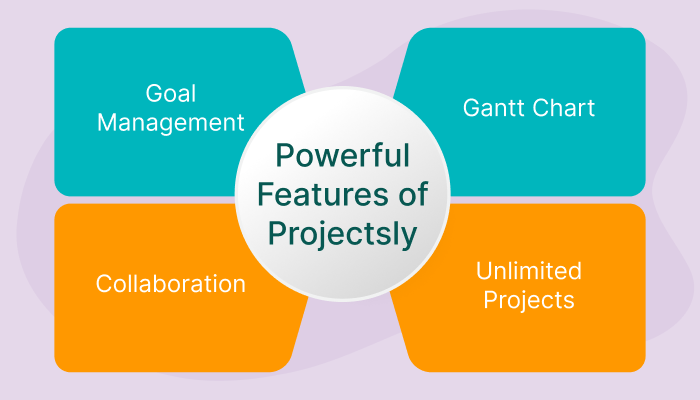 1. Goal Management
With the use of goal management, individual goals can be in line with the corporate mission and key principles. In order to close gaps and stay on pace to accomplish the organization's goals, it makes sure that all employees are working toward the same, comparable goals.
2. Gantt Chart
A Gantt chart, which is frequently used in project management, is a graphical representation of a project timetable. The start and finish dates of project elements, such as resources, planning, and dependencies, are shown in this type of bar chart. The Gantt chart is the most commonly used chart in project management. The sequence in which tasks must be accomplished can be determined using these diagrams, which are helpful for project organization. You may track the status of your project tasks on the chart and determine whether your team can meet deadlines by looking at the conventional presentation, which is a horizontal bar chart with various colors.
3. Collaboration
Discussions among the project team and stakeholders are a great way to share knowledge while also communicating with them. To make sure that everyone with a stake in the project is properly involved in addressing challenges, putting forth ideas, and solving problems, happens at regular intervals throughout the project life cycle. The aim of team discussions is to reach conclusions that lead to projects that are completed on schedule, within budget, and that satisfy the requirements and objectives of the project.
4. Unlimited Projects
These features include importing multiple-subtask tasks from a spreadsheet, unlimited projects, and infinite tasks. One of the most important project planning jobs is overseeing infinite projects for numerous clients. Unlimited projects are exactly what they sound like: a management approach in which the project manager oversees multiple projects concurrently. It's a strategy to improve resource management and allocation inside of a company and optimize the contribution of team members and resources to every effort.
Ready to streamline project planning process and enhance team productivity with Projectsly? Sign Up 14 Day Trial
Projectsly vs Microsoft Project Management Software
Differentiation between Projectsly and Microsoft project management are given below: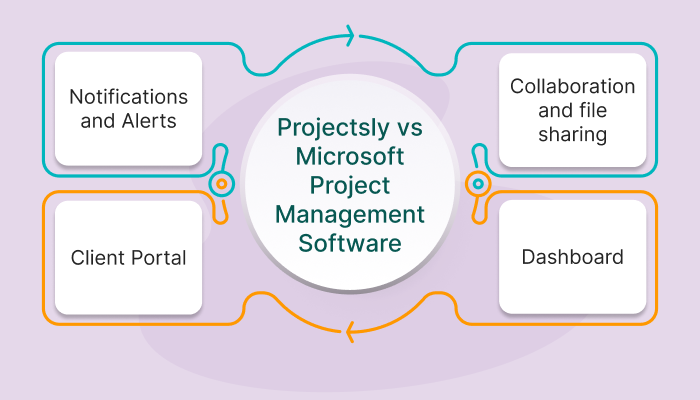 1. Notifications and Alerts
There are no alternatives for recalling things like missing deadlines or behind-scheduled activities in Microsoft project management. With Projectsly.com, you can keep tabs on the objectives of your team and receive reminders for assignments and projects.
2. Collaboration and file sharing
MsProject 2016 lacks an integrated collaboration feature, a commenting system, and file-sharing functionality. Real-time team communication and cooperation are made possible via Projectly.com.
3. Client Portal
The project management does not provide a real-time status but simply mails the client. Projectly.com provides task updates and in-team conversations in real-time.
4. Dashboard
A dashboard to track the progress of milestones, slipping tasks, etc. is not available in microsoft project management. You must need extra technologies, such as cloud-based Power BI. The dashboards on Projectsly.com can generate bespoke reports using pie charts and bar charts to help the team operate better.
Pricing: Microsoft Project is not free and you'll need to pay a monthly subscription. There are three pricing tiers including Project Plan 1, project plan 3, and Project Plan 5.
Project Plan 1 - ₹720.00 user/month
Project Plan 3 - ₹2,160.00 user/month
Project Plan 5 - ₹3,960.00 user/month
Projectsly:
Monthly at $14.99/user/month
Yearly at $9.99/user/ month
Hence, Projecstly has single and honest pricing with no tiers, no feature caps for all the 50 Apps at just $14.99/ user/ month.
Final Words
Projectsly is a web-based project management tool that aids in task organization, time tracking, and cost reduction. We have complete trust that Projectsly is the greatest alternative to Microsoft project management software and that using it would help you be more productive.
Projectsly is easier to use and more efficient than Microsoft Project. It offers a variety of features that make project management simpler and more effective, such as team collaboration, Gantt charts, and task management.
To find out more visit 500Apps.
What Makes the Best Project Management Software?
#1
Plan, organize, track all your projects in one place
#2
Get a visibility over individual tasks in the form of kanban boards
#3
Track the project schedule using gantt chart and calendar view
#4
Create advanced workflows with powerful automations
#5
Track employee activities, and working hours using built-in time tracking software, Clockly
#6
Monitor activities using screen recorder on Windows, Mac and Linux devices
#7
Set S.M.A.R.T goals and achieve results
#8
Share files and collaborate with team through discussion boards
#9
Unbelievable pricing - the lowest you will ever find
#10
Everything your business needs - 50 apps, 24/5 support and 99.95% uptime
Join the SaaS Revolution
All-in-One Suite of 50 apps

Unbelievable pricing - $14.99/user

24/5 Chat, Phone and Email Support