5 Effective Ways to Use a Gantt Chart
The blog gives you a complete idea on how to use Gantt charts, where it can be used, and what tool can be chosen to make use of it.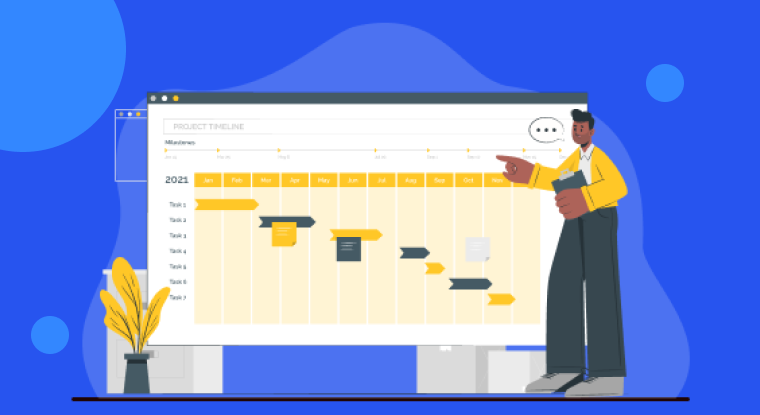 Gantt charts are a visual tool for visual people made to make things simple and easy. There is a need to use Gantt Charts to illustrate a project schedule in Project Management. It is arguably the most popular way of showing a business's activities over time.
The Gantt chart displays each activity at a time. It shows you what needs to be done and when it is due. The chart lists the activities on the left and represents them with a bar. The position and length of the bar reflect the start date, duration, and end date of the activity.
So, at a glance, the Gantt charts let you see:
Each activity
The start date of each activity
The duration of each activity
The end date of each activity
Where activities overlap
Since Gantt Charts are vital to the straightforward visual representation of projects, using them effectively will translate to seamless project execution. So, before you start your next big project, complete this article to know how best to improve your use of Gantt Charts.
Task management software allows you to manage your tasks from a central location, allowing you to collaborate more effectively and increase productivity with Gantt Charts.
Effective Ways to Use a Gantt Chart
Below are the 5 effective ways to use Gantt Chart-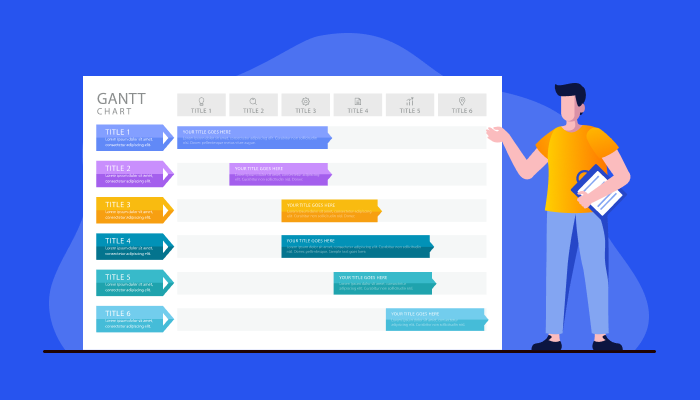 1. Recognize Workflow
Gantt chart gives a visual representation of different project scenarios. With the proper brainstorming, you will recognize workflow and adjust resources accordingly.
The right online Gantt software will suggest different possible project scenarios. So, you can evaluate each one until you have found the one that best meets the needs of your projects. Tools like Projectsly will even allow you to layout project milestones, note deliverables, start and end dates, and task status.
2. Plan and Add Tasks
Gantt Charts have significantly done planning and adding project tasks easier. You can easily create a new study using Gantt tools with any software available on the market. First, you need to pick a time frame in which the task needs to be done and draw it by dragging your mouse from the start date to the end date. Some tools will even enable you to add swim lanes for team members or leaders in charge of each task.
However, it is best to consider that delays and unforeseen circumstances are possible. Hence, add an extra day or two to your task planning timeframes.
In contrast, giving each task too much time can allow employees to become lax. So, you might need to keep a strict tab on your timeframes.
In all, find a balance that will allow for unforeseen delays and is tight enough to keep your employees on their toes.
3. Milestones
Milestones are another use of Gantt Charts that can reflect on the success of your project if appropriately managed. Adding milestones to your charts will prove that your project is moving forward. Meeting each milestone will feel like mini-awards toward the grand finale of your project. And they serve as motivation boosts to all team members.
So, how do you add a milestone to your project? Projectsly—one of the best online software out there—lets you easily create milestones for your project. All you need to do is pick a date and create one.
Another benefit of adding milestones to your charts is adding related information to each milestone. So, everyone associated with the project will be well informed about significant project steps.
4. Create Progress Bars
On the Gantt Chart, the progress bar is a horizontal bar that is in time with the project name. The progress bar starts beneath the project's start date and ends beneath the end date.
Progress bars add a visual clue to your Gantt Charts. The shading of each bar is proportional to the degree of task completion. Project management software helps you to prepare timelines, identify resources, and prioritize the tasks accordingly.
Also, the main task is highlighted in a different color while the sub-tasks are in another color. This will let you quickly recognize what task is in progress and how that is proportional to the progress of the overall task. When progress bars overlap, that shows that the tasks are running concurrently.
Creating Progress Bars will Help You:
Show tasks and their related dependencies
Identify the progress of each task
Keep your project on track
5. Break the Project Down into Smaller Bits
Handling significant projects as a whole can be overwhelming. You should use the divide and conquer strategy to execute successfully. Breaking down projects into smaller pieces will let you focus on smaller tasks, which you can complete over short work sprints. In relation, each tiny bit you complete will contribute to growing your overall progress bar.
Gantt charts will help you break down your large projects into smaller chunks with a few clicks and drags. This will enable you to delegate each task and responsibility to the appropriate team member. When team members focus on small pieces of work at a given time, their morale will significantly improve. Also, when they see how each tiny bit of work contributes to the project's success, they will be motivated to do more and be more productive.
Ready to streamline project planning process and enhance team productivity with Projectsly? Sign Up 14 Day Trial
The Right Software to Use
Projectsly, project management tool helps you improve your use of Gantt Charts in Project Management. The software easily lets you plan, manage, and track resources and tasks using bar charts. You can also prepare timelines for each task, allocate resources and prioritize tasks accordingly. You can also switch views, export charts, set dates to track, and many more.
Conclusion
The Gantt chart is a helpful project management tool. They assist you in determining what must be done and when it must be done. Additionally, they can be used to monitor task dependencies and spot potential bottlenecks. Gantt charts can improve the planning and execution of your projects when used correctly.
What Makes the Best Project Management Software?
#1
Plan, organize, track all your projects in one place
#2
Get a visibility over individual tasks in the form of kanban boards
#3
Track the project schedule using gantt chart and calendar view
#4
Create advanced workflows with powerful automations
#5
Track employee activities, and working hours using built-in time tracking software, Clockly
#6
Monitor activities using screen recorder on Windows, Mac and Linux devices
#7
Set S.M.A.R.T goals and achieve results
#8
Share files and collaborate with team through discussion boards
#9
Unbelievable pricing - the lowest you will ever find
#10
Everything your business needs - 50 apps, 24/5 support and 99.95% uptime
Join the SaaS Revolution
All-in-One Suite of 50 apps

Unbelievable pricing - $14.99/user

24/5 Chat, Phone and Email Support