Employee Task Management System: Everything You Need To Know
This blog gives a complete guide on how to improve employee productivity with a task management system and its benefits.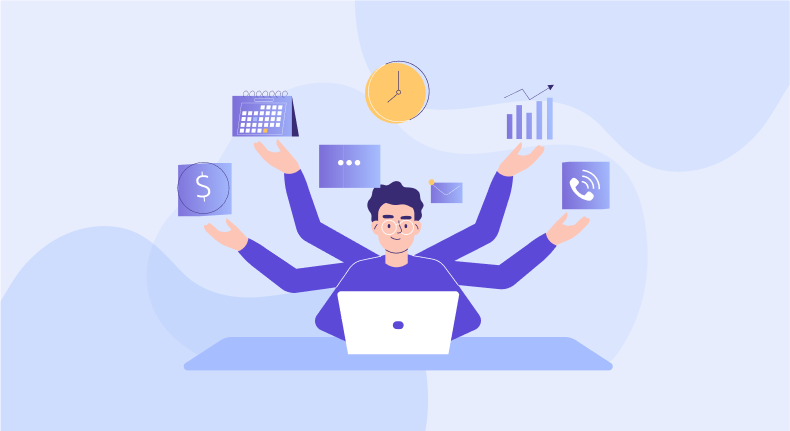 A task management system refers to monitoring a project's tasks via analyzing various stages from start to end. The management system involves actively making decisions to accommodate the changes occurring in real-time to accomplish the tasks. Every scope, resource, budget, recurrence, etc., gets monitored through the task management system. Task management is a significant component of project management and involves a work breakdown structure to divide the project into manageable tasks for the employees working in the specific business.
Managing every significant task on priority, keeping up with the schedule and budget criteria, and ensuring effective team collaboration form the basis of task management.
5 Benefits of Using Employee Task Management System
An employee task management system is the key to evolving a talented and efficient workforce for your organization and is the perfect addition to enhance your business. Here is a breakdown of the benefits of using employee task management systems.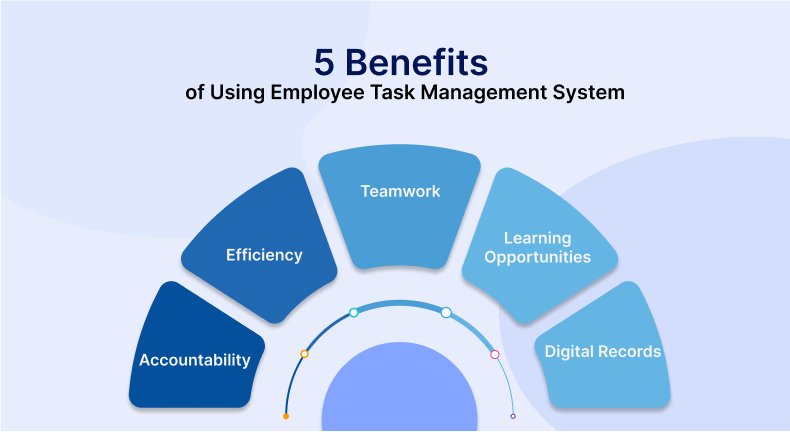 1. Accountability Task management improves the quality of work of the team or staff members to make them accountable for their actions. The management system specifies the tasks and activities so that the team members can see what needs to be achieved and when. The members also become responsible for their work calendars and give an increased accountability level every day.
2. Efficiency Task management keeps all actions, from to-do lists and emails to presentations and spreadsheets, encapsulated in a single platform to reduce the chances of lost work and information. Moreover, the management system improves the efficiency of task completion via the same process. The same system aims to break down every project into manageable tasks so that the team members get the flexibility to progress efficiently.
3. Teamwork The employee task management system makes it easier for teams to collaborate on joint projects and cross-functional tasks. Even if the team members do not belong to the same office or country, everyone can collaborate to accomplish the work associated with a project via the management system. The process results in effortless teamwork that makes completing tasks simple and efficient.
4. Learning Opportunities A task management software has twofold benefits – quicker and efficient management of ongoing tasks and upcoming work and the evolution of a learning and development tool to increase the reliability of goal-oriented skills and experience. The skills related to task management help you improve efficiency and encourage effective learning and development and ongoing timekeeping. The management system also forms the basis for KPI-based goals to improve employee confidence and capabilities.
5. Digital Records A task management system offers a digital way to see everything achieved over a week, month, or year. The management system also allows you to see and analyze the areas of improvement and the completed tasks that were well done. You can get a tangible roadmap for the completed tasks that provides an insight into how you can manage similar workloads or projects in the future.
How to Improve Team Productivity with a Task Management System?
Leading a team is tough, and making groups of people with different temperaments may lead to clashes and miscommunication and impact workplace productivity. However, you can make your team members accomplish professional goals through an effective task management system.
Here is a breakdown of ways to improve team productivity with a task management system: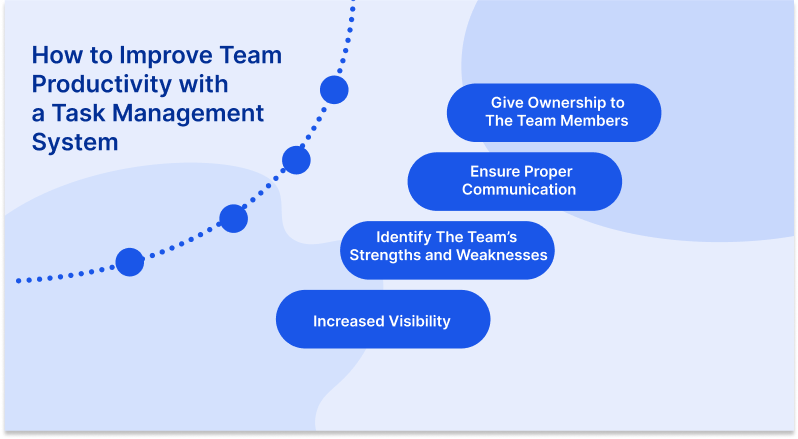 1. Give Ownership to The Team Members A task management system enables business leaders to give ownership to team members. The process allows them to make decisions and become accountable for their work. When a team member becomes responsible for a specific task, it induces a sense of responsibility and increases productivity. So, everyone begins to work differently because their decisions can impact their performance.
2. Ensure Proper Communication Communication contributes to team productivity, and an effective employee task management system ensures that effective collaboration prevails in a team. The management system has a single platform for employee onboarding, training, etc., and includes a place for storing information related to the workforce and the business. An effective communication strategy helps improve team productivity within an organization because of increased collaborations and interactions.
3. Identify The Team's Strengths and Weaknesses A task management tool allows a leader or a manager to discover the team members' skills and talents to keep them in mind while allotting tasks. Knowing the skillset and experiences is the backbone of producing an efficient and productive team for any business. Checking and analyzing the strengths and weaknesses of team members through a task management system will help you divide tasks efficiently and allow them to contribute to the workplace.
4. Increased Visibility A task management system helps every team member involved in a project stay on the same page and analyze their roles in meeting the overall goals or objectives. Potential risks, resource allocation, and project progress become available to all team members via the management system so that they can analyze the data better to get an overview of the numbers over the weeks, months, or years.
5. Identify Issues and Predict Delays A task management system enables the team to deliver tasks on time by identifying issues and predicting delays. The process allows them to change or modify work and correct their actions before the goal gets accomplished. The management system also walks the team members through the points where the tasks get delayed and help them overcome the time constraint by introducing new strategies.
How Does Projectsly Help as an Employee Task Management System?
Projectsly is the best employee task management tool to help your team members centralize projects and execute tasks. The management tool helps streamline various projects and tasks through powerful automation and management features. Your business can witness a boost in productivity, and the workforce can complete significant deadlines by working via Projectsly.
If you are looking for a robust management tool to streamline your projects and task assignments, Projectsly is the answer. The employee management tool helps streamline all tasks and projects from a central location and helps team members collaborate to accomplish the project activities within the deadline.
Projectsly further allows you to align your team members with various activities and get updates on ongoing and accomplished tasks. You can accomplish your goals on time using the efficient task management tool.
If you are skeptical about using the task management tool, the following features will clear your doubts.

It provides an insight into the ongoing and completed tasks related to a project.

It gives information like activity timelines, notes, documents, email integration, etc., in a single platform.

It helps you measure your completion of goals related to various tasks and projects.

It uses power automation and visual builder features to create advanced rules and control the workflow system.

It integrates with built-in apps for better team collaboration and management.
Ready to streamline project planning process and enhance team productivity with Projectsly? Sign Up 14 Day Trial
Summing It Up
A task management system allows an individual or leader to track a project's status and make decisions depending on the progress. Various tools enable an effective employee task management system to organize and manage tasks for enhanced organizational infrastructure and management. If you haven't found the right task management solution for your organization, we recommend getting Projectsly, an efficient project management software that helps you streamline all tasks and projects within the given deadline while enhancing the team's productivity and accountability.
What Makes the Best Project Management Software?
#1
Plan, organize, track all your projects in one place
#2
Get a visibility over individual tasks in the form of kanban boards
#3
Track the project schedule using gantt chart and calendar view
#4
Create advanced workflows with powerful automations
#5
Track employee activities, and working hours using built-in time tracking software, Clockly
#6
Monitor activities using screen recorder on Windows, Mac and Linux devices
#7
Set S.M.A.R.T goals and achieve results
#8
Share files and collaborate with team through discussion boards
#9
Unbelievable pricing - the lowest you will ever find
#10
Everything your business needs - 50 apps, 24/5 support and 99.95% uptime
Join the SaaS Revolution
All-in-One Suite of 50 apps

Unbelievable pricing - $14.99/user

24/5 Chat, Phone and Email Support