Task Management Tool: A Beginner's Guide
A detailed blog on the task management tool, its benefits, and why projectsly is the right tool for your business's task management.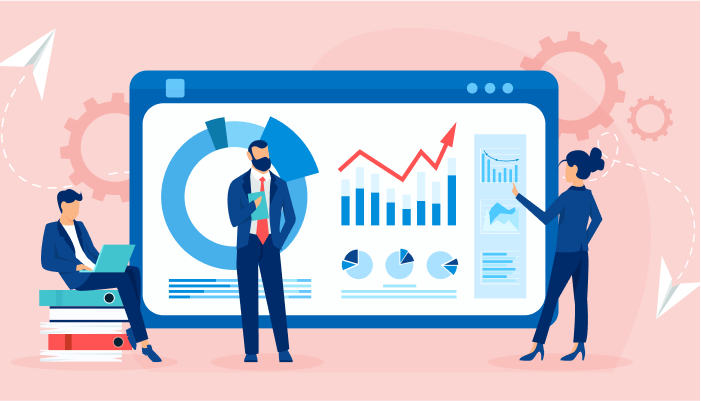 Task management is an essential aspect at work, where you are neither freelancing nor working solo. To work in accordance with your team, a task management tool becomes a necessary part of a business as it ensures that all tasks are evenly allotted to the teams. Task management software allows the end users to work smarter and not harder. It allows your organization to manage and organize tasks at different levels and assign priority tasks to the teams who have the capability to complete them on time.
Task management tool enables the organization to work effectively using a systematic platform for daily operations. This tool enhances your work efficiency and provides you with the accuracy of data and metrics. In comparison to 2018, when the market size stood at USD 1,713.0 million, it is expected that using task management software, the market size would scale up to USD 4,535.5 million by 2026. Therefore, by using good software in business, you can collaborate seamlessly, communicate with teams, maintain a proper workflow, and manage the tasks in a controlled manner, all from a single platform.
What is a Task Management Tool?
If you find it challenging to manage tasks and finish them before deadlines, a task management tool is for you. A task management tool helps you plan, decide, organize, manage, and prioritize several tasks in one place. It allows you to focus on tasks that need your immediate attention so that you do not miss deadlines. A task management tool is specifically designed to cater to your business needs. However, it is not similar to project management. This tool enables the project owners and team members to collaborate and communicate in real-time and rule out missing deadlines and overshooting the budget.
Task management tool comes in the form of a project management application, form, or spreadsheets. Rest assured, with an efficiently working tool; you can meet deadlines without difficulty, stay organized, reduce resource wastage, and ensure that your team receives the tasks equally.
How Does a Task Management Tool work?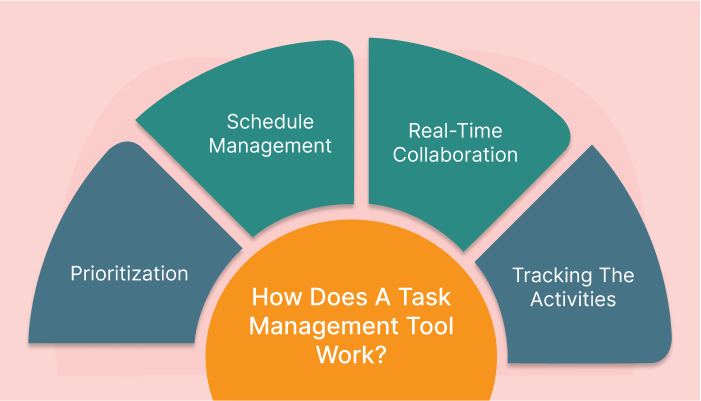 Every task management tool consists of some key aspects that enable efficiency in your work. Here are the significant steps of a task management tool:
1. Prioritization
A good task management tool helps you prioritize tasks. Whether it is a to-do list or a project task, this tool helps you prioritize them into different categories. It ensures that you solely focus on the task that needs your attention and effort. With this feature, you can easily complete all tasks with efficiency while maintaining a planned constraint. This gives you time to visualize all the tasks and understand the whole project with much ease.
2. Schedule Management
Making sure that you schedule the tasks properly is important. Here, a task management tool eases your trouble by allowing you to schedule various tasks with the due dates. A good task management tool should provide you with Google Calendar, Mac/iPhone Calendar, or Outlook Calendar so that you can quickly mark the due date and work on tasks on top priority. This way, you do not miss the date and keep your eye on tasks that need to be allotted first.
3. Real-Time Collaboration
Task management tool ensures that you easily connect with remote teams from a central location. It mitigates human errors and helps your team work in coordination. Having team conversation allows you to get the project details and all necessary insights in a single place. You should ensure to invest in a tool that provides this feature, allowing you to share files and necessary documents without hassle. This mitigates the need to go all over the place to find a particular detail.
4. Tracking the Activities
Task management tool ensures to help you keep track of all activities from a single place. As you communicate regularly, you get to stay updated with all necessary details. It helps you and your team analyze the progress and improve areas for better productivity and efficiency. Establishing your goals is the key to the success of a project. Hence, a task management tool should define the milestones to motivate your team to be more productive and stay focused.
Benefits of a Task Management Tool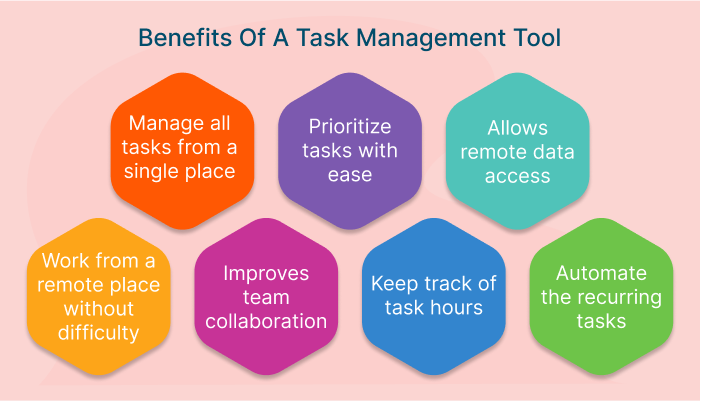 Task management tool provides you with multiple benefits in successfully completing a project. Some of the core benefits of this tool are: - Manage all tasks from a single place - Prioritize tasks with ease - Allows remote data access - Work from a remote place without difficulty - Improves team collaboration - Schedule dates and distribute the workload - Keep track of task hours - Share files and documents from a centralized location - Automate the recurring tasks - The Right Task Management Tool - The right and perfect task management tool out there is Projectsly, designed and developed by 500apps. It is one of the best project management software that streamlines all your projects and tasks in one place. Here, you can plan, organize, schedule, manage, and communicate as a team to get the work done at the right time.
This software does not go easy on missing deadlines and overdue projects. It helps you manage tasks with efficiency and provides you with a great variety of features to create unlimited tasks, import them from spreadsheets, collaborate with the team, get a clear view of tasks using different calendars, schedule them, automate recurring tasks and events, and keep track of everything with advanced reporting. If you find it cumbersome to manage your tasks manually without any professional assistance, Projecstly should be your go-to solution.
Summing It Up
Selecting the best task management tool can turn difficult when you are not assured of its features and capabilities. However, we ease it up for you by offering the best task management tool, Projectsly, that caters to all your business needs and answers all your questions. Projectsly is the perfect task management tool that gets all things done efficiently and properly.
Using Projectsly, you can keep all the important files, documents, notes, email integration, activity timeline, and task hours organized in one place. From managing and organizing to scheduling and tracking the progress, Projectsly is a great software that comes with all advanced features that help you monitor your project and reach the end goal. For more details about the valuable features offered by Projectsly, visit the 500apps website now!
What Makes the Best Project Management Software?
#1
Plan, organize, track all your projects in one place
#2
Get a visibility over individual tasks in the form of kanban boards
#3
Track the project schedule using gantt chart and calendar view
#4
Create advanced workflows with powerful automations
#5
Track employee activities, and working hours using built-in time tracking software, Clockly
#6
Monitor activities using screen recorder on Windows, Mac and Linux devices
#7
Set S.M.A.R.T goals and achieve results
#8
Share files and collaborate with team through discussion boards
#9
Unbelievable pricing - the lowest you will ever find
#10
Everything your business needs - 50 apps, 24/5 support and 99.95% uptime
Join the SaaS Revolution
All-in-One Suite of 50 apps

Unbelievable pricing - $14.99/user

24/5 Chat, Phone and Email Support