17 Best Team Task Management Software in 2023
To guarantee that tasks are completed within the timeframes set, task management involves establishing, prioritizing, assigning, and monitoring tasks. For tasks to be completed effectively, the workflow must be organized, and bottlenecks must be removed. Task management is crucial for projects to be managed successfully and for businesses to run smoothly.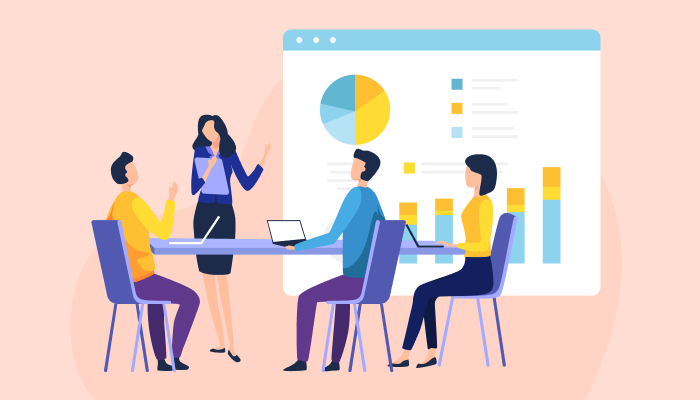 Features of Team Task Management Software Include
Below are the features of team task management software:
Ease of use
Customization
Real-time collaboration features
Resource management tools
Project budget management
Multiple project views
Time tracking
Advanced Reporting
Third-party Integrations
Mobile app
Safety and Security
List of Best Team Task Management Software
17 best team task management software are mentioned below:
Projectsly
With Projectsly's team task management software, you can manage all of your work from one area, improving collaboration and boosting output.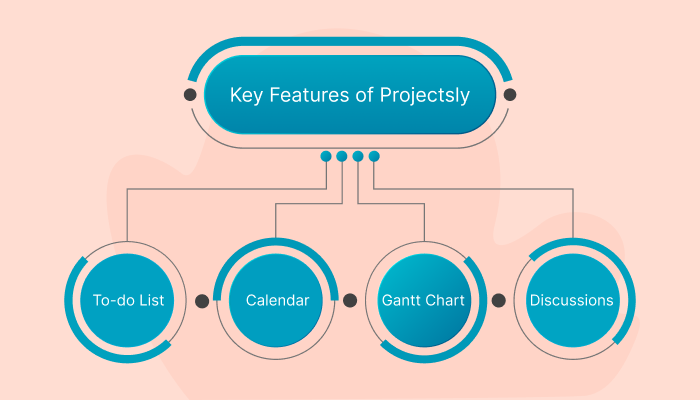 Key Features:
To-do List: By making and prioritizing a list of the duties and responsibilities that must be carried out in an orderly manner, you can increase productivity with a to-do list.

Calendar: Keep note of impending tasks, assigned projects, and deadlines; these will help you see your schedule clearly and keep track of the things you still have to do.

Gantt Chart: It enables you to keep track of your tasks and demonstrates dependencies and overlaps between activities by displaying a task's starting point in relation to another task's completion.

Discussions: For efficient project management, maintain real-time communication and coordination with team members from a single central place.
Price You may add up to 10 team members without incurring any additional fees. For $14.99, you can use the full feature if your team is larger.
Ready to streamline project planning process and enhance team productivity with Projectsly? Sign Up 14 Day Trial
Asana
Asana, team task management software, focuses on managing projects and workflows. Task lists, comments, notifications, and other team communication tools are some of its most noticeable features.
Key Features:
Task lists are arranged according to projects or deadlines.
On tasks, you can make comments and tag coworkers.
You can privately message any of your teammates.
Notifications are triggered by all forms of communication and task assignment.
Price: There is a free trial period, and paid plans begin at $10.99 per user each month.
Monday.com
Project management is a major component of Monday, a team task management tool that allows you to automate workflows, share files, communicate deadlines, and create Kanban boards.
Key Features:
Gantt charts make timelines clear.
It is simple to submit and approve requests. -Workflows that are automated can be altered.
Kanban boards are simple to make and offer areas for file exchange.
Price: Individual plans are accessible for free, and monthly fees for team plans begin at $8 for each user.
Trello
Trello's boards, cards, and lists are at the heart of the team task management system. You can see all of your projects from a close-up and aerial perspective using these tools.
Key Features:
Gantt charts are modeled using boards, lists, and charts.
Tools for tracking productivity are accessible.
Trello integrates with many well-known small business apps without any issues.
Price: Paid subscriptions begin at $5 per user per month, although free plans are also offered.
ProProfs Project
ProProfs Project is a simple team task management program with a simple setup and use. Creating tasks, allocating resources, and setting due dates for several projects only take a few minutes.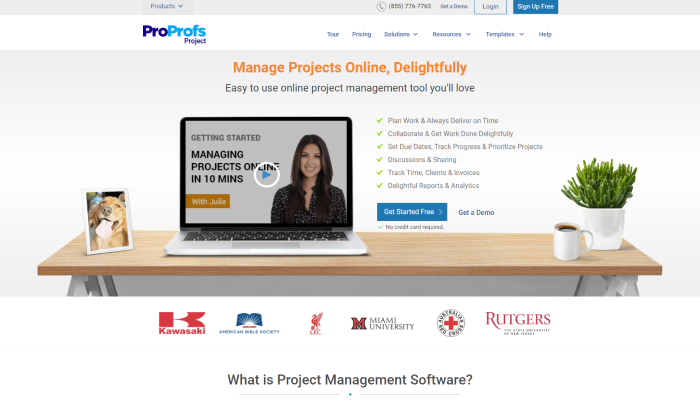 Key Features:
You can keep track of all your work in real-time using Gantt charts, a Kanban board, and a calendar view.
You may also configure task dependencies and prioritize activities to create a completely transparent project process.
Price: ProProfs Project has no free plan and charges $2 per user every month.
Todoist
Proactive project management is a specialty of Todoist. To improve your time management, it draws attention to the items on your list that are most pressing.
Key Features:
Your most important tasks are constantly displayed by Todoist.
When you're overloaded, it streamlines task delegation.
You may also see how productive your team is at selecting which projects to prioritize or postpone.
Price: A free trial plan is available from Todoist, and paid plans begin at $3 per month.
ClickUp
With greater time tracking features, ClickUp promises significant overlap with conventional team task management software. Particularly noteworthy are its timeline features.
Key Features:
Granular time estimates, time in status, and work-in-progress constraints are among ClickUp's most distinctive characteristics.
In-depth security features, multiple integrations, and strong support are all included in high-end plans.
Price: ClickUp can be used for nothing or for $5 per user each month.
Basecamp
A team task management tool designed for remote use is called Basecamp. It can be used by physical and virtual teams alike to facilitate workflows and communication in a variety of ways.
Key Features:
You and your team may distribute crucial messages using Basecamp.
Additionally, you can build chat boards and store and distribute pertinent files.
Price: Independent of the number of users, Basecamp is offered for free or for a fixed monthly charge of $99 per user.
Airtable
You can create unique applications using Airtable to meet a variety of team task management requirements. It can be used to track bugs in software engineering projects, design a completely unique product planning interface, and many other things.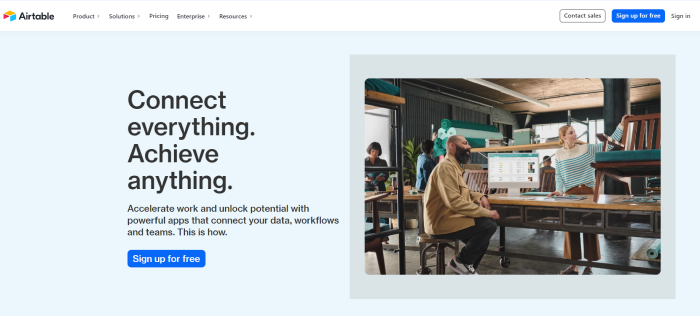 Key Features:
Only generic team task management capabilities like a grid, kanban, calendar, gallery, and form views are included in lower-tier Airtable features.
Customization, editing, and permissions are included with higher-end packages, in addition to professional services.
Price: Free tiers are available from Airtable, while paid plans start at $10 per user per month.
Taskworld
The project management and time tracking software, Taskworld, was created specifically for teams. Due to this design approach, Taskworld does not offer an initial free tier that is primarily for personal usage.
Key Features:
The main elements of Taskworld are chat, workspaces, visitors, and ongoing projects.
There are also additional features for team task management, project management, security, assistance, and teamwork.
Price: Taskworld has no free tier and charges $10 per user per month.
Quire
User-friendliness and Kanban boards are prioritized by Quire. It can be used to collect ideas and organize them into projects that are rationally planned and realistically doable.
Key Features:
Nested task lists divide assignments into more manageable, connected tasks.
Nested work lists logically lead to kanban boards.
The establishment of external teams with access to nothing but their own projects is possible thanks to user permissions.
An intuitive interface is provided with all of these functions.
Price: There is a free plan available from Quire, and its subscription plans start at $8.95 per user each month.
Teamwork
As its name suggests, Teamwork is a team task management system that emphasizes cooperation. Along with security, support, and multiple connectors, it features sophisticated project and account management tools.
Key Features:
Every plan includes notifications, milestones, and basic project management tools.
Invoicing, agile views, project time budgets, configurable fields, and resource scheduling are some of the layers.
Price: Both a paid and a free Teamwork plan are offered, with paid options beginning at $10 per user each month.
Zoho Projects
Planning, monitoring, and collaboration are made easier for local and remote teams using Zoho Projects. One of the more adaptable team task management solutions available is this one.
Key Features:
The centerpiece of Zoho Projects is Gantt charts.
Additionally, you'll get timesheets, automated task charts, color coding, and customized project data.
Price: There is a free tier of Zoho Projects, and subscription plans begin at $5 per person per month.
Wrike
Multi-priority task lists serve as the cornerstone of Wrike's workflow management software. Its ultimate objective is to promote completely open team cooperation.
Key Features:
You can create interactive Gantt charts and Kanban boards, speed requests and approvals, and personalize your Wrike workspace.
You'll also gain advanced communication features and project risk prediction.
Price: Free plans are available from Wrike, and paid subscriptions begin at $9.80 per user per month.
nTask
You may track and manage all of the many activities and procedures that they must carry out as part of their daily work with the help of the team task management and project management tool nTask.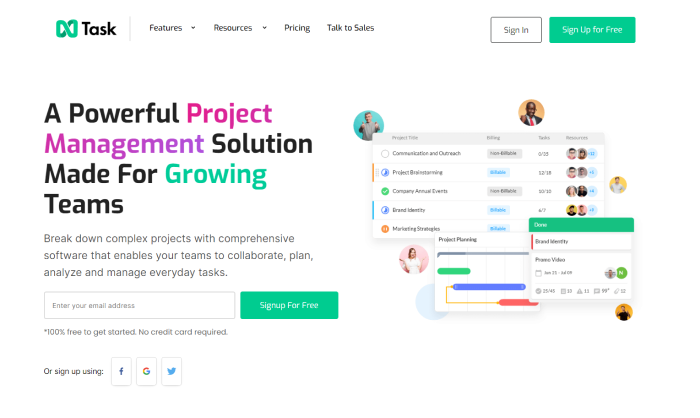 Key Features:
The main functions that the application has to provide are task and project management.
You may save and manage your papers in the interface, and alternate views include Gantt charts and kanban boarding.
Price: Free plans are offered, and monthly premium plans start at $3 per user.
Any.do
Any.do include a simple calendar to help you see how your events and activities fit together, unlike other task or project management tools. This team task management tool can help arrange tasks in your workflow by due date or category.
Key Features:
Calendar
Time tracking add-ons
To-do list reminders
Daily planner to organize and prioritize to-dos
Price: Free to $2.99/month per user.
Chanty
Chanty is a team task management platform for team collaboration that uses a chat-first approach to establish an efficient work management system. Users can turn every message into an assignment using chat organization, assign it to the right person, and set due dates for it.
Key Features:
Individual and group audio or video calls
Built-in task management
Screen sharing
Community support
Unlimited searchable chat history.
Price: Free for the first 10 users; after that, $3 per user per month.
Final Words
500apps aims to address this major uncertainty by offering a suite of 39 applications at just $14.99/month. You don't have to look for any other application or platform; use 500apps, and you have it all to get into Fortune 500 companies.
Projectsly is the best team task management available in the market.
Visit 500apps today to learn more about Projectsly.
What Makes the Best Project Management Software?
#1
Plan, organize, track all your projects in one place
#2
Get a visibility over individual tasks in the form of kanban boards
#3
Track the project schedule using gantt chart and calendar view
#4
Create advanced workflows with powerful automations
#5
Track employee activities, and working hours using built-in time tracking software, Clockly
#6
Monitor activities using screen recorder on Windows, Mac and Linux devices
#7
Set S.M.A.R.T goals and achieve results
#8
Share files and collaborate with team through discussion boards
#9
Unbelievable pricing - the lowest you will ever find
#10
Everything your business needs - 50 apps, 24/5 support and 99.95% uptime
Join the SaaS Revolution
All-in-One Suite of 50 apps

Unbelievable pricing - $14.99/user

24/5 Chat, Phone and Email Support