Effective Task Management Strategies to Enhance Team Productivity
This blog explains the 10 strategies of task management and lets you know how projectsly helps you manage task management to enhance team productivity.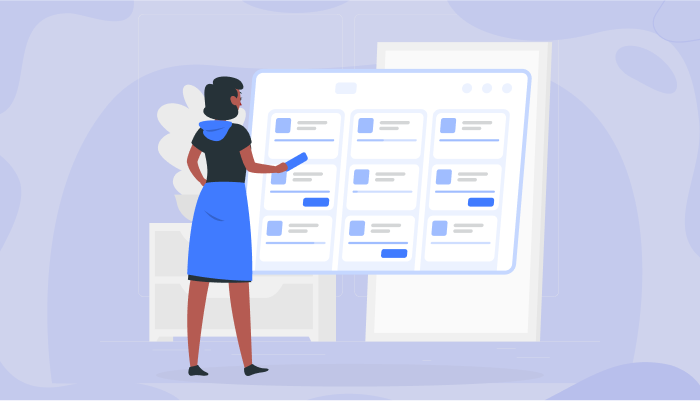 Today, task management is considered one of the most crucial functions of project management that helps businesses divide their project into manageable tasks. Here is where task management comes into the picture. Several businesses plan different task management strategies to fulfill their business requirements by keeping costs low and ensuring that their teams collaborate and work on the tasks assigned to them.
On average, business managers want to reorganize the team members to relocate over 23.6 percent of their time otherwise spent on menial tasks to prioritize the ones that need their effort. The only way to shield your teams from distractions and interruptions is by allotting different tasks to the team to get the work done on time.
What Is Task Management and Task Management Tool?
It is a process of monitoring your project's tasks at various stages, right from the start to the end. Task management standardly breaks down the structure of tasks and jobs into small chunks to be worked at the sub-level. Task management strategies play a key role in helping your team be actively involved in decision-making to accommodate new changes. Task management strategies involve planning, testing, monitoring, and tracking throughout the journey of the project.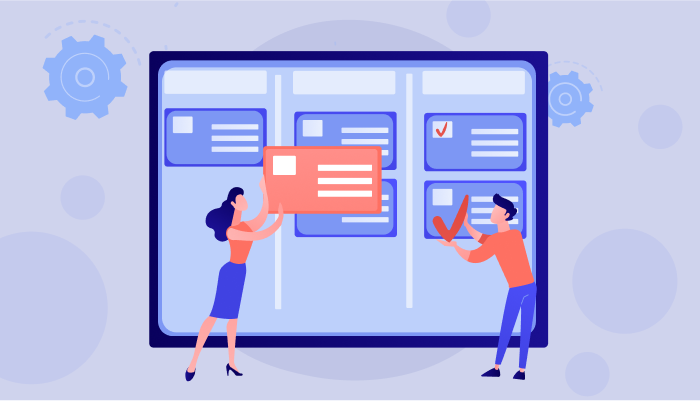 Prioritizing plays an essential role in implementing successful task management in your business journey. Task management strategies allow you to follow each job in proper order. For instance, a project manager can use these strategies to ensure adherence to a particular schedule covering all critical aspects of each job, such as status, time, deadline, cost, and resources consumed that require prioritization.
A task management tool is effectively used by a team or an individual to complete the project with more efficiency. It can come in different forms like task management applications or spreadsheets to prioritize related tasks. It enhances your business efficiency, reduces waste of products, and efforts, helps your team stay updated and well-organized, and ensures that your team meets the deadline without fail. Using a task management tool is one of the best task management strategies that help you organize, prioritize, visualize, and analyze your work process. Setting priorities helps your team stay organized and focused on the right tasks. Once you prioritize a particular task, a task management tool ensures that you complete it instead of jumping from one job to another.
Task management tools also enable you to visualize the project thoroughly. It helps you understand the project better as it becomes easy to comprehend everything laid out perfectly. These tools also provide you with deep analysis by producing concrete data so that you get a clear picture of what is done and what can be improvised.
10 Strategies of Task Management to Enhance Your Team Productivity
Below are 10 strategies of task management to enhance your team productivity: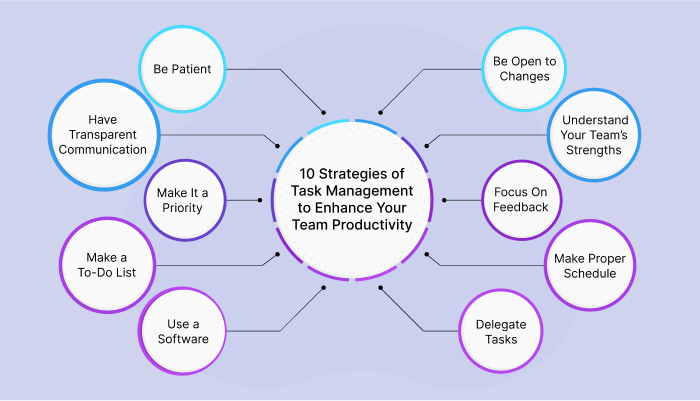 1. Make a To-Do List
Although it is a classic way of managing priority tasks, it works great. It does not mean you are required to write them down. With rapid technology growth, you have the liberty to make to-do list from any device or application. You can quickly jot down the important tasks for the day and complete the ones nearing the deadline with the help of notifications or reminders set. This helps you stay organized and work without confusion caused due to scattered jobs.
2. Make It a Priority
The right task management tools allow you to prioritize tasks that need immediate attention. This way, you do not miss deadlines and solely focus on one task at a time rather than juggling between two or more. When you prioritize tasks, you get to spot the strengths and weaknesses of the project. It enables your team to be productive and focus on priority tasks. Prioritizing is the only authentic way of enhancing your team's productivity and boosting work efficiency.
3. Understand Your Team's Strengths
When you understand your team's strengths, it enables you to assign tasks that can be performed properly within a deadline. Not understanding their strengths and weaknesses may lead you to assign more or fewer tasks, which may affect the overall productivity. Instead of being strict, you should manage to understand your team and communicate with them about their capabilities in performing various tasks.
4. Make Proper Schedule
One of the best task management strategies is scheduling your jobs. In order to manage the tasks, you should schedule them accordingly. This prevents your team from shifting its focus to other menial tasks. You can make use of project management software to allot dates and set due dates for certain tasks. It allows your organization to streamline the project and all the task assignments on a single platform.
5. Be Open to Changes
Let your team stay flexible enough for changes. Always leave room for changes. It is necessary to communicate with your team and understand every different perspective. Once you discuss everything and land on a conclusion, it allows the team to work with more efficiency. Collaborating with your team in real-time helps the team members benefit from the freedom to assign tasks and make changes without any hurdles.
6. Have Transparent Communication
Only when your team has transparent communication will there be less misunderstanding. Having transparent communication allows the team members to get a clear picture of areas that require improvement and areas that have improved. When the team communicates, the tasks are evenly distributed to different members of expertise. Smoothing the team's communication enhances productivity and makes the working process easier.
7. Delegate Tasks
At the end of the day, we are all humans. So, it is essential not to burden a single person to perform all tasks and distribute them evenly. It can significantly improve your team's productivity as every team member gets to focus on one priority task. You should analyze the members who are capable of a certain task level and assign them to work that they can perform the best. This not only improves productivity but also helps your team members to improve team discussion and thrive throughout the process of learning.
8. Focus On Feedback
Working with a team without providing feedback is like working without an end goal. You should provide regular feedback to your team to help them understand better. It not only helps you improve the task efficiency but also motivates the team members to work harder and be more productive. Providing feedback is highly necessary to keep your team updated with the outcome and the expectations.
9. Be Patient
Although it may sound very traditional, it is one of the best ways to succeed and stay ahead of your competitors. Once you assign tasks and everything has been organized and prioritized, you should just be patient to get the best results. Mastering the art of patience helps you and your team to get through all obstacles and get back on track when it is the right time. It mitigates the miscommunication and confusion caused, thus improving the productivity of your team.
10. Use a Software
After all, advanced technologies have widely benefited businesses. Therefore, we recommend you use efficient task management software to manage your tasks. Projectsly by 500apps is one of the best tools for task management. This software allows you to accomplish projects within stringent deadlines by helping you collaborate, create multiple projects, and manage various tasks in one place. Using a task management tool is the best task management strategy to keep track of the tasks and enhance your team's productivity.
How Projectsly Helps You Manage Task Management?
Projectsly designed by 500apps helps you streamline the project planning process and enhance your team's productivity. It helps you throughout the life cycle of your project, starting from initiation, planning, execution, monitoring, and completion. With Projectsly, you can hit the deadline by coordinating all your tasks in one place.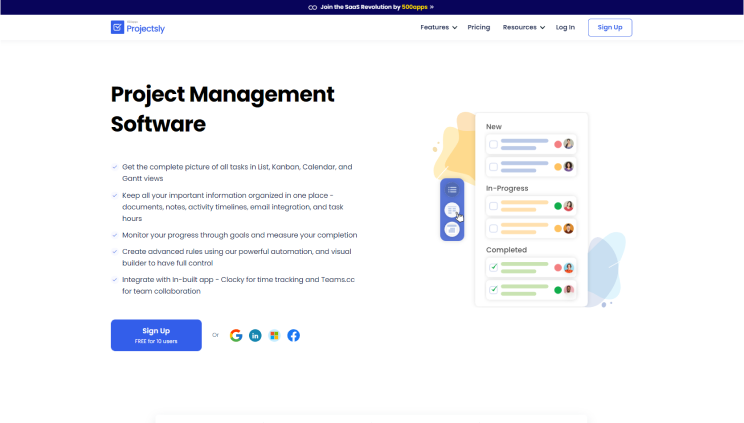 Projectsly helps you manage task management by allowing you to create multiple projects and tasks and enables you to collaborate and import them from spreadsheets. With this software, you can schedule your tasks on priority and keep track of the deadlines. The visual designer is an automated feature with the drag-and-drop builder that allows you to design tasks and automates the repetitive tasks by creating workflows. If you are looking for a software tool that works, investing your money in Projectsly is one of the best task management strategies.
Ready to streamline project planning process and enhance team productivity with Projectsly? Sign Up 14 Day Trial
Summing It Up
Using a task management app enables the end users to work smarter and gain more success in the market. It allows your team to organize and manage the workload, increase productivity and working efficiency, enhance the quality of work, drive more collaboration, reduce the wastage of resources, and meet deadlines without hassle. The best way to optimize your business flow is by inculcating these task management strategies into your business. In conclusion, Projectsly is your go-to solution if you are opting for a sustainable and affordable task management tool. For more information about the advanced features offered by Projectsly, visit the 500apps website now!
What Makes the Best Project Management Software?
#1
Plan, organize, track all your projects in one place
#2
Get a visibility over individual tasks in the form of kanban boards
#3
Track the project schedule using gantt chart and calendar view
#4
Create advanced workflows with powerful automations
#5
Track employee activities, and working hours using built-in time tracking software, Clockly
#6
Monitor activities using screen recorder on Windows, Mac and Linux devices
#7
Set S.M.A.R.T goals and achieve results
#8
Share files and collaborate with team through discussion boards
#9
Unbelievable pricing - the lowest you will ever find
#10
Everything your business needs - 50 apps, 24/5 support and 99.95% uptime
Join the SaaS Revolution
All-in-One Suite of 50 apps

Unbelievable pricing - $14.99/user

24/5 Chat, Phone and Email Support