10 Task Management Software Practices to be More Productive
The blog talks about task management software practices and the benefits of using such apps for teams in the business to meet deadlines effectively.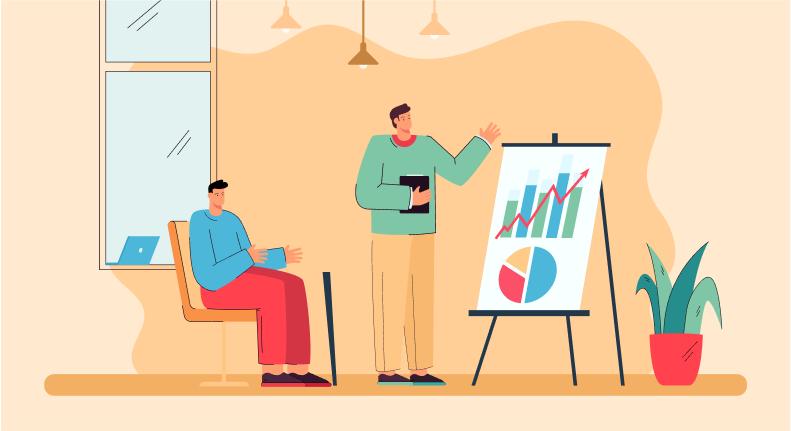 As more teams are moving to remote work and seeking to increase communication and efficiency, task management software is becoming more vital than ever. However, with new goods appearing on a daily basis, this new era of digital transformation in the workplace can be perplexing. In addition, you may not be able to identify exactly what you can use your task management tool for.
The practice of managing a job throughout its lifespan is known as task management. In simple words, task management software is used to organize your tasks, assist with estimating and scheduling, track dependencies, resources, and milestones, and assist you in making choices when priority adjustments are required.
There are many various forms of task management software, ranging from simple to-do lists to improving teamwork and collaboration. It is vital to understand your goals in order to find a solution that can actually help you.
Best Task Management Software Practices for Productive Teams
Here are ten ways you can use a task management tool to improve productivity: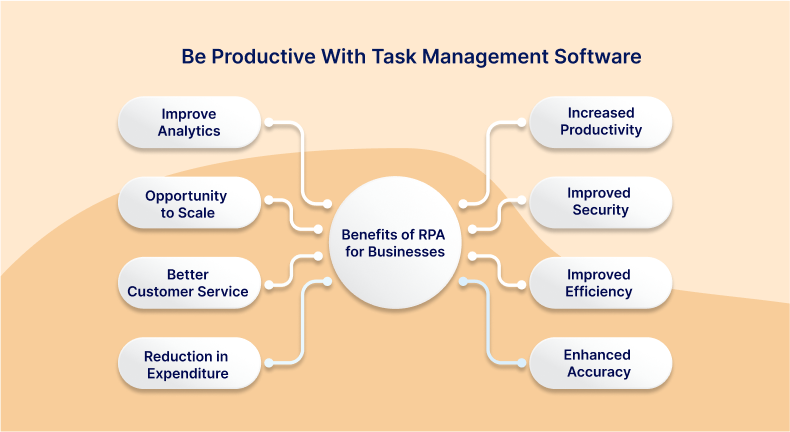 1. Enhance Cooperation
Communication is the foundation of an office environment; when communication fails, so does the business. That being said, developing an effective plan for facilitating employee communication in the workplace is basic and uncomplicated. A task management software allows you to share files, feedback, ideas, and more so that everyone may benefit from your team's collective expertise. This, in turn, enhances collaboration.
2. Monitor Your Team's Development
At a glance, it is possible for you to monitor the status of your team's projects. Individual task status changes and updates are easily visible. Thus, you may track each employee's time spent on each job in minutes and hours. With this information, you can determine which tasks require more time than normal and plan your next comparable job appropriately. It is also a useful tool for estimating staff productivity.
3. Make a To-Do List
To-do lists are now more extensive and powerful than ever. People no longer utilize handwritten notes to record their thoughts and ideas. They now have sophisticated to-do list apps that provide reminders and notifications before the work is due. Task management tool can scribble down ideas in texts, voice notes, pictures, and other formats. In fact, it is essential to make a list of your responsibilities.
4. Access Anytime And Anywhere
If you want to continue working when away from the office or on weekends but leave some notes or information at your job, you may have to return. Task monitoring software allows you to view your database from any device at any time. All you need is an internet connection. Thus, you can add all information to the task management software and view it anytime you want and from anywhere.
5. Budget Management That Works
Good project management and task management solutions also enable you to track your budget from inside the platform, eliminating the need to manually input spending in spreadsheets or utilize additional applications with distinct UIs and UXs. The platform allows you to register costs straight within tasks, attach invoices, and even link them with the time tracker. By allocating an hourly value to each team member, you can total up the cost in real-time anytime someone works on a job.
6. More Efficient Task Delegation
Delegation is a key ability for project managers, and utilizing task management software to distribute jobs makes it even simpler. It allows you to assign projects to team members rapidly and helps you track their progress and allocate resources as needed to complete the work more quickly. You may assign tasks to team members and include start and finish dates, descriptions, subtasks, tags, files, and other details. That way, the individual to whom you assign a work gets all of the information they require right in front of them, and everything is entirely visible.
7. Subtasks Should Be Added To Larger Tasks
Large and complicated initiatives are always a source of contention in larger organizations. Since so many items are associated with that project, it becomes difficult to convey the components of a single task to team members. Task management software is an excellent answer to this problem. They allow you to add as many subtasks to a project as you desire, allowing you to divide a large project into relatively smaller manageable chunks. It not only makes things easier to grasp for team members but also gives them the confidence to complete a large project effectively by breaking it down into small portions.
8. Create an Efficient Filing System
Managing activities and projects necessitates a significant amount of documentation. For example, when you work on a certain job in a project, you create and modify a large number of records. If you do not own a good filing system, this might lead to a task management disaster. You can use task management software if you want to arrange your duties effectively and keep all project-related documents and data in one location. This can save you and your team valuable time since you won't have to search through dispersed data files for the most recent document edition.
9. Make A Separate Work Area For Each Group
It makes no sense to direct every team member's attention to each activity since it might be distracting to others who are not participating in that work. The ideal method to deal with this problem is to create a distinct workspace for each group so that only the relevant participants are participating in a certain workspace. Task management applications allow you to build a separate workspace for each of your teams so that you can include the correct people rather than those who have nothing to do with the project.
10. Spend Less Time On Follow-Ups
When you delegate work to an employee, it is important to follow up to ensure progress, that tasks are being completed, that deadlines are being reached, and so on. These follow-ups take time, and you must keep track of them all. With task tracking, you may never have to worry about following up again. After generating and assigning a job to an employee, the program can handle everything, and you can track project activities and progress online because employees only update their assignments in real-time.
Benefits of Using Task Management Software
Following are the benefits of using task management software: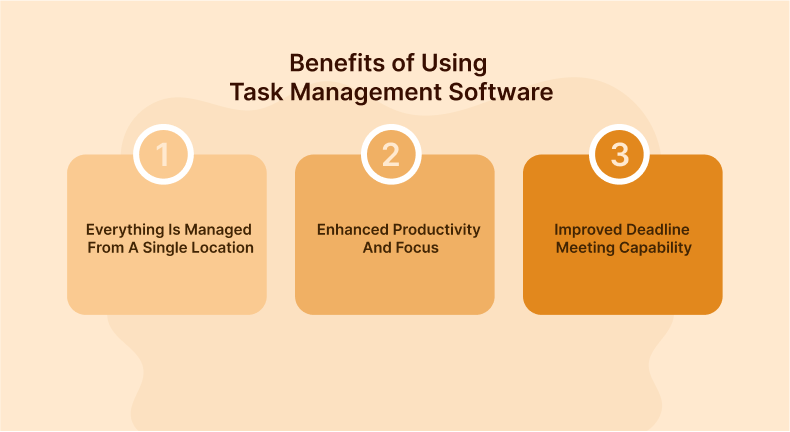 1. Everything Is Managed From A Single Location
Whether you are working on one project or numerous projects, retaining everything important about the project is essential. A task management program may help you keep everything organized in the form of cards/tickets, notes, calendars, and more. It provides a central integration platform through which you can preserve all of the actions that your team accomplishes while working so that they don't have to memorize anything and the entire team can stay on track.
2. Enhanced Productivity And Focus
One of the most important advantages of task management system is how much simpler it can make managing numerous projects and greater workloads by streamlining the working day. Human brains have evolved to focus more efficiently on dealing with bite-sized activities. Task management software matches our desire to divide complex projects into digestible portions, boosting productivity and focus at work.
3. Improved Deadline Meeting Capability
Meeting deadlines is critical in business, but it's not always simple to ensure that everyone is as focused as they should be. A task management software allows users to work on group projects, save data and design revisions, and communicate comments on a simple operating system. With more visibility on group tasks, it is much simpler to manage deadlines and guarantee that key projects are completed on time.
How Does Projectsly Help?
Using Projectsly by 500apps, you can create several projects for various teams and simplify project management by controlling everything in one spot. Using the built-in symbols and colors, you can stay organized by establishing unlimited projects and tasks for different teams and clients. Furthermore, you can increase employee productivity and team collaboration by giving team members more choices in work assignments.
To ease task management, you can also visualize all of your team's tasks in kanban, list, calendar, and Gantt views. You may also track correct work hours and assess team efficiency. Tracking project progress can assist your team members to become more productive.
Finally, Projectsly allows you to create workflows using an easy visual designer and drag-and-drop interface to automate repetitive operations and apply them to generated tasks. With a drag-and-drop flow builder, workflow automation allows you to define task flows depending on project requirements.
Ready to streamline project planning process and enhance team productivity with Projectsly? Sign Up 14 Day Trial
Summing It Up
Using project management software not only makes difficult activities appear smooth and efficient but it also assists your business in meeting deadlines with ease. However, you must make sure you utilize it correctly because it's not just about utilizing an online task organizer but also about how effectively you and your team use it to become more productive and successful.
What Makes the Best Project Management Software?
#1
Plan, organize, track all your projects in one place
#2
Get a visibility over individual tasks in the form of kanban boards
#3
Track the project schedule using gantt chart and calendar view
#4
Create advanced workflows with powerful automations
#5
Track employee activities, and working hours using built-in time tracking software, Clockly
#6
Monitor activities using screen recorder on Windows, Mac and Linux devices
#7
Set S.M.A.R.T goals and achieve results
#8
Share files and collaborate with team through discussion boards
#9
Unbelievable pricing - the lowest you will ever find
#10
Everything your business needs - 50 apps, 24/5 support and 99.95% uptime
Join the SaaS Revolution
All-in-One Suite of 50 apps

Unbelievable pricing - $14.99/user

24/5 Chat, Phone and Email Support