Complete Guide to Learn Project Management Software System
Project management software improves project transparency and provides a clear vision to the team. Gain a fresh perspective on your project, and how it fits with your business strategy. Here's some information about project management software how your team can benefit from it.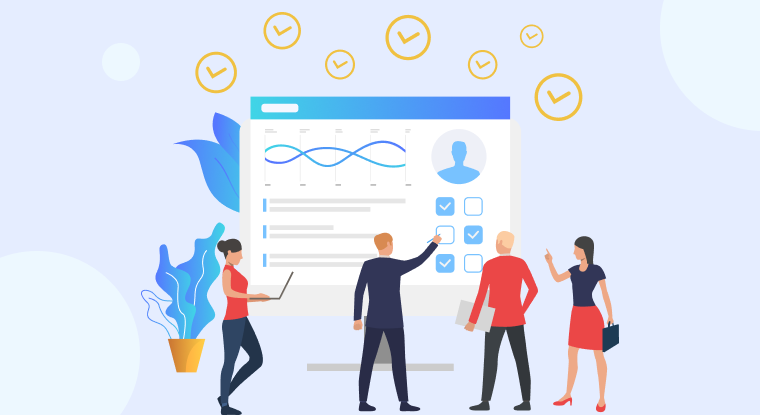 Project management software improves project transparency and provides a clear vision to the team. Here's some insight into project management software and how your team can benefit from it.
According to the Association for Project Management (APM), project management is the application of processes, methods, skills, knowledge and experience to achieve specific project objectives according to the project acceptance criteria within agreed parameters. Project management has final deliverables that are constrained to a finite timescale and budget. A key factor that distinguishes project management from just 'management' is that it has this final deliverable and a finite timespan, unlike management which is an ongoing process. Because of this, a project professional needs a wide range of skills; often technical skills, and certainly people management skills and good business awareness.
Rory Burke said, "Project management can be defined as a way of developing structure in a complex project, where the independent variables of time, cost, resources and human behaviour come together."
Businesses, large and small, unquestionably juggle numerous projects, plans, tasks and people to ensure that every project is successful. But managing projects, by nature, is not an easy task. Since there are a lot of moving parts, it can easily become chaotic and disorganized. Having a solution can help them keep everything organized while planning and running projects, in a way that is accurate, predictable, and profitable. This solution lies in having a task management system.
What is a Project Management Software System?
Specifically speaking the project management system is the total aggregation of the tools and techniques along with the procedures, processes, and methodologies that are used for the purposes of completing the management of the said project.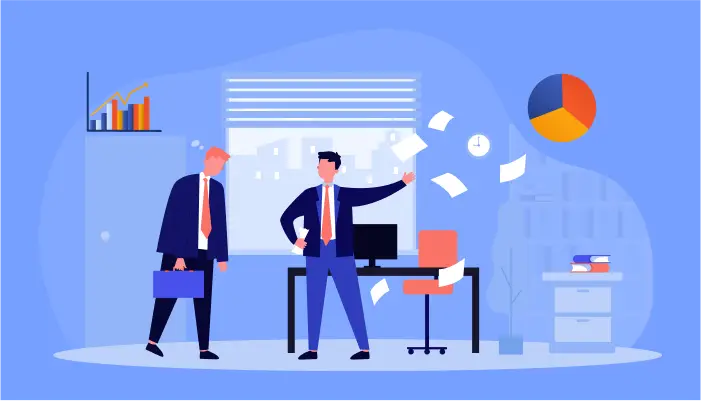 Not so long ago, project management (PM) was symbolized by three things: a sheet of paper, a pen, and a methodology. However, time marches on and technology evolves. Now, project management system software is employed for Project Planning, time management and resource allocation. Such software is part of the most useful tools that can help companies in becoming as competitive as possible and set them apart from the rest of the industry. When you don't use PM software, chances are that you're wasting a lot of time on the little things and doing more work than necessary. It's difficult to keep track of who's working on what. Collaboration among teams is inefficient and spread across email threads and chat software. As a result, deadlines are missed and clients become unsatisfied.
It's important to use an efficient PM system to help you stay organized at work while planning and executing projects.
How can Project Management Software Help You?
Think of a project as a collection of tasks to accomplish a specific goal. Anyone who's ever had to plan an entire project knows how chaotic project management can be. Task management tool can streamline the process, and simplify all aspects of it. It provides a visualization of the whole process, giving you a clear overview of how things are tracking along, and ensures you are well on your way to meeting your deadline. Project management tools come with the necessary features you need to efficiently plan your projects, manage available resources, respond to problems, and keep all the stakeholders involved. Project management software is a centralized hub for your work, task management and project planning.
It allows you to communicate and collaborate with fellow employees, organize notes, keep an accurate project schedule and delegate tasks to the right people. With a project management tool, your team can align on the work that's being done, share feedback and progress, and, ultimately, meet deadlines.
Key Advantages of Using Project Management Software
Advantages of using project management software are mentioned below:
1. Effortless Project Planning and Scheduling
The key benefit of advanced project management software is automation when it comes to Project Planning and Scheduling. Such platforms not only help project experts establish a solid foundation for their projects, providing tools to scope out the milestones, key deliverables, and roles before executing. They'll keep plans up to date and help to track progress against your timeline.
As every single team member needs to know what has to be completed and by when, keeping track of milestones in a project can be especially tricky. To combat this, collaborative software can employ clear and easy-to-follow Gantt chart of the project timeline which can then be constantly updated. This is highly useful when things inevitably change at a moment's notice and resources have to be shifted. It also allows virtual managers to implement instructions in a clear and accessible way, displaying individual tasks visually and letting everyone know where they stand at the click of a button. This ensures that among the general chaos of a busy project, the poor organization can't be used as an excuse for missing a deadline.
With this, you will be able to look for the shortcomings in the project. It helps you keep track of the projects as well and makes sure that you can provide the teammates with real-time updates. If a project needs prioritizing, you can do that with these platforms easily. You don't necessarily have to go about informing every single one of them. One single centralized message would be enough to get everyone informed which is an amazing option.
2. Improved Collaboration and Task Delegation
One of the biggest benefits of using task management software is the ability to seamlessly collaborate across your organization as well as with external collaborators such as clients, vendors, and stakeholders. Teammates are able to see where their tasks fit into the bigger picture of the project and what everyone else is working on, while external collaborators can see the project's progress and even edit or comment on individual tasks as needed. It keeps all the communication in a unified place. When a team is small, it's easy to ask for status updates and catch a few quick meetings.
Implementing a centralized project management software cuts down on the need for update meetings with both members of your organization and external collaborators, which leaves more time for getting your tasks done. With easy one-click external collaboration, you can share your projects and tasks with anyone, anywhere. As your team grows, you'll have new pains and troubles getting your message across and ensuring everyone is united. Project management software steps into that gap to help your team stay focused and easily assign new tasks and work. In addition to various resource management benefits, project management solutions are designed with the purpose to improve team collaboration. People frequently designate individual tasks which are part of a bigger project the whole team is trying to complete. Project management software gives employees a method to collaborate on projects by discussing tasks, timelines, dependencies, outstanding work, etc.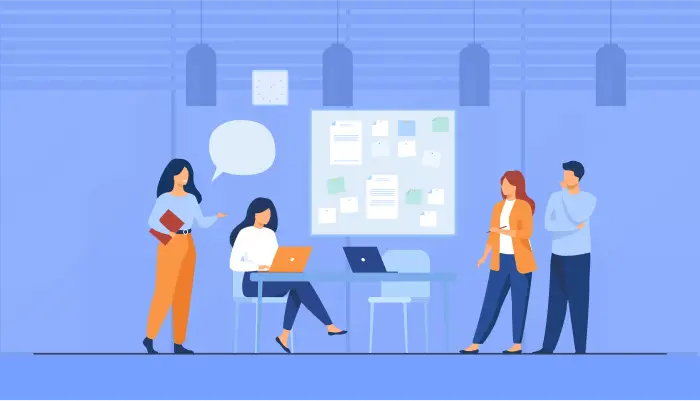 Using project management software with Kanban board or Sprints, you keep everyone in the loop and make sure the project team knows what to work on and has task lists with priorities front and center. This way, you not only stay aligned with the team but also reduce re-work and create focus on continuous and fast-paced delivery of services. Many tasks overlap departmental and locational boundaries and sometimes it can be difficult for each team member to be aware of what is happening outside their immediate circle.
Fortunately, a project management tool negates this issue straight off the bat. Once you have this software installed, you will be able to easily delegate tasks across all team members. It will also make it easy for employees to get answers to their questions. Each person will have a role within the system, and each will have access to the information that they need about who to contact with questions, concerns, suggestions, information, etc. If anyone is unsure about their duties, all they have to do is check the project management software to see what needs to be done and where they stand.
Delegation is one of the top skills for project managers to have and using task management software to delegate tasks makes it that much easier. It not only gives you the ability to assign tasks to team members quickly, but also allows you to monitor their progress and reassign resources as needed to get the work done faster.
3. Increased Productivity and Enhanced Consumer Satisfaction
Customer satisfaction is all about understanding, defining, evaluating and managing customer requirements so that their expectations are satisfied thus the name. This concept requires conformance to the requirements to ensure that the project produces the output that it is expected to create. In project management, customer satisfaction is part of project quality management. It ensures that the policies, objectives and responsibilities of the project will satisfy everyone involved in the project.
However, another major advantage of task management software is that it optimizes your decision-making process and improves productivity at work by internally analyzing the factors you need to consider for future projects, widening your focus and ensuring that you increase the rate of success for your project. This inevitably boosts consumer satisfaction.
According to Forrester: "...customers choose businesses they want to engage with on the basis of ethics and the values they embrace and promote."
So, when you get a project done promptly and under budget, the client walks away with a smile on their face, and a satisfied customer is one you will see again.
When you receive all the aforementioned benefits of the best software in project management, your chances of getting projects done on time, under budget, and meeting all of the clients' expectations are much higher. Your client relationships will prosper, creating a win-win situation for everyone involved. Smart project management software offers the tools which allow this customer/supplier relationship to carry on. By applying fundamental project management software strategies, you'll narrow your focus, achieve your goals, and improve your deliverability and rate of success.
Ready to streamline project planning process and enhance team productivity with Projectsly? Sign Up 14 Day Trial
Put together, all these benefits can overhaul business operations massively. Without the benefits of project management software, project-centric companies will always struggle to meet three constraints budget, scope, and quality simultaneously.
Summing It Up
As you can see, the merits of using project management tool is priceless. Project management software solves these issues of how to handle organisation, delegation and communication with ease when confronted with complex tasks consisting of a large, often scattered workforce. Project Management requires a lot of effort as they define the fundamentals of a process and help you to optimize your efforts for better output.
The software can help you to keep an eye on your organization's performance and help you to communicate and analyze better. Taking care of the logistics allows project managers to focus on actually leading the project, while workers know exactly what they should be doing and when. As a result, the process becomes effortless and a positive end result can be delivered to the satisfaction of all parties.
No matter what company or industry you work in, your team will benefit from adopting a project management software. As the software would improve how you plan, manage, and report on your work; it can definitely make your team more efficient, accountable to their work, and confident that they're on track in projects. Good project management software will help you collaborate effectively and ensure that your projects are successful. If you're looking for a comprehensive and user-friendly project management tool, take Projectsly for a spin. It comes with everything you'll need to effectively pull off projects.
What Makes the Best Project Management Software?
#1
Plan, organize, track all your projects in one place
#2
Get a visibility over individual tasks in the form of kanban boards
#3
Track the project schedule using gantt chart and calendar view
#4
Create advanced workflows with powerful automations
#5
Track employee activities, and working hours using built-in time tracking software, Clockly
#6
Monitor activities using screen recorder on Windows, Mac and Linux devices
#7
Set S.M.A.R.T goals and achieve results
#8
Share files and collaborate with team through discussion boards
#9
Unbelievable pricing - the lowest you will ever find
#10
Everything your business needs - 50 apps, 24/5 support and 99.95% uptime
Join the SaaS Revolution
All-in-One Suite of 50 apps

Unbelievable pricing - $14.99/user

24/5 Chat, Phone and Email Support