Reasons Why Virtual Teams Need Online Project Management App
This blog gives the benefits and essential features of an online project management app for virtual teams and the top 5 perks that can offer.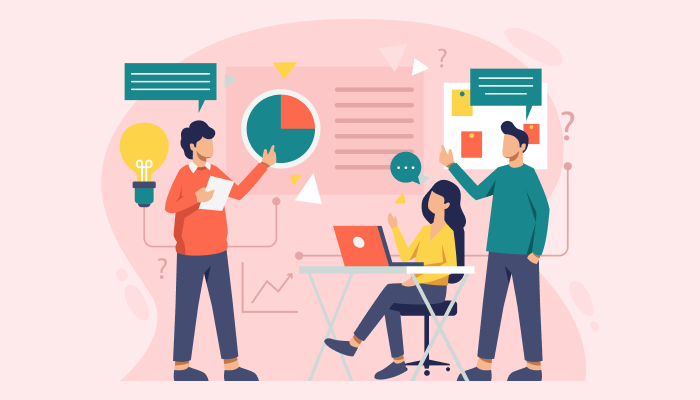 An online project management application is a tool used by organizations to keep all their tasks on track, fulfill deadlines, and stay within budget. These online applications give business owners an accessible interface through which they can assign tasks, specify timelines, and define important milestones. Using this, all team members can get access to a single portal where they can look up information and monitor the progress of their projects.
Benefits of Online Project Management App for Virtual Teams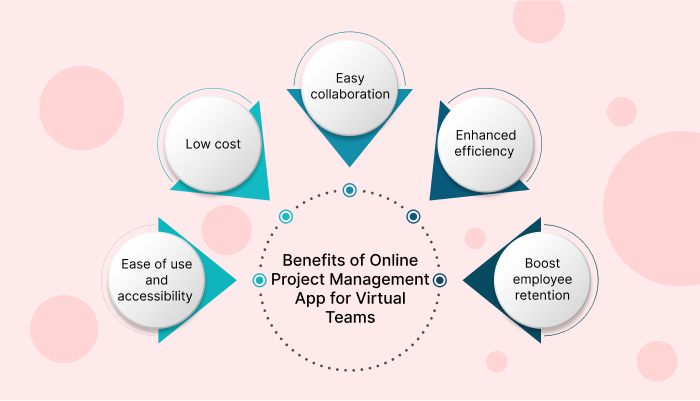 The rise of a remote workforce has simplified the transition from traditional to virtual project management. Let's look at a few benefits of an online project management app in more detail to further explore this.
1. Ease of Use and Accessibility
Online project management app removes geographical, spatial, and other restrictions, allowing distributed project team members across the globe to access the project from anywhere they want. You and your team can get started on projects immediately using online project management apps' easy-to-use interface. They can be accessed by the computer and mobile apps, as they are web-based and don't require installation. They enable file sharing within the application and also provide members of the team quick access to these files.
2. Low Cost
This is one of the best things about an online project management app. Just imagine you don't have to spend on office space rent, management fees, or equipment costs as all businesses everywhere are trying to cut costs to the absolute minimum. You can set aside the money saved to use it for other important aspects of your business. You can save time and money by organizing any project online and sharing it with your team.
3. Easy Collaboration
With the help of simplified and dynamic communication options like providing feedback, annotating, and an inbuilt chat feature, online project management tool make it simple for any team member to get in touch when they run into difficulties. You can send instant messages, set up email notifications, and exchange files. The convenience of not having to send several emails is a major advantage of group chats. Additionally, it means that the entirety of your conversation is recorded and stored for use in the future.
4. Enhanced Efficiency
The fact that it increases workplace productivity and simplifies decision-making is another significant benefit of project management software. Studies show that project management software save employees 498 hours. You can always make well-informed decisions in the shortest period of time since all the crucial information can be accessed from one location. With project management software, managers can enhance their risk mitigation strategies and use all of the resources at their disposal to implement workable solutions. This improves the team's overall effectiveness and enables management to allocate resources more wisely.
5. Boost Employee Retention
When you manage remotely, your company not only recruits talent from outside of its immediate area but also keeps those highly qualified employees on board. Many professionals seek a good work-life balance. Being a member of a virtual workforce typically gives them the freedom to look after their family, establish their own hours, and get additional benefits that keep them committed to the company. They are less prone to get dissatisfied and look for work elsewhere.
6. Real-time Progress Tracking
With online project management apps making it so simple to access your project files, there's no justification for not being able to maintain everything updated in real-time. The members of your team can finish their timesheets, make updates to their assignments, and track their progress on the go. It ensures that the schedules you create with your team are accurate and that everyone has access to the same data.
7. Streamlined Processes
Online project management apps can help you keep track of the repeated tasks that your employees complete on a daily, weekly, or periodic basis. You can design a system with detailed activity lists and simple-to-follow procedures for your team members. These lists inform your team of their exact responsibilities and deliverables, which streamlines and accelerates their work. With these apps, you can streamline your processes and minimize errors and ambiguities among your team members.
Top 5 Perks that Online Project Management App can Offer
Below are the top 5 perks that an online project management app can offer:
The main advantage of cutting-edge online project management apps is the workflow automation of project planning and scheduling. Such platforms not only provide tools to plan out the objectives, important deliverables, and tasks before executing, but they also assist project specialists in building a strong foundation for their projects. They'll keep plans updated and aid in tracking the performance relative to your start.

It is crucial to recognize the value of resource planning since it promotes higher working standards. Online project management apps provide the best capabilities for identifying resource bottlenecks and determining when to add extra people to the team and also provide insight into the workloads of the full portfolio of resources.

Businesses become more competitive and successful when project managers take on more projects and tasks and manage them simultaneously. However, when managing several projects, it's common to lose clarity on how resources are distributed and how each project is progressing. Online project management app enables bottlenecks of all types to be avoided before they become significant problems.

Online project management apps are created to enhance teamwork. Individuals are frequently assigned specific tasks that are a part of a larger project that has to be completed. Employees can collaborate on projects using project management apps by communicating about tasks, deadlines, dependencies, unresolved issues, etc. By doing this, you can maintain coherence within the team and cut down on rework, and put more emphasis on the continual delivery of services.
Any business's future hinges on how effectively you can perform within the allocated budget. From the beginning statement of work to the last delivery, the online project management app aids in controlling the budget.
Essential Features for Online Project Management
The key features of all online project management apps are similar and often comprise the following:
1. Task Management
This feature enables the project team to divide the work up into reasonable chunks and allocate tasks to various team members, generally with a deadline, so everyone is clear about who is accountable for what and when. Subtasks often help you divide a task into smaller pieces and outline additional actions to finish an overall task to provide more specificity.
2. Analytics And Reports
The capabilities of a project dashboard allow you to visualize the progression of project activities. It can report how much time your team spends on a project and where they spend it as soon as you start integrating time and task tracking capabilities with data-monitoring tools. Additionally, it can identify which projects have had better success than others.
3. Important Integrations
The majority of online project management apps have integrations with other applications, which saves time by eliminating the need for repeated emails or time spent logging into several platforms. The most popular third-party specialty tool integrations include those with Slack, email, CRM platforms, accounting software, document management systems, and more.
4. User Role Management
A project may contain important business and project plans, including the introduction of new products, financial information, consumer data, etc. Additionally, not all users on a project ought to have access to this data. Access control and user, role management features can assist limit unwanted access to sensitive project data.
5. Customized Workflows
Another excellent feature of online project management apps is the opportunity to personalize your processes so that the application properly meets your demands. Project management software often includes pre-built processes, but it is simple to change the functions to meet your needs. Rules that set off automated actions in response to action can be created.
Ready to streamline project planning process and enhance team productivity with Projectsly? Sign Up 14 Day Trial
Summing It Up
Your organization's performance depends heavily on project management. So, it makes sense to take your time while choosing the perfect project management app for you and your company. Every application indeed has advantages and disadvantages of its own. Therefore, it is essential to make sure that you select the one that at the very least meets all of the aforementioned requirements, including productivity and efficiency.
However, if you're looking for the best project management app on the market, we recommend integrating Projectsly into your business straight away to fulfill all your virtual project management needs.
What Makes the Best Project Management Software?
#1
Plan, organize, track all your projects in one place
#2
Get a visibility over individual tasks in the form of kanban boards
#3
Track the project schedule using gantt chart and calendar view
#4
Create advanced workflows with powerful automations
#5
Track employee activities, and working hours using built-in time tracking software, Clockly
#6
Monitor activities using screen recorder on Windows, Mac and Linux devices
#7
Set S.M.A.R.T goals and achieve results
#8
Share files and collaborate with team through discussion boards
#9
Unbelievable pricing - the lowest you will ever find
#10
Everything your business needs - 50 apps, 24/5 support and 99.95% uptime
Join the SaaS Revolution
All-in-One Suite of 50 apps

Unbelievable pricing - $14.99/user

24/5 Chat, Phone and Email Support