6 Stages of Construction Project Management Software Productivity
Construction project management software involves the process of overseeing the construction of a new building or other facilities through an application.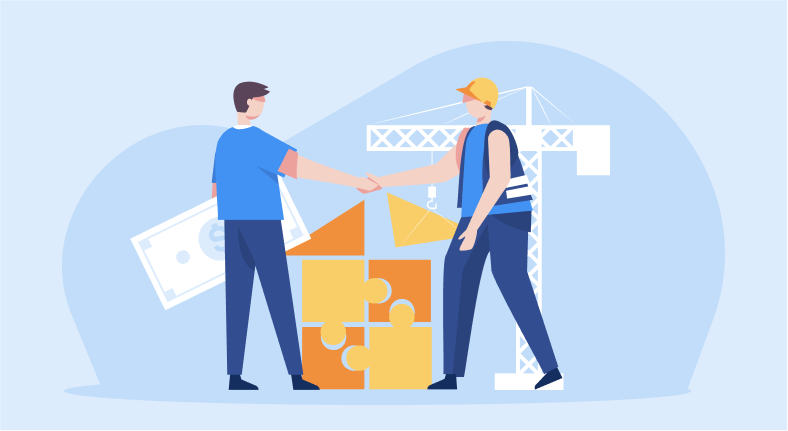 A good construction project management app involves the process of overseeing the construction of a new building or other facilities, such as a road, bridge, or tunnel. It involves planning, coordinating, and controlling the various elements of the project, including the budget, schedule, materials, and labor.
Construction project management app is a complex process, and there are five essential stages that every successful project must go through.
Pre-Planning and Design
The Pre-Construction Stage
Construction Stage
Performance and Monitoring Stage
Project Closure Stage
What Are the Stages of a Construction Project Management Software?
The procedures of constructing, landscaping, renovating, or remodeling, as well as any associated operations such as demolition, site clearing, administration, maintenance, and so on, are referred to as construction phases. The following are the five most important stages of a construction project's life cycle.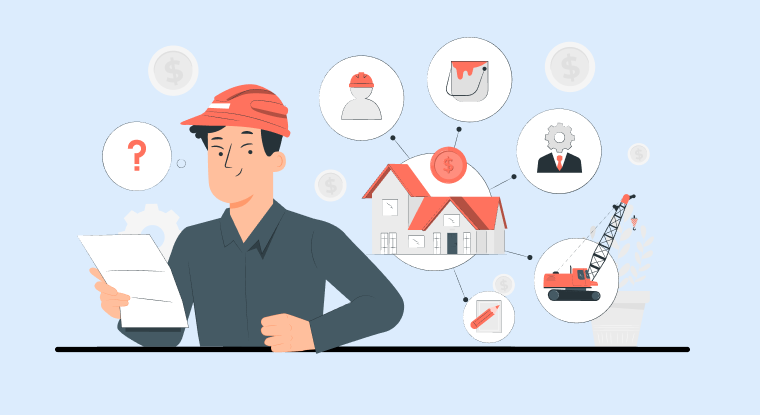 1. Pre-Planning and Design
Pre-planning and design, procurement, construction, post-construction, and closeout are the 5 key phases to effective construction project management app. Each stage has its own objectives, and all five Stages must be completed for successful completion of a project indeed.
Pre-planning and design are undoubtedly the most critical stages as they reflect the value we intend to imbibe into our project. This is the stage during which the project team determines the scope of the project and develops a workable strategy to finish it. This stage also includes developing a budget and timeline and evaluating any risks that may harm the project.
Each construction project is distinct in terms of size, scale, and complexity. However, all projects must go through five stages of building. Understanding how the various parts of the process interact with one another is crucial, as well as financially lucrative. Failures in coordination and communication among specialists can lead to waste, over-budgeting, and delays.
With a better understanding of the stages of a construction project, you can decide where to start and who will hire you along the way, giving you the best chance of success and a sense of what to expect for the entire project. It is vital to maintain continuity throughout the construction project's life cycle to ensure fulfilling deadlines while keeping within budget and retaining the project's integrity.
There are various effective project management applications that could serve the need like asana project management ,jira project management & microsoft project management. However it is essential to choose the right one basing on our project needs.
2. The Design Conception Stage
The first Stage of any large project is the process of articulating and defining the project's goals, as well as examining the plan's viability. In layman's terms, the planning Stage is when the owner, architect, and construction manager have early conversations about what will be built, whether it will be approved by the appropriate authorities and considerations such as scope and quality assumptions.
Architects refer to this stage as Conceptual Design," and it is sometimes combined with Schematic Design in the AIA definition of architectural services. Every goal you set must be SMART (Specific, Measurable, Attainable, Realistic, and Timely). They must also be CLEAR (Collaborative, Limited in scope, Emotional, Appreciable, and Refined). This is where a method for specifying time frames, tasks, and dependencies comes in handy. Materials, labour, and equipment expenditures should all be budgeted for.
3. Pre-Construction Stage
Construction documents are used to transform early planning into contract documentation, which is then submitted for a building permit and conveyed to the contractor to specify exactly what is being done.
In architecture, construction document preparation is frequently separated into three stages: schematic design (SD), design development (DD), and construction documentation (CD). When the SD Stage is finished, the designs are approximately 20% complete, the DD Stage is 70% complete, and the CD Stage is 100% complete. In many jurisdictions with a complicated series of approvals, an extended DD set is usually produced as a plan check set. This stage is critical in planning and carrying out a successful project.
The submitting procedures listed below are also coordinated with the rest of the project team:
Timeline for submitting delivery
Transmission method for submitting
Process for review of submissions
Review of deadlines
Collaboration of communications and documents
4. Construction Stage
This is the time where all of your preparation will pay off. As the project's communications centre, your construction manager and contractor will transition the project into actual construction. During this Stage, the professional staff is in charge of construction administration.
To conduct quality control inspections, respond to Requests for Information (RFIs), analyze and approve technical submittals, and generally ensure that the project is completed as intended by the contractor, architect, engineers, and consultants, should be retained for full CA services. Construction will proceed easily if your team has performed the planning and pre-construction stages thoroughly and appropriately.
During the implementation of the construction stage. Ascertain that the budget established at the planning stage is adhered to. Keep track of any deviations from the original plan as the project progresses.
A successful implementation stage has the following characteristics:
Time & Resource allocation
Key-Task management
Logistics-Support & Planning
Implementation of project management plans in accordance with timelines
Track project execution
Status Meetings
Key-Quality Control
Safety-Management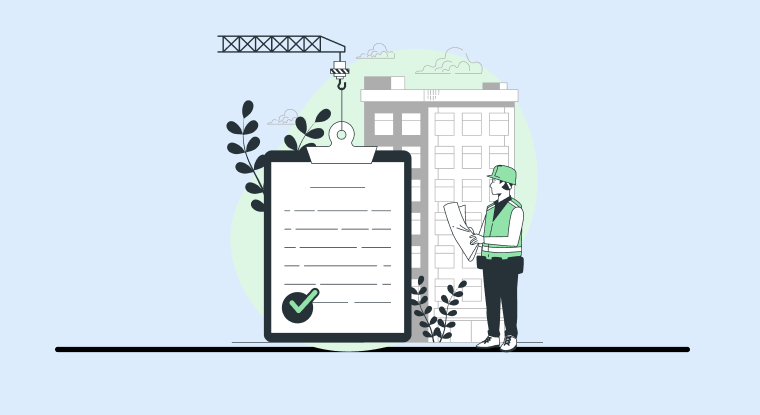 5. Performance and Monitoring Stage
This stage occurs concurrently with the implementation method. Performance and monitoring guarantee that all things are done on time and within the scope of the project. As a result, it is a standard step that must be completed throughout execution.
Every activity in a commercial building project should adhere to the project management plan from start to finish. KPIs, or Key Performance Indicators, are the best tools to use right now. Here are some examples of (Key Performance Indicators) KPIs:
Tracking Effort and Costs - evaluates whether or not the budget is on track.
Performance management entails keeping track of developments and unanticipated hurdles.
Quality management is determining whether or not certain job deliverables have been met.
Goal Orientation - assesses whether or not the project's objectives and timetables have been reached.
The overall project management plan is especial in working of a project and its effectiveness ,while some adopt need based agile models of exciting a project but some fall back to normal model.
6. Project Closure Stage
Project closure, also known as project close-out, is the project's last step. This is an important stage that, if not managed correctly, may turn a good project into a nuisance for the owner. Project close-out processes comprise more than simply finishing the punch list; they also entail handing over the project to the customer so that occupancy or operations may commence.
Clients must be provided with all project information, a construction closeout document list, and all closeout documentation such as manuals, warranties, as-builts, and final accounting. Permanent property insurance must replace construction-related insurance.
For many bigger projects, a systematic technique known as commissioning is performed, in which systems are checked for performance to verify they fulfill the stated standards. It is impossible to stress the importance of training the owner on how to utilize their facilities.
The type of construction project management app would define the project success it could be a waterfall project management model or be it an adhoc monday project management structure with weekly turn around time , key here is to make sure all is played well until closure of the project .
Apps or Software Applications to Consider for a Constriction Project Management Enterprise
construction project management application aids in project planning and scheduling, including the numerous types of schedules used in the construction industry, as well as the sequencing of activities in a construction project and the effective use of schedules established using a work breakdown structure.
Construction project management software features and functions include establishing project objectives and plans, including scope demarcation, budgeting, scheduling, setting performance standards, and choosing project stakeholders.
The construction project management app Software assists in monitoring the cost management system in order to achieve the projected profit on projects, as well as in monitoring and forecasting outcomes. construction project management app Software manages construction projects from inception to completion, including tools to monitor the many stages such as the procurement of design services and contractors, contract procedures, and monitoring the construction contract process. You might wish to look through the Buying Guide: How to Choose the Most Appropriate construction project management app Software for Your Company
Some Project Management Software for Construction to Consider
Top construction project management app Software includes ProContractor, PlanGrid, Projectmates, SiteMax, BuildTools, Radar, Jonas Enterprise, and Comm ittedCost,Acculynx, Jonas Premier, Procore, CoConstruct,eSUB Subcontractor, WorkflowMax,Buildertrend, Knowify,
Closing Remarks
Construction projects may be intricate, making project management considerably more challenging in the business. Project managers play a crucial role in this complex puzzle. As a result, understanding the different stages of a building project makes the process considerably easier and more efficient.
The most important thing is to include all main stakeholders, including subcontractors, as early in the project as feasible. Nonetheless, each building stage has its own set of duties and aims. If fully carried out, they form the strategic framework for a successful project.
The SaaS platform understands the importance of almost all Project Life-cycle stages irrespective of industry and service for efficient and technologically driven construction project management app. We incorporate the latest industry techniques and standards for efficient management of construction projects at all stages and volumes.
500 App has been serving the industry for a decade with an all-in-one suite that provides an end-to-end solution that can take care of all your project management's technological requirements.
We encourage you to explore options more at our Projectsly
What Makes the Best Project Management Software?
#1
Plan, organize, track all your projects in one place
#2
Get a visibility over individual tasks in the form of kanban boards
#3
Track the project schedule using gantt chart and calendar view
#4
Create advanced workflows with powerful automations
#5
Track employee activities, and working hours using built-in time tracking software, Clockly
#6
Monitor activities using screen recorder on Windows, Mac and Linux devices
#7
Set S.M.A.R.T goals and achieve results
#8
Share files and collaborate with team through discussion boards
#9
Unbelievable pricing - the lowest you will ever find
#10
Everything your business needs - 50 apps, 24/5 support and 99.95% uptime
Join the SaaS Revolution
All-in-One Suite of 50 apps

Unbelievable pricing - $14.99/user

24/5 Chat, Phone and Email Support