Ultimate Guide to Kanban Project Management
Kanban project management is one of the newest PM methods, and it can be used by companies of any size. In this article you will get to know about the best practices of using Kanban board in project management.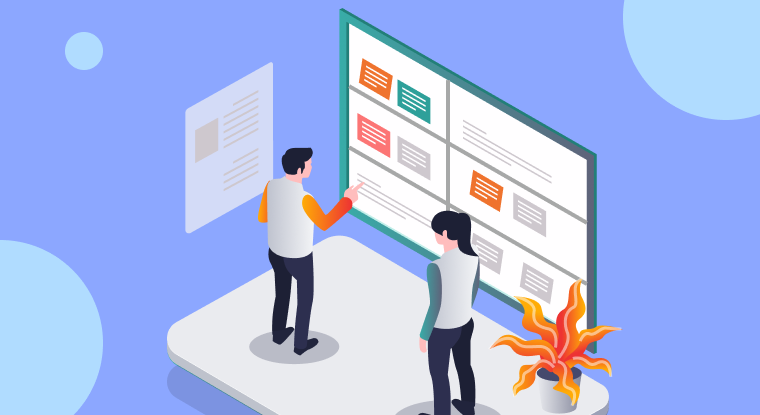 There's little doubt that every business requires efficiency and well-organized Project Management to clock in success on all fronts. When working with a team or multiple teams, it is vital to be organized to keep everyone on the same page. Like other efficiently run organizations, you probably employ various software to undertake any number of tasks, including online project management platforms.
"Kanban, while Japanese, is less metaphorical than Drum-Buffer-Rope." - David J. Anderson, author, and pioneer of the Kanban Method.
Irrespective of how prominent the features of the platforms are, the simplicity of the tool will decide how popular it will be. It is necessary to keep things simple, straightforward, clear, and highly visual for general acceptance. Here is where the Kanban methodology can benefit your organization.
The Kanban project management methodology is one of the most popular and fastest-growing Agile frameworks around. Why is it popular? Because the Kanban project management is very easy to learn. Track and monitor the progress of the project tasks and activities-get in real-time and detailed reports with project planning tool. It takes a visual approach to project management that is appealing and visceral by many people. In addition, it emphasizes delivery, hence making teams improve their efficiency and increase their overall output.
This ultimate guide contains all you need to know about Kanban project management and how to use it.
All You Need to Know About Kanban Project Management
What is Kanban?
Agile is a project management methodology that entails breaking down the project into smaller stages, usually completed within 1-4 weeks. After the completion of each step, the product is assessed by the customer. The feedback from the customer is then added to the inputs for the next stage. Due to its continuous improvement, constant collaboration, and high customer involvement, Agile is widely popular.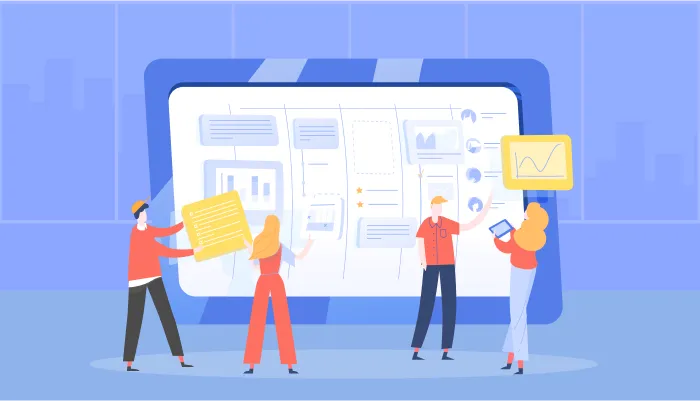 Kanban is an Agile management technique to monitor and make the task workflow easier. It is a Project Management methodology that gives project managers full responsibility for the Task Management Process. The procedure allows you to visualize every step of your workflow on a kanban board.
It presents an overall view of a workflow and shows the various stages of the project from start to completion. Also, it helps project managers identify bottlenecks that block the flow of work and enables you to ensure project delivery on specific due dates.
The Kanban project management consists of principles, core practices, Kanban board, and Kanban cards.
Where does Kanban Come from?
Kanban is a Japanese word that literally means signboard or 'Visual board.' It originated in the late 1940s when engineer Taiichi Ohno first adopted it for Toyota. Toyota was looking to improve their engineering and production process when they noticed that grocery stores stock products based on expected customer demand to avoid having too many products on display.
Toyota ran with this idea and used physical cards to separate steps in their manufacturing process. These cards enabled the team members to see what needs to be done easily. One of the goals in creating the Kanban system was to create a system that allows for the company's continuous growth.
It wasn't until the early 2000s that Kanban took root in project management software. The first person credited as the first to adopt Kanban in software management was David J. Anderson in 2005. The book he published on Kanban is still one of the most comprehensive resources for technology-focused projects.
Principles of Kanban Project Management
Adopting the Kanban project management methodology is way beyond ordinarily using cards to help manage just-in-time delivery. The framework allows teams to reduce bottlenecks, improve efficiencies, increase quality and boost output.
"Kanban is not a software development lifecycle methodology or an approach to project management. It requires that some process is already in place so that Kanban can be applied to incrementally change the underlying process." - David J. Anderson
Before we learn about Kanban boards and cards, let us understand the principles of Kanban project management methodology.
Start with what you are doing now. Use Kanban for your current workflow, you do not need to change your processes. Understand that the methods are already in place, including what is working and what is not.

Do not rush. Changes happen incrementally over time, so do not give your teams a cause for alarm or resistance if you do not notice a radical difference. Do not implement radical changes.

Keep roles. Respect the current roles and responsibilities of the team. Allow your team to identify and implement any changes collaboratively.

Encourage leadership from every member of the team to continually maximize improvements. All team members should be able to come forward with innovative ideas for the progress of the project.
Core Practices of Kanban Project Management
There are six core practices of Kanban project management methodology, they are:
1. Visualize the Workflow
In Kanban, you are literally 'visualizing' everything. You should visualize all the tasks present in the project and how workflows from one stage to the other by using a physical or virtual board.
By visualizing the workflow automation, you can see the steps it takes to transform your project from just an idea to a fully finished project. In addition, this Kanban visual-first approach helps a project manager see what every team member sees at any stage of the project.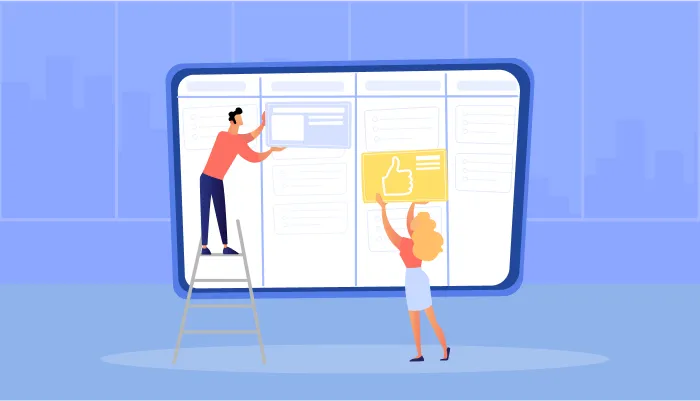 2. Limit Work-in-Progress
With Kanban, your team members are expected to work quickly, but you shouldn't have them work on multiple tasks at once. You set a limit of work each project team can work on at each stage of the workflow at once.
If not, your team would end up with messy work done, hence why the Kanban teams have a specific limit of what they are allowed to do at once.
3. Prioritize Project Workflow
Your role as a project manager is to monitor the workflow for bottlenecks and make adjustments to remove roadblocks and improve efficiency. The kanban project management relies heavily on creating and maintaining a seamless workflow.
If workflows fluidly from one stage to the other, the team can finish the project faster, and there would be less emphasis on the individual team member and more focus on the project workflow.
4. Create Process Guidelines
Clearly define all the processes involved in the project, so your team will never get stuck, as they will know exactly what to do at any time.
5. Use Feedback Loops
Encourage your team members to speak up. Hold short meetings to go over what each team member did the previous day, what they will be working on today, and the problems they have faced. By encouraging your team member to be open and transparent, you will ensure that everyone knows what is going on in the project.
6. Evolve
Focus on developing and implementing all the small changes to improve your workflow and processes.
What is Kanban board?
A Kanban board in task management software is a visual way to manage tasks and workflows, which uses an analog or digital board with columns and cards. It is a simple visualization tool that presents the overall view of a workflow and shows the various stages of the project as it moves towards completion. Kanban boards also help recognize any bottlenecks blocking the flow of work and help to ensure projects are delivered on specific due dates.
Kanban boards are visual cards that list details about an item, organized into lists on a board to manage workflow stages.
Kanban boards use cards - called Kanban cards. Kanban cards represent tasks, and the columns organize these tasks by their progress or current stage in production.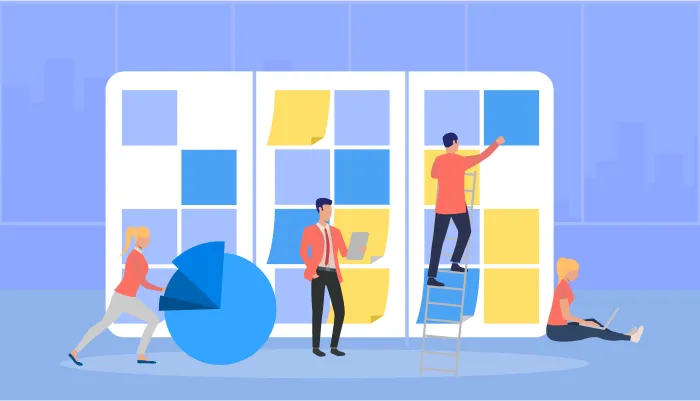 Each Kanban card contains information such as: a short description, the name of the person responsible, an estimate of how long it will take, and the requirement to move to the next stage. Virtual Kanban cards may also contain other data, including links to relevant documents and supporting files.
Benefits of Kanban Board
Some of the primary benefits of using the Kanban process are:
1. Visualization
Kanban has gained popularity because of the ease with which any company can visualize its workflow and identify any Work in Progress (WIP) limits.
Kanban offers an easy-to-understand mechanism to track the work in progress. Irrespective of the structural level of the individual, Kanban provides an easy way to visualize a project. You can see the overall scope of the project, which team member is on each, which individual task is done, those in progress, tasks that are not yet started, and any Work In Progress limit holding things back.
2. Flexibility
The Kanban approach in task management tool only dictating how many tasks are allowed in each phase makes it very easy to reshuffle work as priority changes. Furthermore, Kanban boards can be deployed as physical tools or in the digital space like Projectsly.
Kanban boards can adapt easily to the needs of any team, industry, or project. You need not alter your current processes to incorporate the Kanban board within your project management strategies.
3. Focus
The Kanban board aims to improve efficiency and collaboration. With the public display of the Kanban cards, every team member can see exactly where things are, who needs to do what, what task depends on each other, and so on. Ready to streamline project planning process and enhance team productivity with Projectsly? Sign Up 14 Day Trial This will keep your team focused and engaged and make everyone accountable for doing the tasks required of them. If something is left undone, everyone knows who is at fault.
How to Use Kanban Board in Project Management?
If you haven't implemented the Kanban methodology yet, sooner or later, you would. When determining the best project management software to use, the decision boils down to your business structure and how you operate.
""Decide the outer boundaries of the kanban system. It is often best to limit this to the immediate span of political control. Do not force visualization, transparency, and WIP limits on any department that does not volunteer to collaborate.""― David J. Anderson
However, Kanban carries a universal approach and automatically lends itself to various workflow applications. You do not need to change your current process; instead, start with your existing functions, roles, responsibilities, and titles. Kanban also encourages leadership from all team members and not leadership positions, and also a dedication to pursuing gradual change, not radical change.
You have to decide if this fits into your business mould; if it does, then adopting Kanban boards would be a massive win for your organization.
You can mould the Kanban boards to fit any workflow needs irrespective of the scope.
One of the key aspects of the Kanban board is that its use transcends business applications. Kanban offers the same sense of organization and efficiency it provides your workplace projects to your personal workflows.
Summing it Up
In comparison to other methodologies, Kanban project management is easy to implement in any business process. You can easily overview the workflow of your team members from anywhere at any time. Hence, it elaborates on the working arena and flexibility.
In short, Kanban project management visualizes your working process so you can acquire all the progress of your workflows in a place. Despite not telling you what is right or wrong, Kanban assists you in improving your present situation. Furthermore, it uplifts your team's productivity and collaboration.
Projectsly is a project management tool offer Kanban, Gantt, calendar, etc. You have to input your project data once and manage it in whichever format you prefer. Thereby making it easy for your team to incorporate Kanban into the existing structure.
You can get started right away with any of our free Kanban templates. More so, Projectsly offers all the features you need to manage your projects in a place.
What Makes the Best Project Management Software?
#1
Plan, organize, track all your projects in one place
#2
Get a visibility over individual tasks in the form of kanban boards
#3
Track the project schedule using gantt chart and calendar view
#4
Create advanced workflows with powerful automations
#5
Track employee activities, and working hours using built-in time tracking software, Clockly
#6
Monitor activities using screen recorder on Windows, Mac and Linux devices
#7
Set S.M.A.R.T goals and achieve results
#8
Share files and collaborate with team through discussion boards
#9
Unbelievable pricing - the lowest you will ever find
#10
Everything your business needs - 50 apps, 24/5 support and 99.95% uptime
Join the SaaS Revolution
All-in-One Suite of 50 apps

Unbelievable pricing - $14.99/user

24/5 Chat, Phone and Email Support