Maximize Team Productivity with These Work-From-Home Tips
Work-from-home has become a challenging tasks for all managers and to scale up the team productivity. This blog gives you tips on how to improve the same.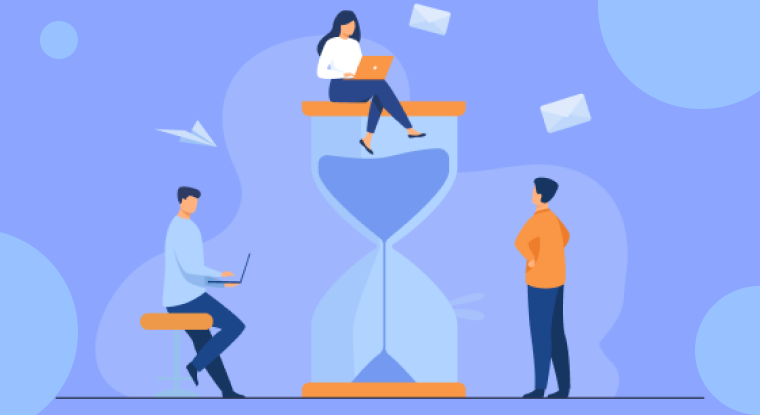 If you're a manager in 2022, you understand that the work-from-home trend is here to stay. Since the 2020 shift, an increasing number of businesses have embraced this trend for their employees. With this, they get to spend less on physical buildings and logistics and reserve their top dollar for the best talent. Conversely, top employees enjoy this newfound flexibility and return the favor by taking up more responsibility. It's a win-win situation for everybody.
But how does this impact an entire team? Will it affect communication and bring down their productivity? IT Czar Mark Zuckerberg doesn't think so. As he recently shared, "People are more productive working at home than people would have expected. Some people thought that everything was just going to fall apart, and it hasn't". Touché!
Tips to Improve Team Productivity
Here are 6 tips to maximize your team's productivity in project management software: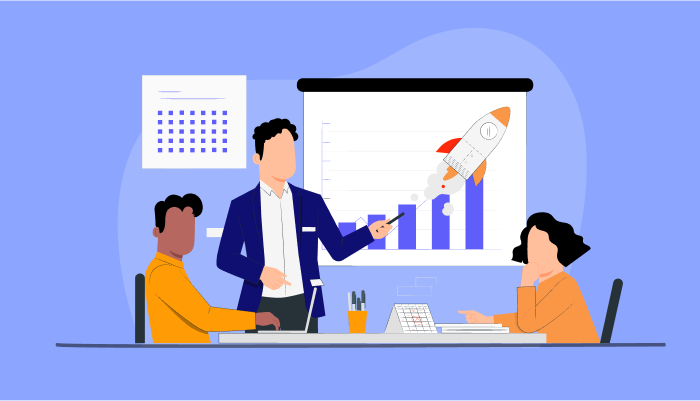 1. Get Organized with the Right Software
In a remote-work scenario, digital is the new global. So it's critical to organize this virtual world with effective projects and team discussion.
Here, leading digital apps like Projectsly score over traditional application software, as they can be easily downloaded on both computers (PCs, laptops, tablets), and smartphones (Android, iPhone). It also integrates with most web and mobile browsers. This helps you cover a wider employee base.
With Projectsly, you can quickly automate your business workflow, create to-do lists, assign tasks to (remote) team members, track progress at every stage, and use visual dashboards to make informed decisions. This Digital app intentionally comes with a simple, user-friendly interface, so your team can hit the ground running without wasting time on complex training.
2. Empower Your Team with a Supportive Work Environment
Now that you have the software organized at your end, it's important to provide a conducive "work environment" at the team member's end. In 2022, they may well be working with a rudimentary table-and-chair setup masquerading as a home office. So it can help to provide them with some form of additional support.
This could be as simple as a Wi-Fi instrument for better connectivity to a full-fledged laptop with integrated video-conferencing software. In some cases, you may need to pitch in with a small stipend, so they can comfortably work from a co-working space. Flexibility comes in all forms. It's up to you to discover your team's needs and empower them with creative solutions.
3. Clarify Goals and Expectations at Periodic Intervals
This is where you address the elephant in the room. What does work-from-home actually mean for the business and for your team?
Here are some typical questions you will need to address:
Will they continue their old work routine?
Will they be expected to stay online all through business hours?
What about the vendor or customer-facing employees?
How will they get their daily/ weekly tasks? How often do they update you on your status?
What additional processes/artifacts are involved?
As you can see, this (iterative) step is critical to determining your team's success.
This is also a good place to define reasonable boundaries – like Flexi hours, co-working with multiple time zones, and more.
4. Curb the Urge to Micromanage
If your business is new to the work-from-home paradigm, then you may be inclined to a more hands-on approach. Perhaps you walk up and have a quick chat with your team to understand the status. Or you have an open-door policy that invites frequent questions and updates.
But if you carry this into a remote work environment, you might end up distracting your team via machines (like messaging apps). So instead, make business-process workflow automation your top priority for higher efficiency.
5. Focus on Collaboration Over Communication
As more businesses turn global, even individual tasks are likely to have multiple stakeholders. In this setup, communication is no longer enough. For optimal productivity, it's important to be seamlessly collaborative.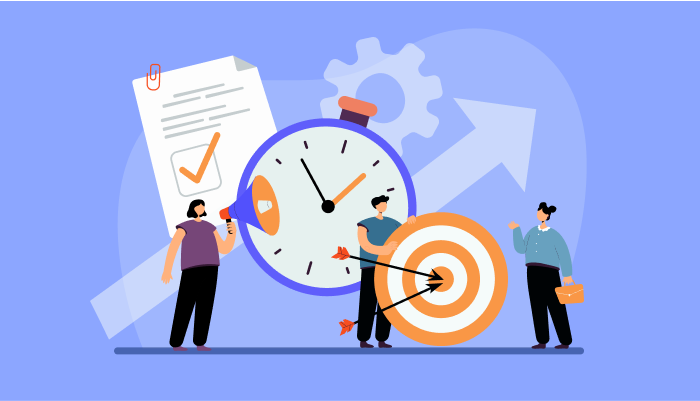 Projectsly users can tap into Teams.cc, a fellow digital app by 500Apps that supports streamlined collaboration between employees. As part of their Infinity suite, the makers have put together a list of 37+ business-friendly apps available at a reasonable cost of $14.99. The apps work together to optimize business processes like Project Management, team collaboration, sales and marketing, HR and recruiting operations, customer support interactions, and more – all tremendously useful in a work-from-home environment.
6. Be Creative with Meetings
Meetings may offer an exciting opportunity to connect with the team for managers who run the show. But for individual team members, meetings are plain irritating, like a necessary evil. This experience is compounded in a virtual workplace. So you'll need some ingenuity to translate in-person meetings into compelling audio/ video conferences.
Here, one tip is to use meetings to foster team spirit. Work-from-home can be socially isolating. So why not use this opportunity to hit two birds with one stone?
Examples:
Roll out a dress code for a fun day Monday to celebrate a new work week.
Introduce a karaoke session at the end of a big meeting.
Include contests to spruce up interest. (E.g. Backdrop contest, lip-sync battles, online games, and team charades.)
Run a playlist contest on Spotify and group winning songs together in a team playlist.
Find inventive ways to keep them going if you have a budget for celebrations (birthdays, weddings). (Sponsor local pizza + cake?)
Don't Drop the Ball on Rewards and Recognition.
Happy employees make for the most productive employees. Businesses recognize this and hence pamper their high-performing employees with elaborate rewards and recognition programs. Find ways to keep this memento going even in the virtual workspace.
Suggestions:
Step up your celebration budget (typically for birthdays + weddings), and include monthly milestones.
Rewards key contributors with accessories like Bluetooth speakers, wireless earphones, and gift cards.
Offer to donate to favorite charities for top employees.
Offer training and development opportunities.
Create a best practices plus training guide.
Regardless of the plans and strategies you put in place, you're bound to discover new challenges and solutions as your team grows into the work-from-home experience. Document these lessons in a central place. This can also serve as part of an onboarding guide for future use.
In closing, businesses recognize that remote work IS where the future lies for many industries. Implementing this with a leading project management system like Projectsly can help you make the transition quick and smooth for your team. Here are some additional tips for choosing the right software.
Factors to Consider for Your Project Management Software
Below are the factors to consider for your project management software-
Ease of Use: Choose a simple software to use and easy to implement. Else, you will be forced to spend time and money on elaborate training programs.
Size Does Matter: If the software size is too large, not all of your team members may have the logistics to download/ implement it. Again, you may end up spending time and money to facilitate this.
Ease of Automation: Work-from-home is effective only when automating a significant part of your business workflow. With automation, your business can be digitally managed with remote teams.
Inbuilt Search: Once you've created your workflow, do you have to dig deep to modify existing tasks, milestones, and teams? This can create unnecessary challenges with agile projects. Instead, pick a tool that has an inbuilt "search" feature.
Visual Dashboards: Popular apps like Projectsly can project important metrics and analytics on visual dashboards, so you can quickly make informed decisions. This can include Kanban board, Gantt Chart, Timeline Legend, and so on.
Ready to streamline project planning process and enhance team productivity with Projectsly? Sign Up 14 Day Trial
Integration with Mainstream Apps and Tools: Choose an app that integrates with other popular digital tools – like Gmail, Google Calendar, Facebook, and so on.
Robust Support: Many "free" apps offer their customers limited or no after-sales support. Safeguard your business by choosing an app with robust helpdesk and support operations. With the Infinity suite that offers Projectsly, you can access a strong team that supports 30,000+ active users, 6 data centres, and a global uptime of 99.5%.
Flexibility in Implementation: Does the software support you in signing in on multiple devices (like laptops, and smartphones). Also, is there one-size-fits-all, or do the makers support customization with features? Choose a flexible plan where possible, so you're not stuck with paying top dollar for unused features.
Business-Friendly Pricing: This goes hand in hand with customized features. For instance, the Infinity suite offered by 500apps includes 37+ business apps for $14.99. You can also choose to test-drive their project management app for free (up to 10 users).
Conclusion
Managers can support their teams' increased productivity while working remotely by using the advice provided in this blog. These recommendations include establishing a designated workspace, keeping open lines of communication, and establishing specific expectations. These actions can help managers keep their teams on task and make the most of remote work.
Visit Projectsly to begin your journey to maximize productivity with a work-from-home team.
What Makes the Best Project Management Software?
#1
Plan, organize, track all your projects in one place
#2
Get a visibility over individual tasks in the form of kanban boards
#3
Track the project schedule using gantt chart and calendar view
#4
Create advanced workflows with powerful automations
#5
Track employee activities, and working hours using built-in time tracking software, Clockly
#6
Monitor activities using screen recorder on Windows, Mac and Linux devices
#7
Set S.M.A.R.T goals and achieve results
#8
Share files and collaborate with team through discussion boards
#9
Unbelievable pricing - the lowest you will ever find
#10
Everything your business needs - 50 apps, 24/5 support and 99.95% uptime
Join the SaaS Revolution
All-in-One Suite of 50 apps

Unbelievable pricing - $14.99/user

24/5 Chat, Phone and Email Support