Task Management App Challenges - How Can We Tackle Them?
A useful blog on task management challenges and solutions as well as how they can be utilized effectively to meet deadlines can be found here.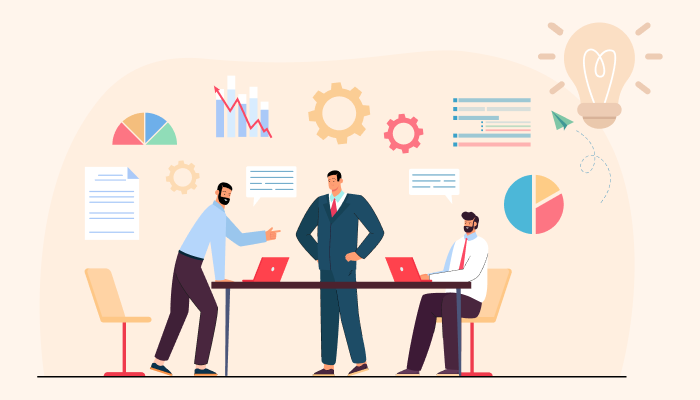 A task management tool is used to keep people, teams, or companies organized at the most fundamental level. Setting priorities for activities, charting the progress of tasks as they go through stages of completion, and collecting analyses or reports to guide future tasks and workflows are all components of being organized. Project managers may utilize these tools to help them get the most from their teams. In fact, they generally spend 5 hours/week organizing these tasks, and this time is significantly reduced using task management systems.
Additionally, they facilitate greater collaboration and speedier productivity. The creation, delegation, and completion of tasks can all be streamlined with an agile project management tool. There are many various kinds of task management software, from simple to-do list management to improving teamwork and collaboration, so it's crucial to know what you need to make sure you get something that will increase your productivity.
10 Task Management App Challenges & Solutions
10 task management app challenges & solutions are given below: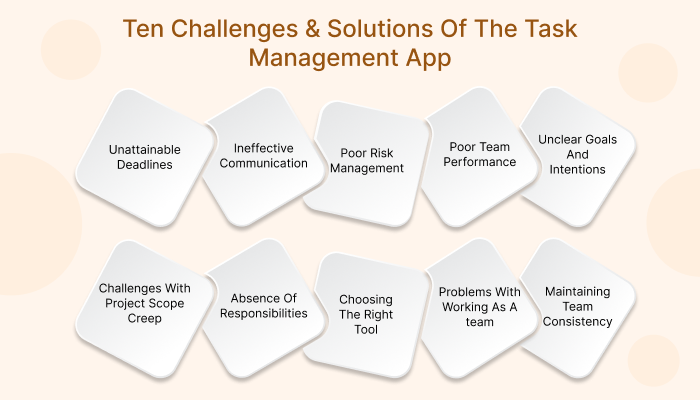 1. Unattainable Deadlines
Unrealistic assignments and project deadlines are significant issues that most teams or project managers face. Due to the unrealistic "beginning deadlines," the majority of project schedules deteriorate. We are in a race to complete the project as fast as feasible rather than focusing on estimated project needs that might bring value to the project. If there are any unknowns about the project, this is the first time you'll discuss them with your team. Then, using an agile project management tool, you can organize your activities, oversee your schedule, establish deadlines (after consulting with key decision-makers), and keep track of significant dates.
2. Ineffective Communication
The fundamental requirement for a project's success in project management is good communication. To guarantee that everyone working on the same project is interconnected, you must have extremely effective and transparent channels of communication. For project teams, poor communication may be disastrous since it undermines collaboration. Team member disputes may result, and the project may be delayed as a result. By using a task management app that is available on the market, this problem may be resolved. Additionally, everyone stays interconnected, and there are fewer risks of misinterpretation as a result of updating the entire team at once.
3. Poor Risk Management
A key component of task and project management is creating strategies for probable and unpredictable scenarios. Since several factors might lead to endless possibilities, projects seldom proceed exactly as planned. Project managers must come up with alternative methods if the work or project doesn't proceed as expected. Having a task management app makes it easier to recognize and address task-related hazards.
4. Poor Team Performance
When each member of the team performs well, the team's performance immediately rises to the top. However, certain projects are difficult or require a specific degree of competence, so the project leaders should choose if members of the team need to be taught or if they can hire someone with the necessary qualifications. Compiling a list of the necessary capabilities needed to complete the project is one way to address this. Then, consider the team's advantages and disadvantages. Last but not least, if training is necessary, you should provide it and close the skill gaps.
5. Unclear Goals And Intentions
If the goals are not clearly stated or lack objectives, a task may be at risk. Setting goals and objectives for a project is an essential but demanding phase. The project leaders and team members may be unsure of what to anticipate from the project. The project may not succeed if the goals and objectives are not clearly stated. Setting up a meeting with the team before the commencement of the project and defining goals that would aid in finishing the work or project with the help of a task management tool is the answer to this problem.
6. Challenges With Project Scope Creep
When modifications are made to the scope of the project without following any control procedures, such as change requests, this is known as scope creep. Naturally, occurring scope creep is a concern since it might appear out of nowhere and impact your project. Many clients are unable to articulate the demands of their projects. Team members may find themselves in a challenging situation as a result since unforeseen or novel developments frequently result in project failure. To get high-quality outputs, the approach is to establish reasonable assumptions regarding the availability of resources and timeframes. Although there isn't a 100% effective anti-scope-creep solution, recording what is occurring in the task management app and alerting the team and management to issues in advance could be helpful.
7. Absence Of Responsibilities
Only a few teams have the accountability that everyone demands. The team's accountability must be monitored by the project manager with an agile project management tool while they do their daily tasks. When something goes wrong, accountability is evident in the form of a blame game, but it is rarely there when things go well. To embrace responsibility, start it from the beginning of a project to include it in your work process. The motivating fact here is that professional development training can be used to improve successful project management capabilities.
8. Choosing The Right Tool
Finding the appropriate technology for your entire project that fits within your budget and allows you to accomplish your objectives can be time-consuming. The smooth development of your projects will be ensured by a well-designed task management app, which will also provide you access to real-time project information. Finding such a tool, specifically one that meets your demands, might be challenging at times. A feature-rich, adaptable, and collaborative solution for your teams is Projectsly by 500apps. It streamlines the planning and implementation process by connecting teams together and accelerating the idea-generation process. Projectsly provides remote team members the agility they need to collaborate and accomplish significant things at work.
9. Problems With Working as a Team
When a project involves a large number of individuals, team conflicts and differences can negatively affect both the project and the working environment. The handling of problems and inconsistencies among team members is frequently a difficulty for project managers. They must continually seek out approaches to bring team members together for the sake of the project. A good work atmosphere is an ideal approach to get rid of any problems or hostility in a team. Develop interpersonal bonds and confidence in the office to remove obstacles.
10. Maintaining Team Consistency
One significant problem for project managers is overseeing a team that is geographically dispersed. Maintaining team unity will enable interaction to occur. Each team member may be aware of everything that is happening in the project and what they are accountable for. To avoid sifting through lengthy email threads, you should use an agile task management app like Projectsly to consolidate all team and client communications concerning a particular job on one page. With this application, you can keep everyone in sync by knowing who is responsible for what task and receiving notifications as a task moves from one stage to another.
Why is Task Management App So Important?
Task management tools are used to organize work, track time, and engage with others on the team. These are effective for assisting individuals, teams, and organizations in completing projects quickly and without skipping any deadlines.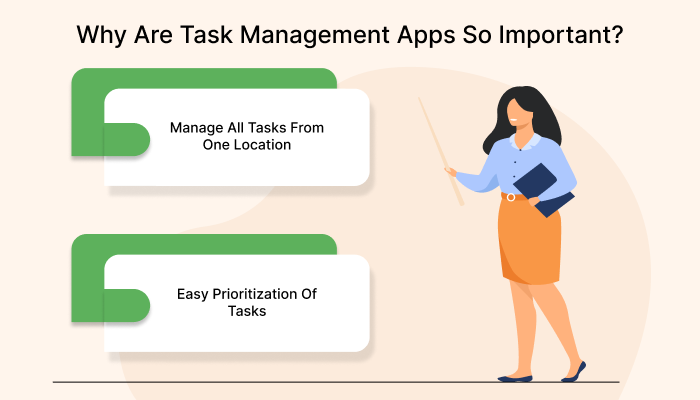 Since they recognize the advantages of properly managing work, nearly all successful firms employ task management software. Let's look at some of the main advantages of utilizing efficient task management applications if you're unsure of the influence this software can have on the expansion of your company.
1. Manage All Tasks From One Location
Task management applications offer а single unified platform for integration via which you can save each activity that your team completes while working so that nobody has to remember anything and everyone can stay on task. You don't run the danger of forgetting any sensitive information, crucial tasks, or deadlines, thanks to task management applications. By employing such software, you can have a stable paperless environment and quick access to your important data while also saving time.
2. Easy Prioritization Of Tasks
Typically, when people start their work, they become bogged down in low-priority chores that take up much of their time and prevent them from completing more crucial duties. If you don't prioritize your tasks, it might happen to you as well. You can overcome problems with task prioritization with the use of project management software, allowing you to complete all of the key activities on schedule.
Ready to streamline project planning process and enhance team productivity with Projectsly? Sign Up 14 Day Trial
Summing It Up
You should weigh the limitations against the benefits if you're going to spend time and money on a software application. Fortunately, several affordable options for task management, both free and subscription-based, are available on the market. You only have to determine how many resources you wish to invest and then make a list of the alternatives that are ideal for your team and cater to all your business needs. If you aren't sure of which app to invest in, we recommend getting Projectsly by 500apps for all your task management needs. To learn more, visit the 500apps website today!
What Makes the Best Project Management Software?
#1
Plan, organize, track all your projects in one place
#2
Get a visibility over individual tasks in the form of kanban boards
#3
Track the project schedule using gantt chart and calendar view
#4
Create advanced workflows with powerful automations
#5
Track employee activities, and working hours using built-in time tracking software, Clockly
#6
Monitor activities using screen recorder on Windows, Mac and Linux devices
#7
Set S.M.A.R.T goals and achieve results
#8
Share files and collaborate with team through discussion boards
#9
Unbelievable pricing - the lowest you will ever find
#10
Everything your business needs - 50 apps, 24/5 support and 99.95% uptime
Join the SaaS Revolution
All-in-One Suite of 50 apps

Unbelievable pricing - $14.99/user

24/5 Chat, Phone and Email Support