All You Need to Know About Gantt Chart Project Management
Gantt charts are a project manager's obsession. They're a straightforward but tried-and-true method of visualising time and resources during a project. The value of Gantt charts in project management will be discussed in this article.
In project management app, the Gantt chart is a useful way of showing what work is scheduled for a specific day(s). project managers and team members can easily view the start dates, end dates, and milestones of a project schedule in one simple stacked bar chart.
"The Gantt chart because it represents facts in their relation to time, is the most notable contribution to the art of management made in this generation." – Wallace Clark, Mechanical Engineer
What is Gantt Chart Project Management?
A Gantt chart project management is a methodology that uses a bar chart and renders a visual view of project tasks scheduled over time. It shows you what has to be done and when. It is a project management tool that assists in planning and scheduling projects of all sizes, although they are particularly useful for simplifying complex projects.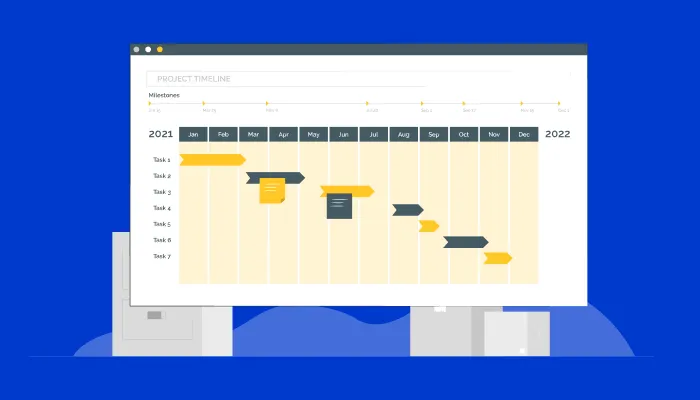 With the Gantt chart project management, timelines and tasks are converted into a horizontal bar chart that shows the start and end dates and dependencies on scheduling and deadlines. In addition, it shows how many tasks are completed per stage and who is the task owner. On the left of the chart is a list of the project activities and a suitable time scale along the top. Each activity is represented by a bar: the start date, duration, and end date of the activity are represented by the position and length of the bar.
As you input tasks, their start dates, end dates, and dependencies, the bar chart will populate, showing the task duration. This happens automatically when you use a Project Management Tool that is equipped with a Gantt chart maker.
"If a promise of delivery is to be kept, all the work in a plant must be planned so accurately that when a new order is received, it is possible to tell almost to a day when the work will be completed. The Gant progress chart enables the manager to keep before him all the promises he has made, to concentrate his attention on overcoming obstacles and avoiding delays, and when it is impossible to live up to the promise, it enables him to give the customer advance notice of the fact." – Wallace Clark
The Gantt chart is particularly useful to keep tasks on track when there is a large team and multiple stakeholders when the scope changes.
History of Gantt Charts
Gantt charts have been around for nearly a century. The first Gantt chart was developed in the mid-1980s by Karol Adamiecki, a Polish steelwork engineer interested in management ideas and techniques. However, it was Henry Gantt that made the chart popular.
Henry Gantt, who the chart was later named after, was a social scientist and management consultant. He also held a degree in mechanical engineering. Henry Gantt specialized in scientific management, developing new methods to streamline and increase the productivity of corporations and their workforce. In the 1910s. He created the Gantt chart to help project managers understand the progress of their labour force and ensure the task is on schedule.
The Evolution of Gantt Charts
Gantt charts were originally developed laboriously by hand as Bar charts. When a project changes, it is necessary to amend or redraw the chart. If there were a precedent logic linking one task to the other, it would normally be shown by the start of the second task being drawn following the completion of the first task, and so on. However, you can only highlight critical paths manually. This gruelling repetitive task reduced the effectiveness of Gantt chats as continual change is a feature of most projects.
Nowadays, it is a different story. As modern computers became more powerful, the development of programs that calculate the impact of linking logic on deliverable dates and crucially allowed changes in critical paths has eased the development of Gantt charts. Furthermore, these programs easily display the result on the screen and print hard copies of the report. With appropriate software, project managers can easily create, update and print Gantt charts.
You can also use an Excel spreadsheet to create your Gantt diagram. However, you would only be limited to seeing task durations and due dates. Using project management software would help you create a Work Breakdown Structure (WBS), assign tasks to team members, track project progress in real-time, drag and drop timelines, and instantly update your project schedule.
What is a Gantt Chart Software?
Gantt chart project management software is created to automate the process to support more advanced Gantt requirements like creating task dependencies, adding milestones, or identifying the critical part of a project plan.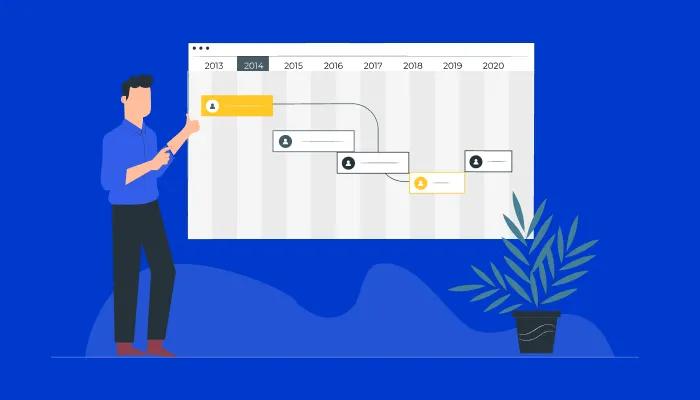 It is still common for many project managers to use desktop applications to manage their Gantt charts. Today, several online applications enable project managers to create shareable and collaborative Gantt charts and project plans that can be assessed anywhere.
A project management tool with Gantt chart capabilities gives project managers visibility into team workloads and current and future availability, which allows for more accurate scheduling.
Components of a Gantt Chart
The Gantt chart is made up of nine components
1. Dates
The dates allow the project manager to see when the entire project will begin and end and when each task will take place. The dates are displayed at the top of the chart.
2. Tasks
Large projects are usually broken down into several sub-tasks. Project managers use Gantt charts to keep track of all of the project's sub-tasks, so nothing is forgotten or delayed. The Tasks are listed down on the left side of the chart.
3. Bars:
The bars are used to show the time frame in which each task should be completed once the sub-task has been listed. This helps project managers ensure that each sub-task is done on schedule to complete the entire project on time.
4. Milestones
Milestones are big tasks that are instrumental to the completion of a project and success. Completing a milestone offers a sense of accomplishment, bar the minor details that need to be completed. Milestones are usually displayed as diamonds on the Gantt chart at the end of a separate taskbar.
5. Arrows
While some tasks can be done at any time, some can only be done when another has been completed; these are called task dependencies. These dependencies are represented by small arrows between the taskbars on a Gantt chart in task management tool.
6. Taskbars
Taskbars show you exactly how your project is coming along. The automatic shading of the toolbar indicates the progress of your project to represent the portion of each task that has been completed.
7. Vertical Line Marker
This is another way to monitor the progress of your project. The vertical line marker indicates the current date on the chart. It helps managers to manage time effectively as you can see how much is left to do at a glance. It also tells you if you are on track to complete the project on time.
8. Task ID
While running your project, it is likely you would have several projects running concurrently. So, in team meetings, the Task ID helps everyone quickly identify the task you are talking about.
9. Resources
Although not every Gantt chart lists the names of people working on it, if a number of individuals will complete your project, it would be helpful to list their names and the tasks assigned to them. Identifying and allocating resources to each task will help you to manage people effectively. Tools and the skills needed to complete the project on time.
Why to Use a Gantt Chart?
The concept of a Gantt chart is to:
Map out which tasks can be done in parallel (simultaneously) and which tasks need to be done sequentially.
Define the start dates and end dates of each task
Use the duration of the tasks to create a Project timeline
Highlight task dependencies
Fill out the timelines with your tasks
Decide who will be responsible for each task and delegate it to the team
Determine and allocate your resources
Set milestones
Identify the critical path
Anticipate the risks and problems you might encounter
Why is Gantt Chart Important in Project Management?
In project management, Gantt charts are used for planning and management of different projects in all industries. Some of the importance of using Gantt charts are:
1. Team Collaboration and Productivity
Using Gantt charts will help your project teams to collaborate on their project and help bring everyone to the same page. The team will share the same knowledge on their project from the Gantt chart. Hence, consistent debriefing is not needed.
Furthermore, the Gantt chart gives live information on the progress of the project. Each team member can easily keep track of the project and know what comes next. The team will get aligned, and you will notice an improvement in your team's productivity.
2. Task Management
The Gantt chart in task management software helps project managers to manage tasks, checklist items, and task dependencies. All team members can know their task assignments and how their duties would help in the overall project's success.
3. Resource Management:
Project managers can easily manage resources with the help of Gantt charts. You can easily assign tasks to team members and roles with the Gantt chart project management tool.
With Gantt charts, team leads and project managers can learn about the capacity of their available resources such as technology, labour, and processes. You can easily assign, redistribute, and withdraw resources with Gantt software's help to empower your decision-making.
4. Ability to Manage Complex Information
The Gantt chart gives a visual representation of your project. When you are undertaking a complex task, the Gantt chart summarizes the complex data into a piece of information that can be used in effective decision-making.
Especially, linked tasks would be difficult to keep track of, except if you use a Gantt chart. The Projectsly project management software allows you to set custom colours for your functions so you can easily differentiate between them.
5. Clear Overview of the Project Requirements
Gantt charts give a clear overview of the project requirements. The software provides a calendar view that can set milestones, and dependencies, assign duties and highlight risks and tasks for the project requirements. So team members can better understand their work responsibilities and how their effort will build up the project's success.
Ready to streamline project planning process and enhance team productivity with Projectsly? Sign Up 14 Day Trial
Summing it Up
According to Microsoft, "Gantt charts help you schedule your tasks in the project and help you track the project's progress."
Are you ready to improve your project management skills to the next level with the help of a dedicated Gantt chart module? Projectsly is one of the easiest Gant chart tools to use with its numerous functionalities. With Projectsly, you can set task dependencies, set start and end times, set milestones, set critical paths, and project progress lines, set a custom budget, track project costs, and many more.
Projectsly has all the features you need to ensure that you complete your project on time and stay within the set budget.
What Makes the Best Project Management Software?
#1
Plan, organize, track all your projects in one place
#2
Get a visibility over individual tasks in the form of kanban boards
#3
Track the project schedule using gantt chart and calendar view
#4
Create advanced workflows with powerful automations
#5
Track employee activities, and working hours using built-in time tracking software, Clockly
#6
Monitor activities using screen recorder on Windows, Mac and Linux devices
#7
Set S.M.A.R.T goals and achieve results
#8
Share files and collaborate with team through discussion boards
#9
Unbelievable pricing - the lowest you will ever find
#10
Everything your business needs - 50 apps, 24/5 support and 99.95% uptime
Join the SaaS Revolution
All-in-One Suite of 50 apps

Unbelievable pricing - $14.99/user

24/5 Chat, Phone and Email Support