Finding the Best Project Planning Tool for Your Business
Studies have shown that a majority of companies have suffered at least one project failure over the past 12 months due to a lack of consistency in efforts as a team. An efficient project planning tool is inevitable for business teams these days.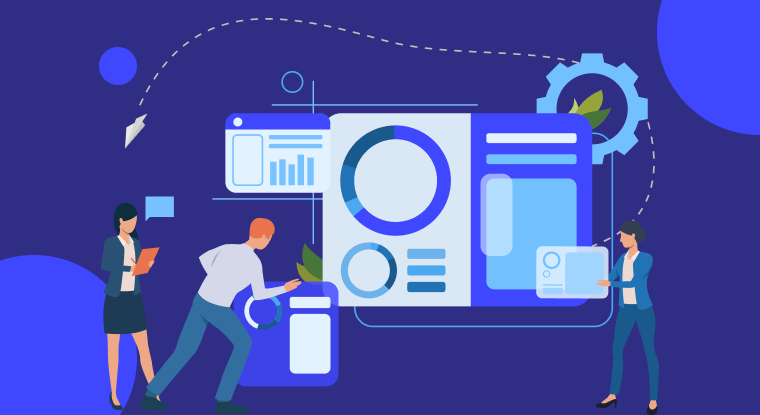 Project planning, as the name suggests, is a systematic and organized way of dealing with projects. In business, entrepreneurs and managers come with a plethora of plans to achieve goals, and Project planning refers to the process of putting these plans into practice. In other words, it involves the practical steps involved in implementing a plan and changing it from a theoretical concept into a tangible outcome.
In business, Project planning is one of the most crucial tasks when it comes to achieving goals. Proper planning entails coming up with the costs, resources required and steps needed to achieve the project, including the time schedule for it. It also includes determining the risks of the project and the contingency plans to manage those risks. Suffice it to say, Project planning involves a ton of work, and without a reliable system to manage the work, failures are bound to creep in.
In fact, according to a report by KPMG, almost 70% of organizations have had at least one project failure over the past 12 months. 50% of the respondents apparently said that their projects failed due to a lack of consistency in processes. As a result of these experiences, more and more companies have started realizing the value of a good project management system. As per a GetApp Lab report, around 56% of project managers use some kind of project management tool on a daily basis. And 95% of them are willing to spend more on project management software, including for any missing features.
Clearly, project management is no longer an "option" for managers. Considering the possible influx of projects in the upcoming months when businesses recover from the aftermath of COVID – 19, project management software is a worthy investment. However, there are hundreds of project management solutions in the market today. Choosing one system out of a hundred similar ones competing to be the best, can be an overwhelming and confusing task for you.
So how do you find the best Project Planning Tool for your business?
7 Step Guide to Find the Best Project Planning Tool
Here are the 7 steps that will help you narrow down and pick an option.
1. Evaluate the Needs
The very first step is evaluation. Before you move further ahead, you've got to sit down and think through your business processes and workflows. Think about the main business processes, jobs and functions that you are looking to manage with the help of the Project Planning Tool. Also, think about some of the main concerns that you face as a team – is there a lack of coordination? Are there communication gaps? Do you have trouble tracking progress and expenses?
This way you need to achieve clarity in terms of what your current situation is and what exactly you are looking to get addressed with the new software. You can also talk to your team members to see what changes they think they'd do better with.
Proper evaluation of your business processes, workflows and project requirements will possibly reveal gaps and shortcomings in the system. Now if your team is relatively small and if your problem lies in the proper management of individual processes, you probably don't need a full-blown Project Planning Tool. You may need just a task management solution or something less comprehensive.
However, if you have been having trouble managing your team and being consistent in your efforts towards achieving business goals, then you are best off with a Project Planning solution.
Projectsly is one of the best Project Planning Tool software solutions that you can consider. It comes with the most useful features that allow you to create and manage projects easily from a single place. It improves team communication immensely and as a result removes ambiguities, letting you get more work done in much less time.
The American Management Association recently conducted a workshop on project management, where you get to learn more about the tools and techniques needed throughout the life cycle of a project. You can probably make use of the workshop to study your requirements further.
Build a solid foundation of project management knowledge, techniques and tools in this hands-on workshop that covers the entire project life cycle.

2. Define Your Requirements

The next step is to determine the exact requirements of your team, more specifically in terms of what you wish to achieve with the new software.

There are four main aspects to consider.

Business goals - what are the goals you wish to achieve with the help of the new software, what are the goals you have not been able to achieve, but think the software can help with?

Processes - what are the needs of the process, where do you find your old system not working, where do you think you need to improve efficiency?

Technology - where do you need technology, what tasks do you wish to automate with technology, and what parts of your project do you think technology can help with?

Human resources - what do your workers need, what tasks are difficult for them to perform, what do they need through a management system?

3. Choose the Type of PM Solution That Works Best for You

Now that you have laid down your objectives, and you have made the decision to invest in the best Project Planning Tool, the next step is to determine the type of solution you need.

There are a number of different types of solutions, depending on the deployment style and way of operation, such as web-based, desktop, client-server etc.

If you are looking to manage a fairly large team scattered over the office, the field and perhaps a part working remotely etc. then a web-based solution like Projectsly would be your best bet. The main advantage of a web-based solution is that it can be accessed by anyone from anywhere in the world, and doesn't need to be downloaded and installed per se.

However, if you have a smaller team working just from within an office space, you could consider a desktop solution. It will offer you better loading speed as well and keep privacy intact. But most often, desktop solutions come with less collaborative and integration features, which you need to figure if you are ok with.

Ready to streamline project planning process and enhance team productivity with Projectsly? Sign Up FREE for 10 users

4. List the Features You Need

Next, consider the features you need in your solution. Here are some of the essential ones to look for in a good PM solution.

Task Management Capabilities: Task management is of course one of the primary features of a project management tool. It helps you create, assign, group, manage and monitor tasks across your team from a single place.

Projectsly comes with a versatile task management tool that offers a visual planner, effective communication features on the tasks in the form of comments and statuses as well as further customization capabilities. In fact, some of the best Project Planning Tool offers top-notch task management capabilities.

Collaborative Features: Collaboration is of utmost importance when it comes to team projects. Your work should be complemented by everyone working in your team, not hindered in any way. This is why Projects.ly offers a number of collaborative features where everyone gets updated with the work progress at each step and members can work on projects simultaneously, with real-time inputs from each other.

Easy to use dashboards: When getting a solution to solve a problem, the last thing you want is a complicated one that makes things even more difficult for you. Hence, an easy to use dashboard where you can see all of the updates about your project is essential.

Projectsly comes with a simple and intuitive dashboard where you can manage all of the tasks assigned in your team from a single place. Clear and user-friendly dashboards are in fact a typical feature in some of the best Project Planning Tools.

Project scheduling and sharing: Needless to say, you need effective features to take control over your projects, assign tasks to team members and keep all members in the loop with the progress of the project, while you can concentrate on your core competencies. Projectsly offers a full-fledged project management tool, with easy project creation features, pre-designed project templates, email notification capabilities for prompt action and collaborative features as well.

File sharing and storage: You need a safe and secure portal to not only store all data and documents related to your project but also share them with your team members for effective collaboration.

Projectsly comes with secure and efficient file sharing capabilities along with its collaborative features that let you share documents and discuss updates in real-time with your colleagues.

Communication features: Communication is by far the most important feature to look for in a Project Planning Tool. Without effective communication, no amount of sophisticated features can make a project work. The best Project Planning Tool understands where communication is needed and works proactively to fill the gaps in those areas.

Projectsly features built-in communication tools like comments and notifications across tasks and projects, to improve collaboration between team members.

"The most important thing in communication is hearing what isn't said." – Peter Drucker

Agile Project Management: Agile project management has been proven to be the best way to deal with projects in this day and age. By breaking down the project into smaller manageable tasks and by updating tasks with relevant changes with progress, the entire project becomes a lot easier to carry out.

Projectsly features dedicated agile project management features like drag and drops Kanban views, sprint planning and quick updating capabilities for maximum efficiency. Only carefully designed best Project Planning Tools provide agile project management features.

*Reports and analytics features: Analytics help you gauge the performance of your team and your project as a whole, on time, so that you can make effective changes to improve.

Projectsly comes with a host of reports and analytics features including Burndown charts and overall project overview, with reports on individual tasks as well, to help you get a good grip over your entire project.

Performance tracking capabilities: In a team, you also need to identify the strengths and weaknesses of your members so that you can assign tasks accordingly.

This is why Projectsly comes with detailed reporting features to track employee performance. It helps you gain insights into their work preferences, and gives you the best Project Planning Tool experience.

5. Consider Pricing

Once you've evaluated all the features you need, now it's time to consider the price. Online project management tools typically charge you a monthly fee for usage of their platform per user. This fee includes the software updates as well as the customer service.

Make sure that the platform you are considering includes all the features you need. Naturally, the more features you need, the higher the charge of the platform. Some platforms though, enable add-ons for which you will have to pay more. The simplest project management tools typically start from as low as $10 per user per month and can go up depending on the features covered. You ideally want to look for a mix of value for money and rich features. Some of the best Project Planning Tools offer great features at reasonable prices.

6. Conduct Research

Now you can go ahead and pick out all the solutions that offer what you need after thorough market analysis, and do a comparison study. You can create detailed comparison charts with the pros and cons of each system, and narrow down your options further, depending on what features you are willing to forego, what price you are willing to handle etc.

7. Evaluate Attributes Like Scalability, Support and Integrations

Once you've further narrowed down your selection, you can compare other attributes like scalability, customer support and integrations.

For example, do you need your solution to be integrated with any other software within your organizational structure? Are you considering additions to your team and your business, for which you want your solution to be scalable? Is customer support available round the clock?

Conclusion

The best project management tool software solution with all the right features to suit your organizational structure can do wonders for your team. In addition to its built-in features, a tool that is flexible enough to be able to adapt to different business models in different industries is a major advantage. Such a tool will not only help you gain competitiveness by creating an efficient team for your project but also help you implement the system without making changes in your team structure.

What's New?

YouTube Link: Fixing Project Management Challenges with Projectsly - Tutorial
Join the SaaS Revolution
All-in-One Suite of 37 apps

Unbelievable pricing - ₹999/user

24/5 Chat, Phone and Email Support