How do you start a business in your company or institution? Does anyone get an idea and start working on it or is there an official decision-making process on what is worth working on and for which initiatives are funds and staff allocated? What about business and project management from start to finish? In many companies and institutions, work is "lost" somewhere along the way, resulting in a waste of time and money. Successful companies and institutions proactively manage the business life cycle from start to finish. To work on a project, this means that there must be a management process from start to finish that first assesses the initiatives worth pursuing and then manages them through a funnel to successful execution and conclusion.
What is Project Management?
Before we go into explaining what is and how project management helps companies and organizations of all sizes and across industries, we first have to emphasize the fact that a project is a temporary endeavor. Every project is developed, implemented and monitored with the help of project management in order for it to create a specific and desired result to the business. Put simply, project management is a method of planning and managing the scope, time and resources of a specific project. Project management is the use of methods, knowledge, skills and experience to achieve project goals using a predefined set of criteria. The value of project management lies in the correct use and allocation of resources in order to ensure its successful completion. An experienced project manager will keep his eyes on a large number of project parts to ensure each part of the project is proceeding according to previously defined expectations and goals. Project management is particularly important when dealing with large and complex projects that result with multiple deliverables which often depend one on another.
Five Phases of Project Management
According to Project Management Institute, there are five phases of project management and if the life cycle provides a view of the project at a general level then the phases are a roadmap for its realization.
Phase 1:
Project Initiation This is the beginning of the project. The aim of this phase is to define the project on a broad and general level. This phase usually begins with analyzing a business case. Here, it will be explored whether the project is feasible, and whether it should be launched at all. If feasibility testing is to be done, this is the phase of the project in which it will be completed.
Phase 2:
Project Planning This phase is crucial for successful project management and focuses on creating a roadmap that all project participants will follow. This phase usually begins with goal setting. Today, the two most popular methods most commonly used for goal setting are the S.M.A.R.T. and C.L.E.A.R. During this phase, the scope of the project is defined and a project management plan is developed. This includes identifying costs, quality, available resources, and a realistic schedule. Project plans also include the establishment of baselines or performance measures. They are generated using the scope, schedule, and cost of the project. Core value is key to determine if a project is ongoing. At this point, the roles and responsibilities are clearly defined so that everyone involved knows what they are responsible for.
Phase 3:
Project Execution This is the phase in which the project objectives are developed and completed. This often seems to be the result of a project because a lot is happening at this time, such as status reports and meetings, development updates and performance reports. A kick-off meeting usually marks the beginning of a project execution phase involving all teams where they are informed in detail about their tasks and responsibilities.
Tasks completed during the execution phase include:
Developing a project team
Allocating resources
Execution of project management plans
Procurement management if necessary
Directing and managing the implementation of the project
Setting up a monitoring system
Execution of tasks
Regular meetings on project status
Update the project schedule
Modification of project plans as needed. Although the project monitoring phase has a different set of requirements, these two phases often take place simultaneously.
Phase 4:
Project Performance / Monitoring This phase is about measuring the progress and success of the project as well as ensuring compliance with the project management plan. The Project Manager (PM) will use Key Performance Indicators (KPIs) to determine if a project is meeting expectations.
Phase 5:
Project Closure This phase represents the completed phase in the project cycle. Contractors hired to work specifically on the project complete their tasks. Some projector leaders even organize small work events for the people who participated in the project to thank them for their work. Upon completion of the project, the project manager will very often hold a meeting to assess what went well in the project and identify any shortcomings in the project. This is especially useful for understanding lessons learned so that they can be improved for future projects. Upon completion of the project, the project manager has several more tasks. They will need to create a list of tasks or parts of projects that have not been accomplished during the project, and work with team members to complete them. The project manager will also prepare the final project budget and prepare a final project report.
Importance of Project Management
These days it does not matter whether you are a manager or a team leader because whatever you are, you are a project manager. Still, the difference lies in the way you are approaching your projects: are you approaching them with just a simple planning or are you approaching it with proper project management process and tools. If you are familiar with the basics of project management, you will be able to create reliable and accurate processes. To give you an example, imagine you have a meeting with a new potential client. In case you have not established a process for that meeting, you will have to remember everything you need to define, such as stakeholder expectations, deliverables, scope of the project and so on. You will store all that information in an informal type of a document and there is high probability that you will forget on it until first problems arise, causing unnecessary stress and often causing you to go over your planned budget. It´s a fact – most businesses struggle with their project management efforts. Most of us have found ourselves in situations where we had to work more and take on more responsibilities without receiving proper training. Businesses often consider project management as simple as that – managing projects – and not a complementary discipline with plenty of hidden tricks and practices. Today, project management is intended for everyone and not just certified project managers. And this is exactly the reason why project management can help you, your team members and your business to finish projects in the desired timeframe and without everyone having to deal with a bunch of nasty problems and delays. What´s best, this is just the beginning how project management helps companies.
How Project Management Helps Companies?
Having a clear understand of project management and possessing an effective project management procedure can help your company in numerous ways. Besides improving your productivity, project transparency, and providing a clear vision to all team members, project management can help your company in the following ways. Improved Customer Satisfaction and Customer Experience Acquiring a new customer can cost five times more than retaining an existing customer and businesses that increase their customer retention rate by 5% can increase their profits from 25-95%. This is why keeping your customers at bay is significantly more important that getting new ones and the best way of doing it is by delivering products and services that exceed your customer expectations. Delivering services and products in a way that focuses on quality and efficiency is a sure way of leaving your customers satisfied and happy, thus increasing the chances they will buy more of your offering in the future. "We have metrics that we tracked across the business, and we were able to see a definite increase in our ability to meet customer requests," says Ron Kasabian, general manager at global IT giant Intel. "The success of the project is more than delivering it on time or on budget: It improves Intel's ability to meet customer demand and improve customer satisfaction."
Better Resource Allocation With less room for error and fewer resources to rely on, project management expertise and oversight can help companies streamline their delivery process, cut costs and mitigate risks, enabling them to better allocate their resources and implement stronger project management practices for their future projects. When talking about resources, the most important resource for every project manager is the team that is on their disposal. With proper project planning, companies can ensure that they are available when needed and that can be allocated to other tasks when their expertise is not needed anymore. Similarly, resources such as budget and tools can also be arranged more effectively to avoid possible project delays. "Good project management discipline stopped us from spending money on projects that fail," says Ron Kasabian, general manager at global IT giant Intel, Folsom, California, USA. Solid and Consistent Communication Between all Team Members Let´s face it, a solid communication structure is a vital part of every project plan. Effective communication in project management is a very important aspect that has a significant effect on the performance of the project management team. According to a study conducted by KPMG, an staggering 70% of businesses have had at least one project failure in the last 12 months and 50% of respondents said that their project failed to consistently achieve its goals.
This means that project managers need to ensure that all team members share the same goal and work together towards achieving that goal. With project management, the overall productivity and efficiency increased significantly which enabled businesses to seize other benefits of project management.
Improved Productivity
The field of project management is interconnected with productivity. Having a proper way of resource utilization and with an efficient project management software solution in place such as Projects.ly, a team can easily get more work done in a shorter amount of time and increase productivity.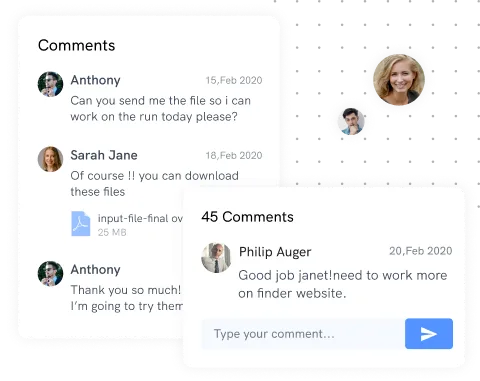 "It's clear to everyone what is expected and that every project will be seen as a business improvement act," says Adrian McKnight, PMP in an Australian financial services company. "The new system has enabled us to perform well against several benchmarks and to increase our productivity enormously." Better and More Efficient Quality Control Today, many project managers are under constant pressure to complete their projects on time and within budget. When they miss their deadlines, their schedules get tightened which results in work being rushed and corners being cut. As a consequence, the deliverables of such projects often have poor quality.
Project management methodologies and
project management tools
can ensure the quality of the deliverables by enabling project managers to set a separate phase for testing and quality control at every project phase. Such a project management tool will also enable you and your project management team to have complete control over resource allocation and project timelines. Maintaining consistent project quality takes commitment, focus and courage, and following these steps will not only help you maintain high levels of quality in projects but also continuously improve the consistency of quality in your projects. To learn more about how
Projectsly.com
can help you maintain and improve the consistency of quality in your projects, get in touch with us
Projectsly.com
. Managing projects with projectly According to PWC, project management software such as Projectsly increases performance and found that 77% of high performing projects use project management software. The use of
Projectsly.com
as a project management software solution facilitates project management due to its visual nature. Project information is available to all stakeholders at any time at any time using the Projectsly reporting tool and its intuitive web interface. Connecting employees to
Projectsly.com
gives the stakeholders of that project a greater sense of involvement in the project and this will certainly lead to greater project success. Also, a large number of menus show stakeholders in a simple visual way how much they have done, what they have to do and what they are currently doing.
Projectsly.com with its wide range of additional options further increases the efficiency of project management. The project manager, on the other hand, finds it easier to monitor and control progress using the options offered by Projectsly.com, and it is very easy to see where problems arise in the project and appropriate predictive measures can be taken in a timely manner to lead to project success.
Conclusion
In order to understand how project management helps companies, it is important to understand that project management as it is today is completely different from what it was ten years ago. Since many completely new and different project management tools were introduced, project managers and project teams are no longer limited by their physical location or complex in-house regulations and rules. These new project management tools, such as the cloud-based project management tool Projectsly.com, centralize all information and allow each and every member of the project team to track progress, assign tasks and give feedback in an easy and real-time manner. Any modern company that wants to stay ahead of their competition and wants to progress towards being a market leader in their field has to use the right project management tools. If you're looking for a simple, intuitive project management software, use Projectsly.com.